Former Ford Assembly Plant / Craneway Pavilion
Introduction
Designed by legendary architect Albert Kahn and built in 1929-30 as the largest automobile assembly plant on the West Coast, Ford's Richmond plant was the final assembly point for record-breaking numbers of tanks, jeeps, and other military vehicles when it was mobilized for World War II. Located next to the equally prolific Kaiser Shipyards, Ford's operation was largely responsible for saving Richmond from economic disaster when the U.S. government shut down Kaiser's yards (and the accompanying 100,000 jobs) in 1945. Ford Assembly was shuttered in 1955. It was placed on the National Register of Historic Places in 1988, but heavy damage from the 1989 Loma Prieta earthquake prevented its reuse until the 2000s, when it was incorporated into the Rosie the Riveter World War II Home Front National Park, for which it serves as a visitor center and event space (known as the Craneway Pavilion).
Images
A postcard view of the Assembly plant in the 1940s. Peak employment at the 500,000 square foot facility was roughly 10,000 (Richmond Public Library).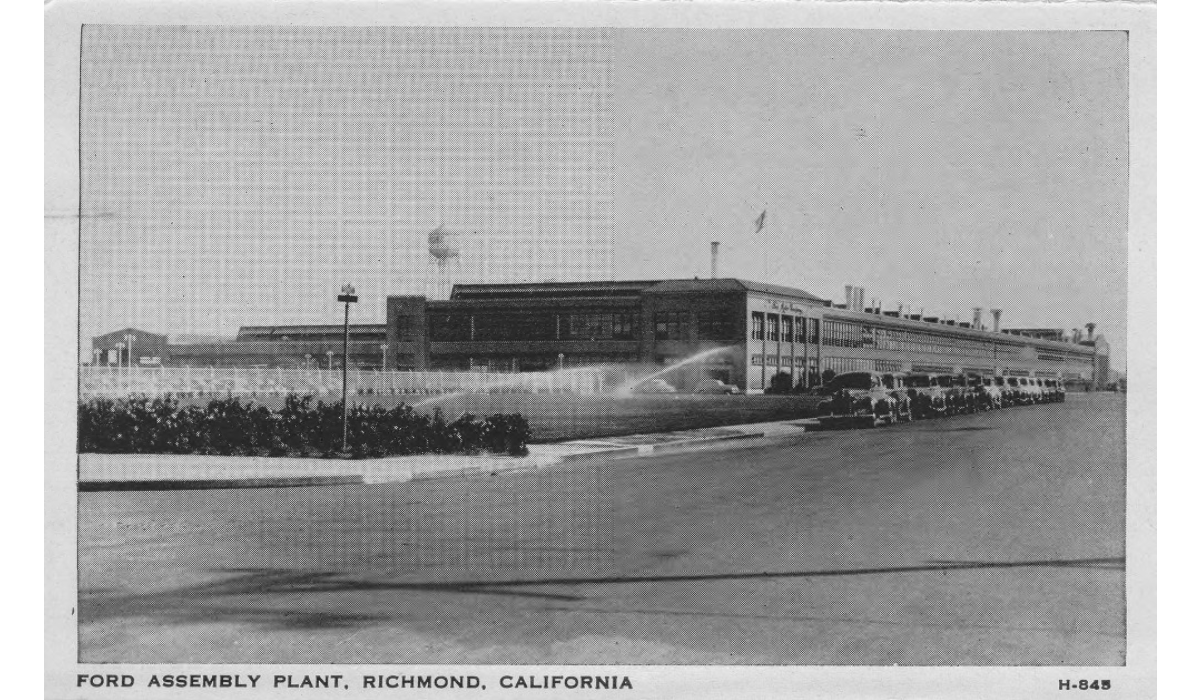 Albert Kahn, whose designs influenced an era in American industrial architecture. Many of his huge automotive plants were converted to military production during World War II (Wayne State University Libraries).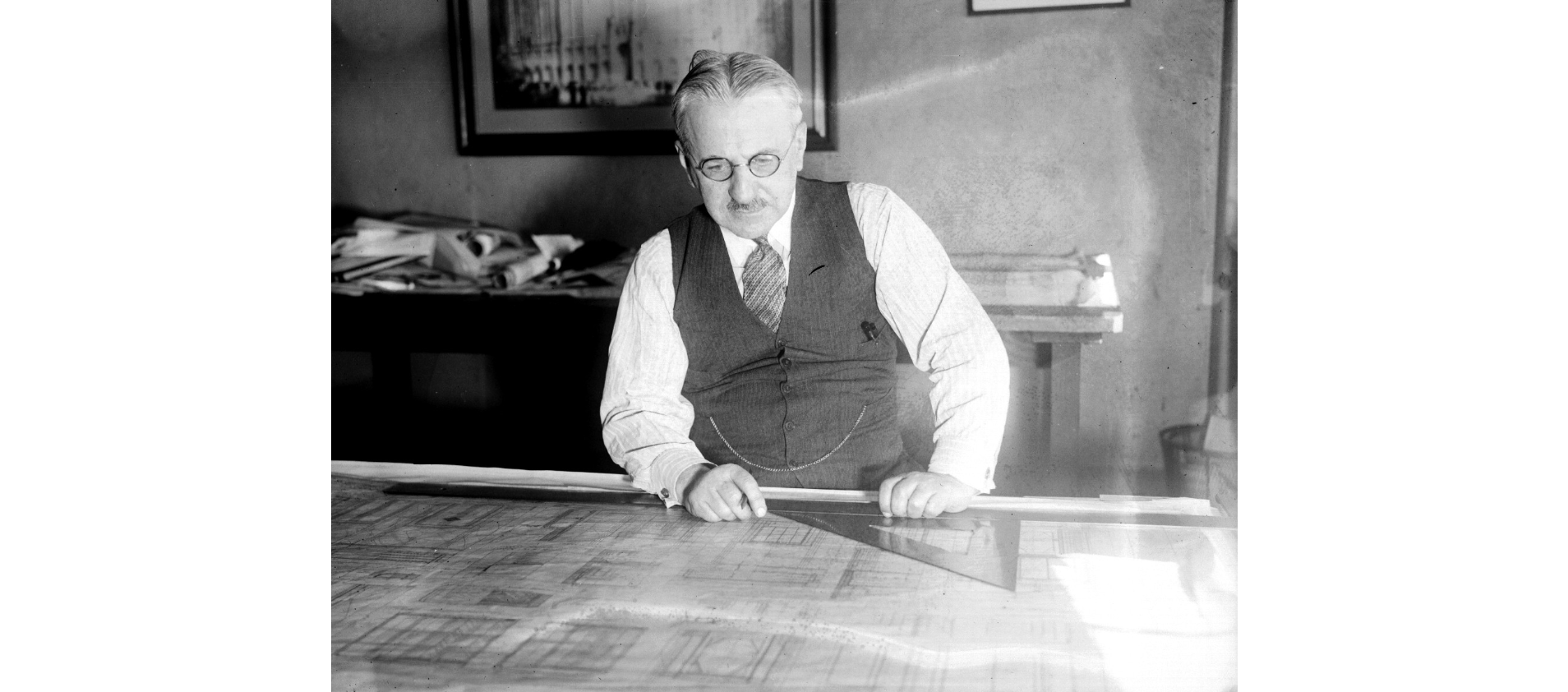 The M4 Sherman tank was a common sight rolling off the lines at Ford Assembly, totaling over 55,000 completed units by the end of the war (Richmond Public Library).
A 1940s aerial of the plant (center) and surrounding shipyards (Kaiser Yard 2 in background). Note the distinctive sawtooth monitors on the Assembly Plant's roof (Richmond Public Library).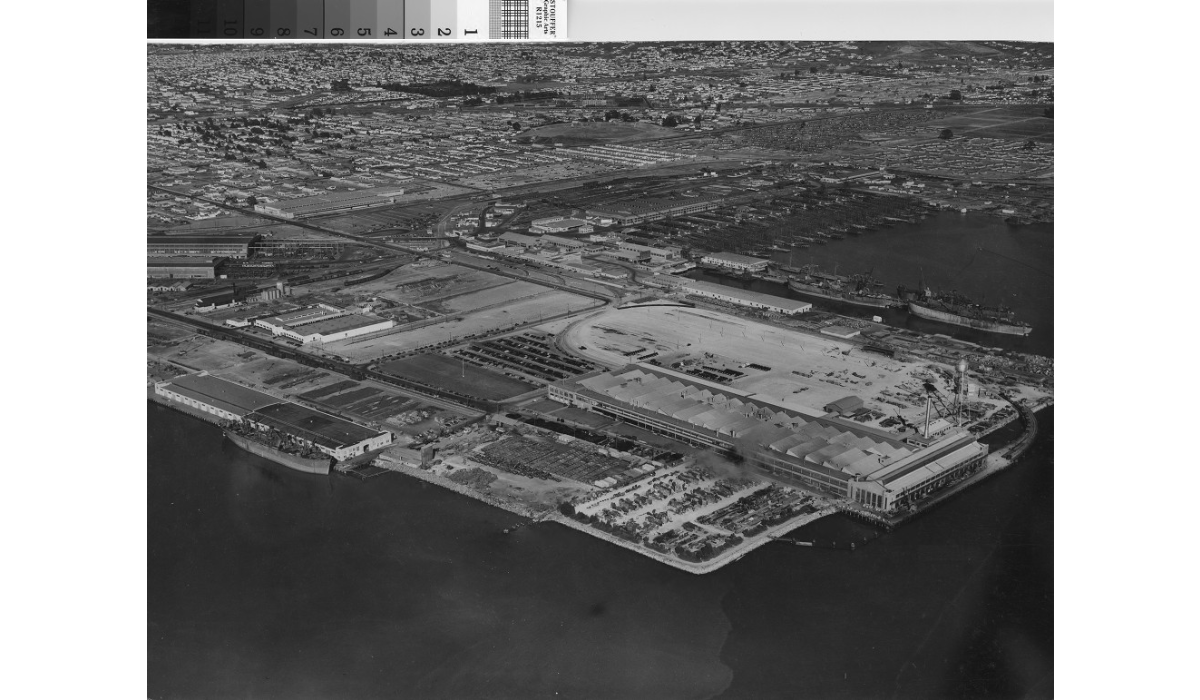 Overhead map showing the placement of Ford Assembly relative to the surrounding shipyards and terminals (Kaiser Archives).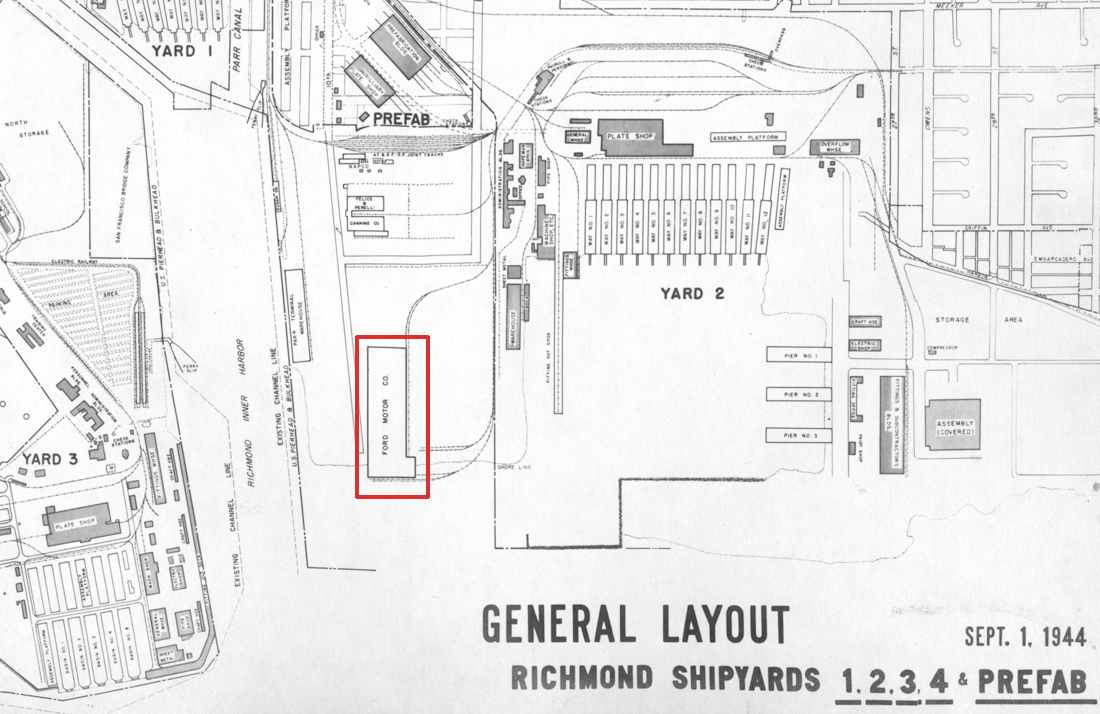 Backstory and Context
"This magnificent new automobile plant, dedicated today in Richmond, bringing wealth and employment here, is a splendid new pledge to the industrial future of this metropolitan area. It is a new guarantee of economic stability and sound values in this community."
When Ford Motors elected to build its factory in Richmond in 1928, the land on which it now sits did not exist. Nevertheless, the ambitious young town had aspirations of challenging San Francisco as the West Coast's premiere commercial port, and empowered a single individual--Fred T. Parr, of the Parr Terminal Company--to develop its waterfront to that end. Knowing that Ford Motors was looking to expand beyond its Seattle, Washington and Long Beach, California facilities, Parr personally negotiated a deal with the automobile titan. To make space for the revolutionary new complex, capable of producing 400 cars a day, 72 acres of the Bay were filled in with concrete and dirt. Alongside, a 32-foot deep channel was dug to accommodate two freighters to receive cars as they rolled out of the plant.
Ford tapped an architect well familiar with the automobile industry's needs: Albert Kahn, whose famous structures transformed the skyline of Detroit and are often considered emblems of the American car industry's golden age in that city, such as Ford's Highland Park Plant. Kahn brought his signature sensibilities to the new Richmond project, including a sawtooth monitor roof that provided an extraordinary amount of natural light for factories of the day.
The plant served as light of a metaphorical sort through the 1930s, as the Great Depression gripped the nation in an economic malaise, and even the indomitable Ford closed its Seattle and Long Beach plants, soldiering on with the new Richmond facility. The opening ceremony on August 1, 1931, was attended by 20,000 people and its keynote speaker was U.S. Senator Samuel Shortridge. An open house throughout the following week attracted another 101,070 attendees, eager for a bright spot amid the bad news so prevalent in the early 1930s.
The plant continued to grow through the Depression's early years, reaching an employment of 10,000 by 1935. Nor were these jobs confined merely to white Americans, as so often was the case in the "separate but equal" world of the United States prior to the Civil Rights movement: the Ford Motor Company was the first in the auto industry to offer jobs to African Americans. Through the ten years following 1929's catastrophic stock market crash, 398,000 cars were produced in Richmond.
Civilian car production was suspended when America entered World War II at the end of 1941, however, and the Richmond was quickly repurposed for military production. By war's end, it would complete 55,904 tanks, along with thousands more jeeps, trucks, halftracks, and more--so much so that it was often referred to as the "Richmond Tank Depot."
Richmond suffered massive setbacks after peace was signed with Japan in 1945, however, as the government declined to sell the shipyards to Kaiser and tens of thousands of jobs evaporated overnight. Ford Assembly was one of the few exceptions, shielding the city from an even worse collapse. Its days were numbered, however, and by 1954 only about 1,600 workers were employed there. No adjacent land was available to expand Ford Assembly for increased demand, and the plant was shut down in 1955.
The University of California used the empty structures to store books until 1975, when the building was sold to the City of Richmond. Conservation-minded citizens added the site to the National Register of Historic Places in 1988, but seismic damage from the massive Loma Prieta earthquake in 1989 prevented its use. Developers shied away from the expense of retrofitting the 500,000 square foot building or replacing its 40,000 square feet of (mostly broken) windows. Despite all this, developer Orton Development Inc. had to apply three times before securing the property for $5.4 million in 2004.
A full renovation followed, preserving the original structure adding seismic and window upgrades along with solar panels atop the sawtooth monitors that supply roughly half the building's power. The rechristened Craneway Pavilion hosts 75-100 events a year and houses several restaurants. The neighboring Oil House, which once contained 80,000 gallons of oil in tanks to provide power for Ford Assembly, has been converted into the Visitor Center for Rosie the Riveter Wold War II Home Front National Park, most of which is still owned by the City of Richmond but administered by the National Park Service.
Sources
Ford Motor Company Assembly Plant. The San Francisco Bay Area in World War II. . Accessed March 12, 2019. https://www.nps.gov/nr/travel/wwiibayarea/for.htm.
Ford Richmond Assembly Plant. Ford Motor Car Company History. . Accessed March 12, 2019. http://www.fordmotorhistory.com/factories/richmond/index.php.
Ford Assembly Plant and Craneway Pavilion. Rosie the Riveter Trust. . Accessed March 12, 2019. http://www.rosietheriveter.org/visit-discover/park-sites/ford-assembly-plant-craneway-pavailion.
Said, Carolyn. Ford Point bringing new life to Richmond. SFGate. November 14, 2010. Accessed March 12, 2019. https://www.sfgate.com/business/article/Ford-Point-bringing-new-life-to-Richmond-3166378.php.
Cushing, Lincoln. Henry J. Kaiser takes a page from Ford's book. Kaiser Archives. April 28, 2014. Accessed March 12, 2019. https://kaiserpermanentehistory.org/latest/henry-j-kaiser-takes-a-page-from-fords-book/.
Detroit News (Firm). Kahn, Albert . Architect. Died Dec. 8,1942. 1931-02-05. Retrieved from the Digital Public Library of America, http://digital.library.wayne.edu/item/wayne:vmc17483. (Accessed March 12, 2019.)
National Register of Historic Places, Ford Motor Company Assembly Plant, Richmond, Contra Costa County, California, National Register #
88000919
.
Additional Information