Boone Drug/Our Daily Bread
Introduction
Local attorney George Kelly Moose and his business partner John R. McNary opened the Boone Drug Company in 1920. The drugstore was longstanding staple of Boone's downtown and the owners of the business were generous supporters of Appalachian State University. The building is now home to Our Daily Bread, a popular local eatery. Some of the pharmacy's historic signage remain at the original location, while the pharmacy continues to do business at another location on King Street.
Images
Downtown Boone--Boone Drug Co., and Our Daily Bread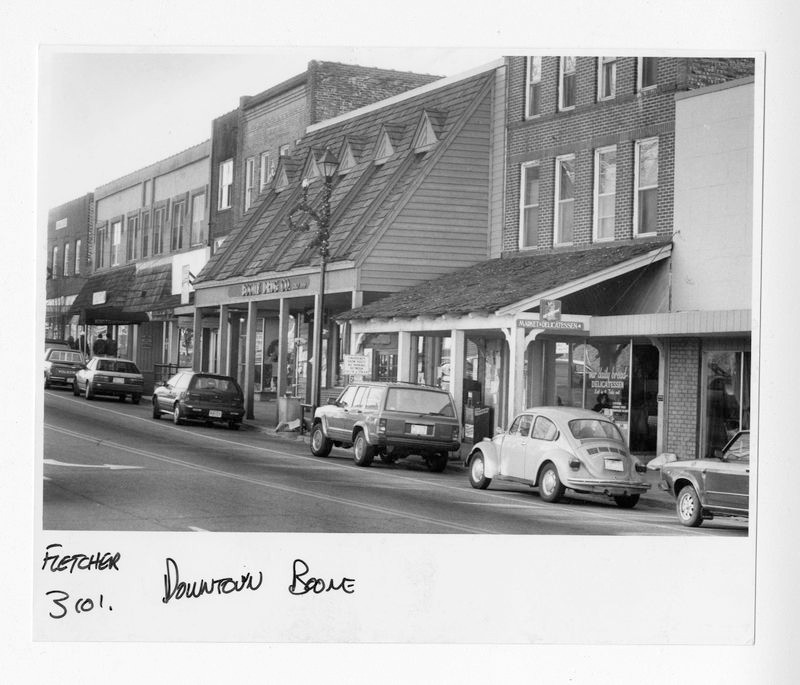 The building is now home to Our Daily Bread, a local eatery that is open daily.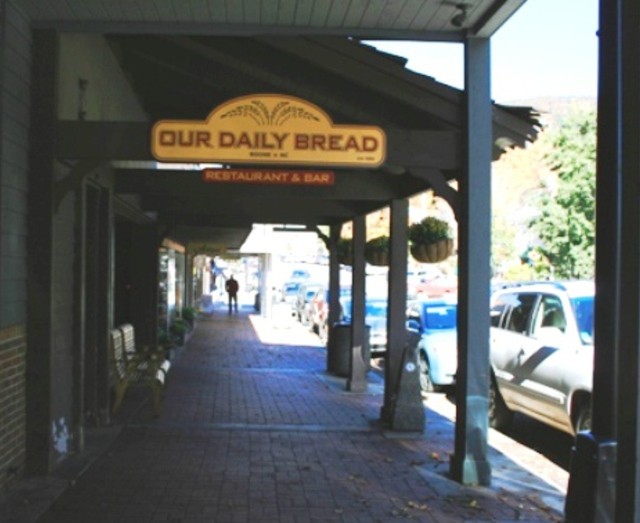 Backstory and Context
After graduating from George Town University with his Juris Doctorate, George Kelly Moose, a member of the North Carolina Bar Association moved to Boone to pursue a new business venture. Partnering up with John R. McNary of Lenoir who had previous experience as a druggist, the two opened up their business venture in 1920 on King Street. The facility offered soda fountain service, pharmaceuticals, and acted as a small general store on top of this.
With the town of Boone expanding alongside the growth of Appalachian State Teachers College, so did Boone Drug Company. It was in 1921 when George Kelly Moose was forced to abandon his original business location in lieu of a more robust facility that could handle the amount of business he and his partner were receiving. As a community oriented business, advertisements in the Watauga Democrat often featured large spreads and advertised community events alongside weekly specials for the store.
It was on April 1st, 1947 when ownership of the company changed hands. Looking to retire, George Kelly Moose sold his interests in the company to the Richardson brothers. Wayne Richardson had eight years' experience working as a druggist in Erwin, Tennessee. Wayne and Odell Richard ran the store and expanded it into surrounding areas, at the peak of business the number of locations amounted to fifteen. It was in the 1950s when the Boone location of the business absorbed an A&P and created the rather popular soda fountain and lunch quick stop service that it became known for by locals.
It was in the 1980s when an additional expansion at the back of the building allowed up to fifty people to sit and dine, showing that the Richardson brothers were anxious to capitalize on a popular service that had once been introduced to generate some additional income for the business. Today, Boone drug has moved down the street next to Earth Fare where it continues to offer its popular quick lunch offerings.
Sources
Boone Drug Company (Vertical Folder): Watauga County Historical Site Survey Records, W. L. Eury Appalachian Collection, Appalachian State University, Boone, North Carolina, USA. Akers, Onna Gayle. Boone. Charleston, SC: Arcadia, 2003, 65. "Sells Interest in Drug Store: G. K. Moose Sells Interest in Boone Drug Co. to Richardson Brothers." Watauga Democrat, April 3, 1947. Moose-March, Rebbeca. "About Us" Boone Drug Inc. Accessed October 4, 2016. http://boonedrug.com/about-us/