Moses Fleetwood Walker Historical Marker
Introduction
Dedicated in 2003, this historical marker pays tribute and offers a brief history of the first African American to play in the Major Leagues. Long before Jackie Robinson was born, Moses Fleetwood Walker played professional baseball for the Toledo Blue Stockings. Although the team was short-lived, it was part of the American Association and Waker's statues as a member of the team in 1884 makes him the first-known African American in the Major Leagues. Walker played catcher and faced intense racism. This poor treatment led to his decision to leave the team and stop playing baseball with white men. Walker was so poorly-treated that he would eventually call on African Americans to leave the United States and form their own nations in Africa where they might live in peace.
Images
This shows the unveiling of the sign.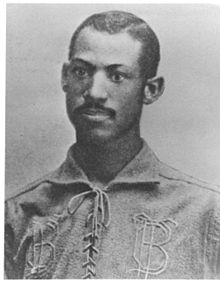 Backstory and Context
In 1884, Moses Fleetwood Walker would become the first African-American to play professional baseball. As the first, he would pave the way for all that followed in his stead. Walker would have some success in the minor leagues. When the Toledo Blue Stockings entered the American Association, Walker would remain on the roster.
At the time of Walkers foray into the professional scene, there was no rule that African-Americans could not play professional sports. It was seen as more of an agreement between players and coaches. Walker's appearance on the professional circuit was met with its fair share of backlash. Many top pros of the time were wholly against African Americans in the sport. Players like Cap Anson would attempt to boycott games when he had to face Walker.
Boycotts would be the beginning for Walker as many people took the same views as Cap Anson. Many of his fellow players in his professional career also felt the same way. By 1889, Walker would retire from the sport due to this racism. Following his leave from baseball, Walker would find himself in some more unscrupulous situations. These would include mail left. He would also be quite vocal in the Back to Africa movement.
Sources
Hill, Justice B. A True Pioneer. Negro Leagues, MLB.COM. Accessed June 17, 2017. http://mlb.mlb.com/mlb/history/mlb_negro_leagues_profile.jsp?player=walker_fleetwood.

Riley, James A.. The Biographical Encyclopedia of the Negro Baseball Leagues. Paperback Edition. New York, New York. Carrol & Graf, 2012.


Additional Information