Col. Ruby G. Bradley Monument
Introduction
Dedicated in 1991, this monument recognizes the military service of Colonel Ruby G. Bradley, one of the most decorated nurses in the United State military owing to her efforts in assisting over 230 major operations during her 37 months of captivity. Bradley was commissioned a 2nd Lieutenant in the Army Nurses Corps on October 16, 1934. She later became known as an "Angel in Fatigues" for caring for fellow detainee's while she was a prisoner of war in the Philippines during World War II.
Images
Colonel Ruby Bradley World War II and Korean War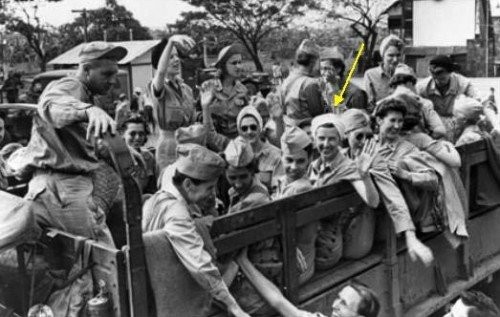 The monument is located in front of the Roane County Courthouse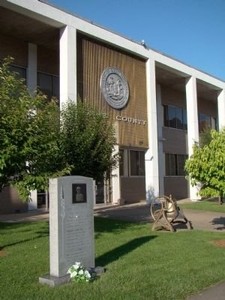 Backstory and Context
Ruby Bradley was born on December 18, 1907, in Spencer, West Virginia and died at the age of 94, on May 28, 2002, in Hazard, Kentucky. She was the daughter of Bertha Jane Welch Bradley and Frederick O Bradley and grew up on a farm outside of Spencer. She was a school teacher in one-room classrooms for four years in Roane County before she entered the United States Army Nurses Corps as a surgical nurse in 1934.
Bradley was serving as a hospital administrator at Camp John Hay in Baguio, Philippines on Luzon Island, 200 miles away from Manila three weeks after the Japanese attacked Pearl Harbor. The army was evacuated when Japanese soldiers took control of the area, but for many soldiers and nurses like Bradley, there was no place where they might escape. Bradley joined a doctor and another nurse as they hid in the hills for five days. They eventually surrendered after the local family that helped them hide eventually revealed their location.
During her thirty-seven months of captivity as a prisoner of war, Bradley was able to assist doctors and establish a medical dispensary. Bradley worked with a fellow doctor to covertly smuggle drugs from the camp hospital. She risked her life by taking such medication as World War I-era morphine and surgical instruments from the hospital to assist her fellow prisoners. Three days later, they performed an appendectomy.
Bradley was interviewed by the Washington Post in 1983, where she discussed her efforts to assist patients without proper equipment. "The Japanese thought it was wonderful we could do all this without any instruments," Bradley recalled. The team later helped a local pregnant woman deliver her baby. Before being transferred to Santo Thomas Internment Camp in Manila in 1943, Bradley had assisted in 230 major operations and helped deliver 13 babies.
During her time at Santo Tomas Internment Camp, Bradley and her fellow nurses earned the name "Angels in Fatigues" among local civilians and fellow prisoners. Prisoners recall the hope that these nurses provided as they shared the privation of prison life, which included a ration of only two cups of rice per day. Bradley saved part of her rice to help feed the children and also worked to steal food and hide it in her pockets to feed the children. When the army camp was liberated on February 3, 1945, Bradley withed only eighty-four pounds.
After World War II, Bradley worked for several base hospitals and took advantage of educational opportunities provided by the military and earned her bachelor's degree in nursing from the University of California.
A month after the Korean War in began in 1950, Bradley was sent overseas and was the chief nurse for the 8th Army. In this role, Bradley treated severely wounded soldiers that had been ambushed by enemy soldiers. A plane was sent to rescue her, but Bradley almost died before she boarded the plane when she left her ambulance in search of a missing soldier.
Bradley is the subject of the book, Angels in Fatigues, which details her heroism. Before leaving Korea, Bradley was given a full-dress guard ceremony and she became the first women to ever receive a national or international guard salute. Bradley retired in 1963 with the rank of Colonel. Her military career record included 34 decorations, medals and other awards. Some of the awards included: Prisoner of War Medal, World War II Victory Medal, and Korean Service Medal with three campaign stars, United Nations Service Medal, National Defense Service Medal and Florence Nightingale Medal. After her retirement from the Army, she worked the next seventeen years as a supervisor of a private duty nursing service in Roane County, West Virginia. In 1991, she told a reporter that she never saw herself as being special. "I want to be remembered as just being an Army nurse," she said.
Sources
Ruby Bradley. . 9/20/2018. https://en.wikipedia.org/wiki/Ruby_Bradley.

Vetern Tributes. . 9/192018. http://www.veterantributes.org/TributeDetail.php?recordID=1206.

Powell, Bob. December 19, 1907: Colonel Ruby Bradly Born. 12/19/2017. 9/19/2018. http://www.wvpublic.org/post/december-19-1907-colonel-ruby-bradley-born#stream/0.

Tabler, Dave. Hometown wisdom in time of war. 11/15/2015. 9/20/2018. http://www.appalachianhistory.net/2015/11/hometown-wisdom-in-time-of-war.html.

Polette, Nancy. Angel in Fatigues: The Story of Colonel Ruby G. Bradley, the Most Decorated Woman in the History of the United States Army. Blessinks, 2013.