Hays County Courthouse
Introduction
This historic courthouse located in San Marcos was built in the Classical Revival style and completed in 1908. The building is recognized by both the National Register of Historic Places and Texas Historical Commission.
Images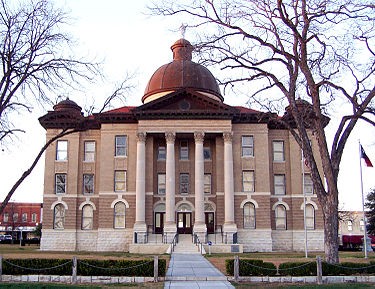 Backstory and Context
From the historic marker:
"When Hays County originated in 1848, its one public building was a log church-schoolhouse that had to serve as the courthouse, along with its other uses. Although the San Marcos townsite, platted in 1851, contained a court square donated to the county, the forfeiture of a $2,000.00 criminal bond later gave the county funds for building, and in 1861 officials employed contractor C. F. Millett to erect on the Square a 36 x 40-foot, 2-story frame courthouse with a hearing room, jury rooms, and 4 offices. That pine building burned in 1868, and county officials operated from rented quarters until a courthouse of soft, locally quarried limestone was completed in 1871. Damaged by earth shiftings, that 2-story, 45 x 53-foot building was razed (1881) and replaced by a 50 x 60-foot, 2-story building of harder limestone designed by F. E. Ruffini, architect for University of Texas buildings and for courthouses in several other counties. After that 1882-83 structure lost its top story in a fire on Feb. 28, 1908, it also was razed. The fourth and present courthouse, in eclectic style, was designed by C. H. Page & Brother, of Austin. Completed and accepted by the county court on Dec. 13, 1909, it has had interior alterations; it was restored in 1972."