Public School Number Two
Introduction
The brick building with the Mansard style roof at the corner of Mill and Passaic Streets was constructed in 1871 as a school building. "Public School Number Two" replaced an earlier, frame building a few blocks away that was too small and dilapidated for its 605 primary and grammar school students and seven teachers. A local architect, E.J.M. Derrick, designed the Victorian Gothic school building for the new Public School Number Two. The building is two-and-a-half stories tall and once sported a hipped roof bell tower above the front entrance. A new Public School Number Two was built next door in the 1920s, at 22 Passaic Street; the massive, three-story brick structure over a raised basement is still a city public school. The vacant school building from 1871 was listed in the National Register in 1977; it was owned by the New Jersey Department of Transportation at that time.
Images
Former Public School No. 2 building in 1977 photo for NRHP, looking north (Karschner)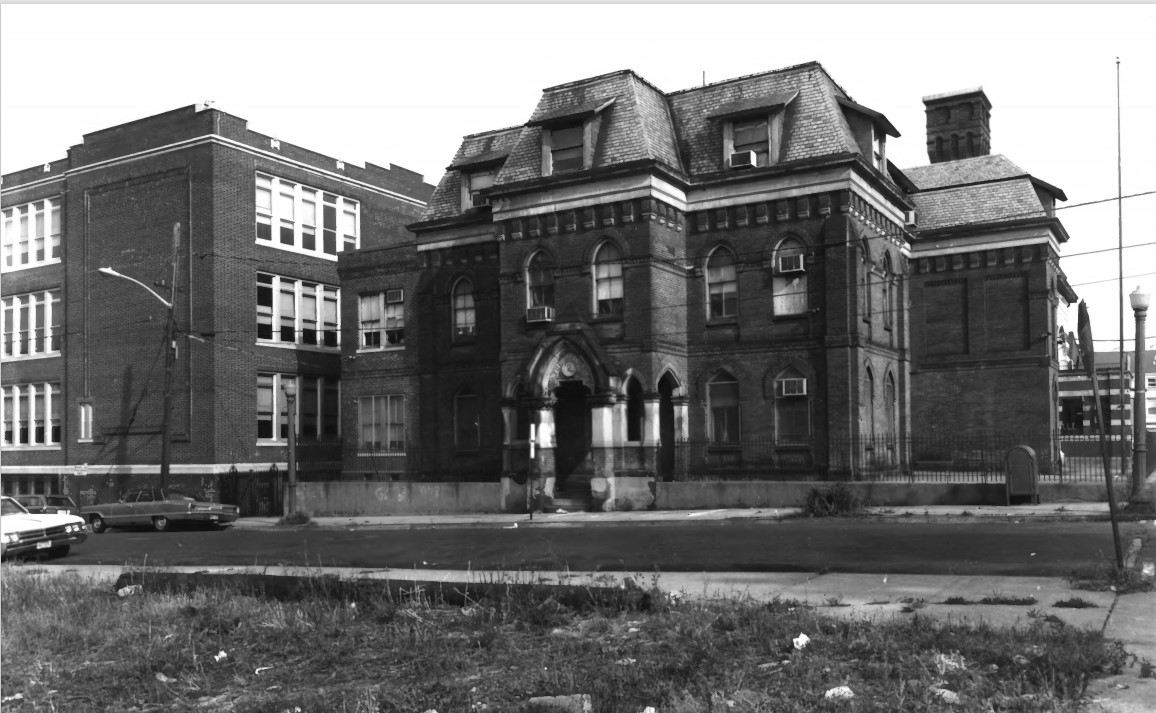 View of former Public School No. 2 building in 1977, looking northeast (Karschner)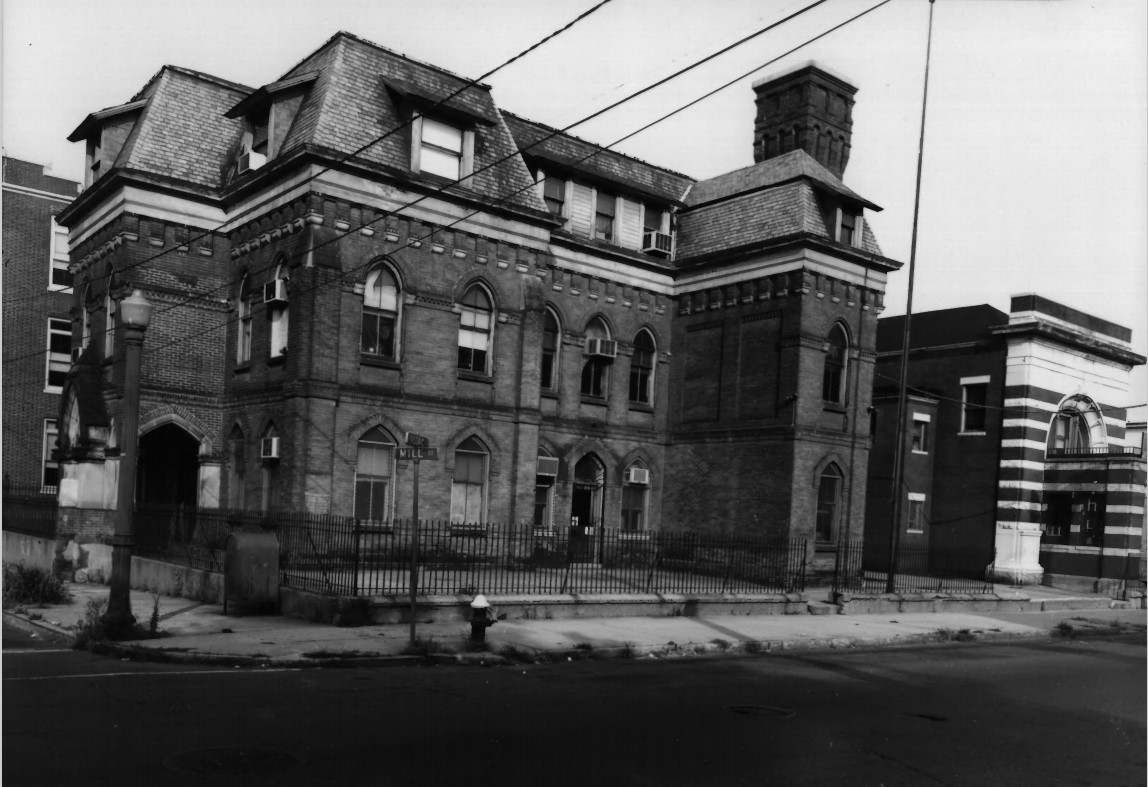 Data table of all 27 public schools in Paterson as of 1920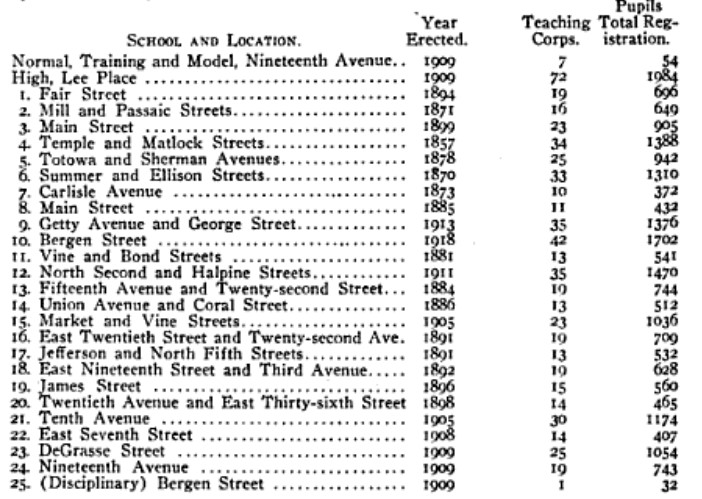 Paterson Board of Health in former Public School No. 2, next to new school on 1950 map (Sanborn V1, p.5)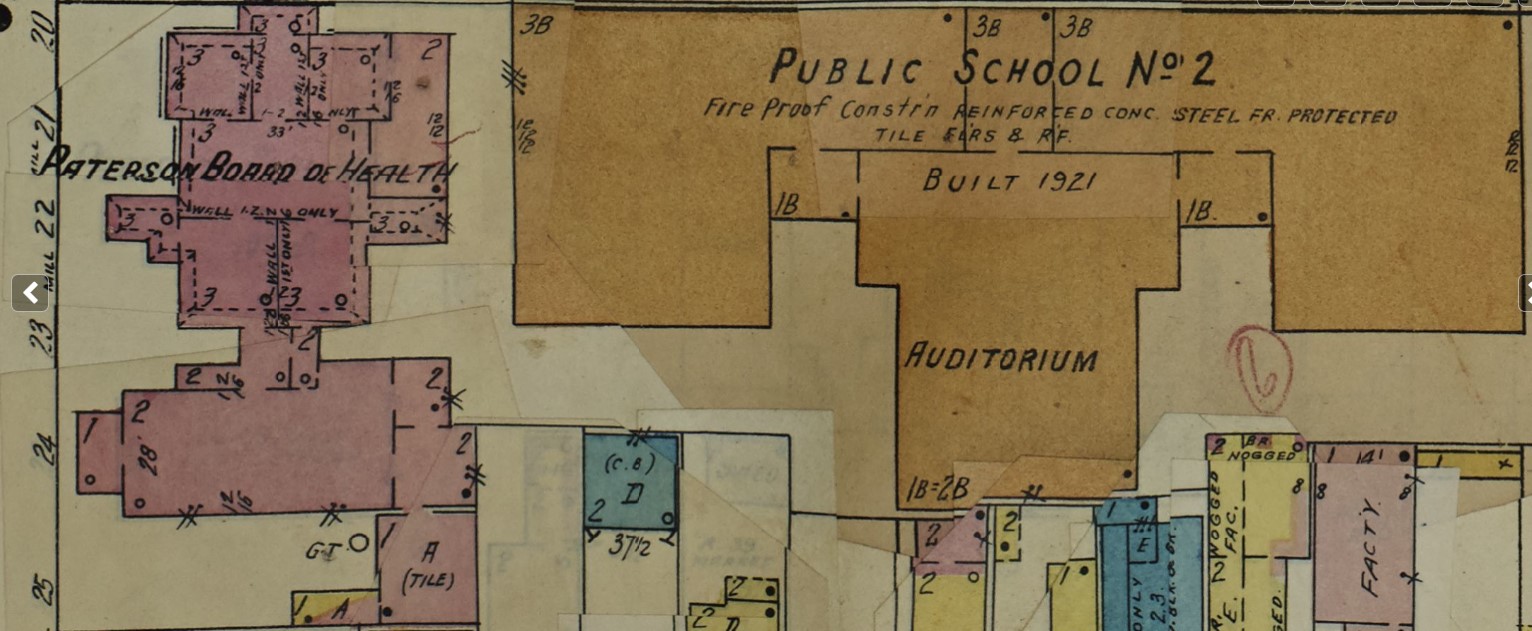 Public School No. 2 (red = brick) on 1899 Sanborn map of Paterson (Vol. 2 p. 105)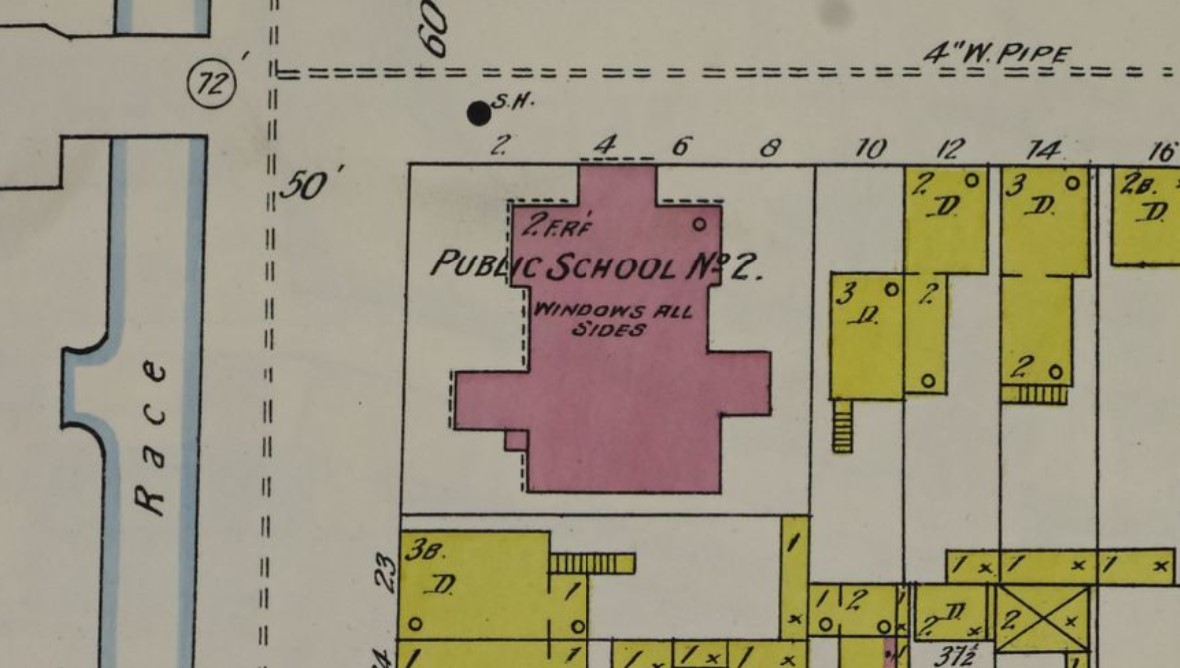 School (orange arrow) on ca. 1877 map of Paterson from Hyde Atlas (E.B. Hyde & Co. p. 25)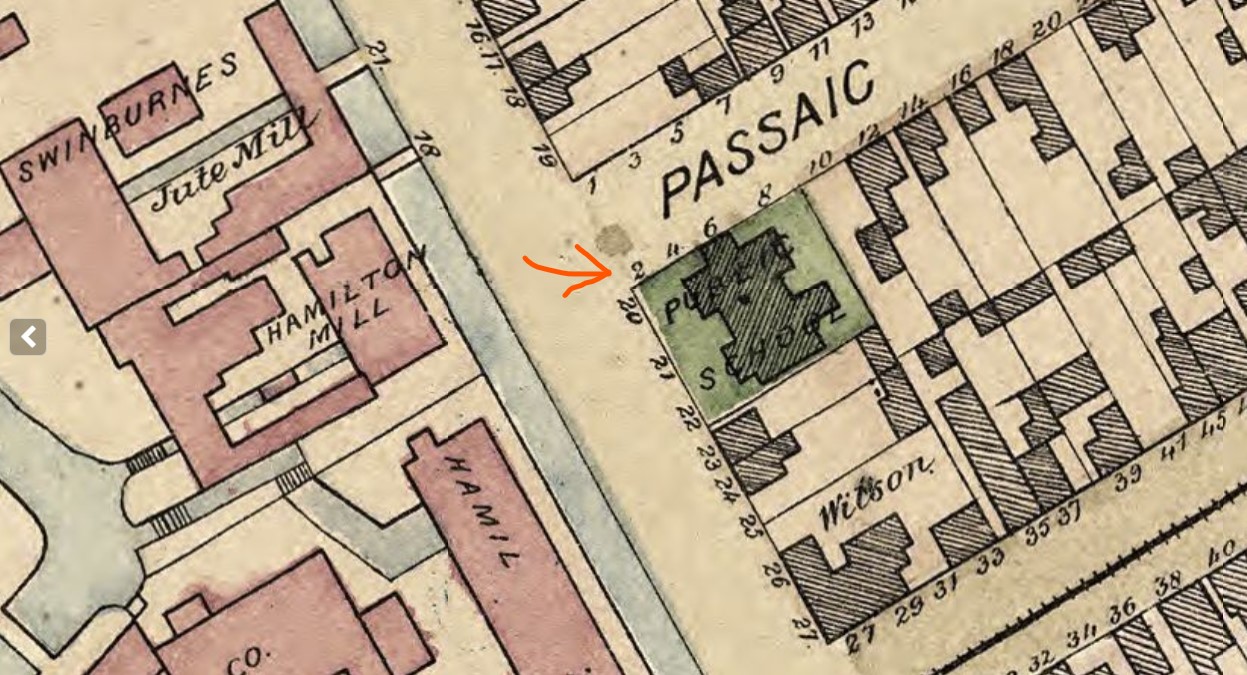 Backstory and Context
Public schools were part of the policies of Dutch colonies, including New Amsterdam (including parts of New York City and Passaic County). The Dutch West India Compoany sent a teacher to the colony in the 1640s and promised to 'defray a part of the expenses of education...the glorious work." The local clergyman or "consoler of the sick" (Zieken-trooster) often assumed the role of a second teacher. The first schoolhouse within the city limts of Paterson seems to have been at the corner of Market Street and Wesel Road, in the southeast portion of the town; the large stone building at the site by the late nineteenth century - about 20 by 40 feet - also accommodated the schoolmaster's residence for himself and his family in half of the structure. The school trustees installed a box stove for the pupils in 1825.
Schooling was not free in Passaic County until 1827, however, when the city passed a measure to provide $275 to pay for school of the town's poor. The first free school opened in a rented lower room in the existing academy building in July 1827; in the first year, 134 students enrolled. The teacher was the Reverend Mr. Gibson, a graduate of Washington College in Pennsylvania. The public school was so successful that funding was increased to $500 in 1828. By the 1830s, the name "free schools for the poor" was axed in favor of "free schools" or "public schools." The new township of Paterson held its schools in 1835-1836 in Mechanics' Institute before moving to the basement of the Methodist Episcopal Church on Cross Street in 1837-1838. The next location was the basement of the Baptist/ German Presbyterian Church on Broadway, and then the corner of Union and Smith Streets, until that building burned down in 1846. Eventually, a two-story, 30 by 40 foot, wood frame schoolhouse - the original School Number Two - was built onto the rear of an existing building on the south side of Ellison Street between Main and Prospect. The city took over the schools in the 1850s.
The Paterson Board of Education detailed school procedures in a manual in 1868. The school year began on September 1st and had three terms, ending in July. School was to begin Monday to Friday at 9 am, break at noon, resume at 2 pm, and end at 4 pm; the latter switched to 1:30 to 3:30 pm from November 1st to March 31st. Only one recess was given each day, from 10:30 to 10:50 am. A male principal was required to be present in each school building, and to read - or have read - a passage from the Holy Scriptures at the opening of the morning session. The students were prohibited from exhibiting rude, immoral, or disorderly conduct. School teachers were required to be at least 16 years old (!) and to undergo an examination by the Board of Examiners; the Committee on Teachers could conduct further examinations on candidates. Teachers would receive one of three grades of certificates: First Grade meant able to be employed in any public school in the city. Second Grade teachers could work in grammar schools, and Third Grade applicants were only qualified to teach the young students in primary schools. One High School and one "Colored School" served the whoile city in the late 1860s, along with seven grammar/primary or primary school buildings. The teachers at Number Two in 1868 were Sarah J. Perry, E.E. Adams, Anna Tynan, Melissa Daggers, Nettie King, Louisa Fossett, and Emma Welsh. Public School. Number Two employed 16 teachers for 649 pupils by 1920, more than twice the number of teachers from 1868.
A third-story enclosed walkway connects the 1871 School Two to the newer school building next door (built in 1921) that still houses School Two, serving about 550 students in grades kindergarten through eighth. The Paterson Board of Health occupied the 1871 School Two building by the late 1940s. The City of Paterson announced plans in 2020 to close two more of its nineteenth-century school buildings that would cost too much to keep in repair: School 14 (built in 1886) and the Urban Leadership Academy (School 17, built in 1891), both teaching grades kindergarten to fourth.
Sources
Karschner, Terry. NRHP Nomination of Public School Number 2, Paterson. National Register. Washington, DC. National Park Service, 1977.
Malinconico, Joe. Two Paterson schools, housed in nineteenth-century buildings, to close, Northjersey.com. March 15th 2020. Accessed March 14th 2021. https://www.northjersey.com/story/news/paterson-press/2020/03/12/paterson-nj-closing-two-schools-housed-19th-century-buildings/5033389002/.
Nelson, William. Shriner, Charles Anthony. History of Paterson and Its Environs (the Silk City): Historical - Genealogical - Biographical. Volume 2. New York, NY. Lewis Historical Publishing Company, 1920.
Paterson New Jersey. Manual of the Board of Education of the City of Paterson, New Jersey. Paterson, NJ. Chiswell & Wurts, 1868.
Paterson Public Schools. Paterson Public School Two, Paterson Public Schools. February 21st 2021. Accessed March 14th 2021. https://ps02-pps-nj.schoolloop.com/.
Public School Review. Public School 2, Public School Review. January 1st 2021. Accessed March 14th 2021. https://www.publicschoolreview.com/school-2-profile/07501.
Walter, Richard. Schools History, Paterson History: The Rich History of the City of Paterson New Jersey. January 1st 2021. Accessed March 14th 2021. http://patersonhistory.com/index.php/schools-history/.
Image Sources
https://npgallery.nps.gov/AssetDetail/NRIS/78001790

https://npgallery.nps.gov/AssetDetail/NRIS/78001790

1920 book, Nelson and Shriner p. 396 (Google Books)

https://www.loc.gov/item/sanborn05590_006.5/

https://www.loc.gov/item/sanborn05590_003/

Additional Information