Cheney Building
Introduction
The Cheney Building, built in 1876, was designed by the famed architect H.H. (Henry Hobson) Richardson, known as the initiator of the Romanesque revival in the United States. Richardson pioneered the development of modern, American architecture along with other lauded architects such as Louis Sullivan and Frank Lloyd Wright.
Images
Cheney Building By H. H. Richardson (1838–1886). Building finished in 1876.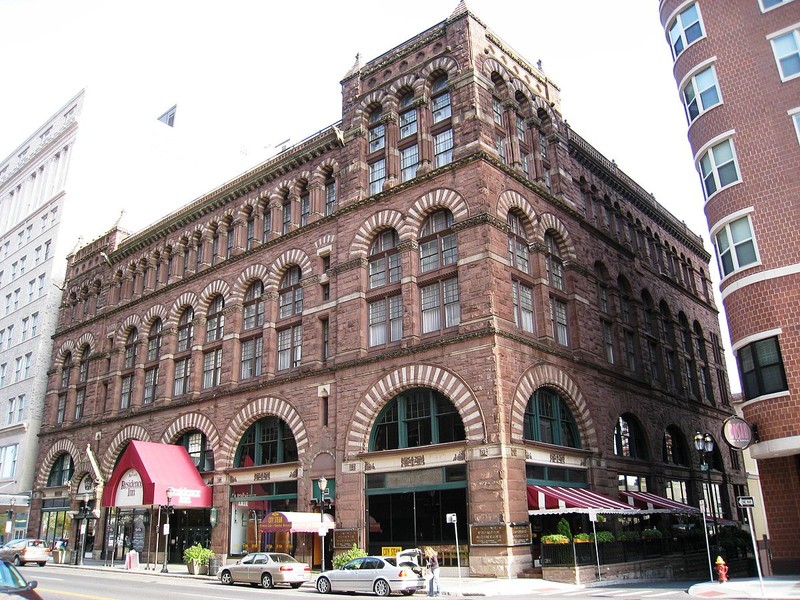 1895 Picture of the Cheney Building (then known as the Brown, Thompson & Co. Building).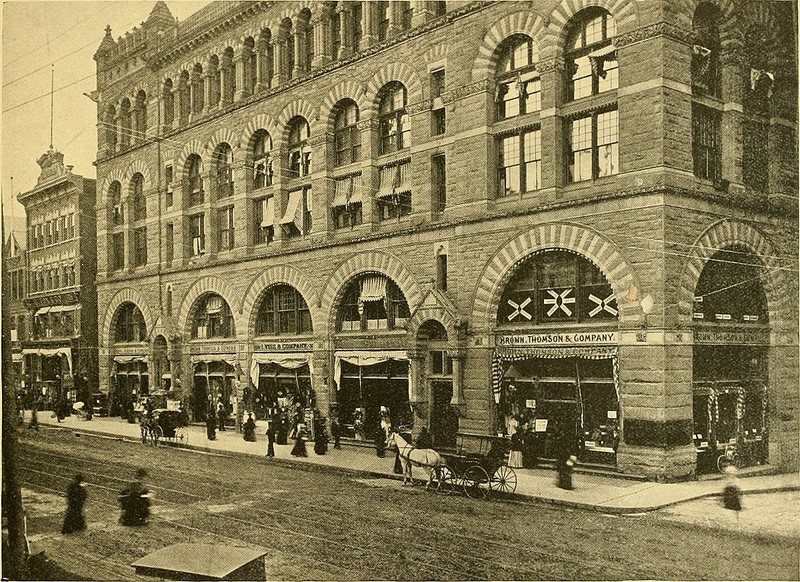 Backstory and Context
Famed architect Henry Hobson Richardson was commissioned in September 1875 to design the commercial block now known as the historic Cheney Building. Richardson, who along with Frank Lloyd Wright and Louis Sullivan, stands as one of the most influential architects in U.S. history.
H.H. Richardson initially intended to integrate the building with the adjacent and neighboring structures, until he found inspiration in the work of English architect Surges recent and successful use of brownstone with limestone at Trinity College. As such, he relied on a rough-faced stone to produce an original design for a commercial building comprised of a rugged appearance. The bright contrast of Berea limestone set against the Portland brownstone likely set the Cheney Building apart from neighboring structures.
The Cheney Building, completed in 1876, gets its name from its original occupants, the Cheney Brothers, silk manufacturers from Manchester, Connecticut. Five small shops occupied the ground floor while offices and apartments filled the upper stories. The building later housed Brown Thomson's and then G. Fox and Co.'s Department stores. Today it is known as the Richardson Building and primarily serves as a Marriott's Residence Inn.
But the real history of the building lies in its architect, not in those who called the building home. The structure proved to be a pivotal step in the career of H.H. Richardson (as well as the world of architecture ) towards the development and refinement of skyscraper construction. Ten years after Richardson designed the Cheney Building, he designed Chicago's Marshall-Field Warehouse, an essential building within the realm of contemporary downtown architecture and one of the many works that influenced Chicago School and Prairie School architect, Louis Sullivan. Indeed, Richardson often gets referred to as the initiator of the U.S. Romanesque revival and a central figure towards the development of indigenous, modern American style of architecture.
Sources
"Cheney Building (1876)."
Historic Buildings of Connecticut.
June 3, 2007. http://historicbuildingsct.com/the-cheney-building-1876/
Floyd, Margaret H. Henry Hobson Richardson. A Genius for Architecture. New York: The Monacelli Press, 1997
Harkrader, Nina E. "Massive Masterpiece Henry Richardson's Cheney Building Considered One of His Best." Hartford Courant(Hartford), September 25, 2005.
Luyster, Constance. "Nomination Form: Cheney Building." National Register of Historic Places. July 7, 1970. https://npgallery.nps.gov/GetAsset/b65bdbc9-defa-413d-aff3-3a6cf0d88212/
O'Gorman, James Francis. Three American Architects: Richardson, Sullivan, and Wright, 1865-1915. Chicago: University of Chicago Press, 1991.
--- --- ---. "H.H. Richardson: American Architect." Encyclopedia Britannica. Sept 25, 2018. https://www.britannica.com/biography/H-H-Richardson

Photo Sources

Cheney Building By H. H. Richardson (1838–1886), architect: Public Domain, https://commons.wikimedia.org/w/index.php?curid=3120685

1895 Photo: Photo arrives via the University of Connecticut Libraries (Digitizing Sponsor: Boston Library). The picture can now be found through the "Internet Archive Book Images" - https://www.flickr.com/photos/internetarchivebookimages/14597860278/Source book page: https://archive.org/stream/hartforditspoint00merc/hartforditspoint00merc#page/n9/mode/1up, No restrictions, https://commons.wikimedia.org/w/index.php?curid=43742015

Additional Information