First Baptist Church (1830-1856) / Touro Hall (1856-1875)
Introduction
Hartford's First Baptist Church was built on this spot in 1830. Jewish Congregation Beth Israel (CBI) purchased the building for $28,000 in 1856, with the help of a $5000 donation from Judah Touro, a philanthropist who supported multiple synagogues as well as the creation of the Bunker Hill Monument. CBI renamed the structure Touro Hall in his honor. Touro Hall provided space not only for religious services and education, but also for events and concerts thanks to its ability to accommodate crowds of up to 1500 people. Fire damaged the building in 1875, at which point CBI sold it and moved to a newly built temple on Charter Oak Avenue.
Images
Touro Hall was named after Judah Touro, a New Orleans business owner and philanthropist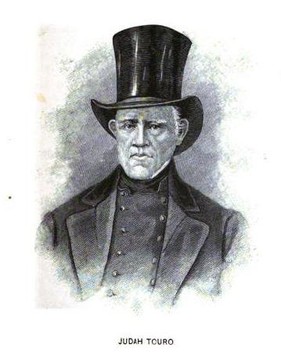 Backstory and Context
Judah Touro (1775-1854)
Born in Newport, RI in 1775, Judah Touro was the son of Isaac and Reyna Touro, members of the Sephardic synagogue Yesuat Israel. Judah experienced a somewhat turbulent childhood due to the Revolutionary War. His family remained loyal to the British Crown and relied on aid from the British troops occupying Newport. The Touros moved first to New York City and then to Jamaica. Isaac died there in 1783, and the family relocated again to Boston. Reyna died in 1787, and her brother Moses Michael Hays took over care of her children. As a young man, Judah was sent by his uncle on a trading shipment to the Mediterranean.

In 1801, he relocated to New Orleans which was then under Spanish control. Spain and France had signed the 3rd Treaty of San Idlefonso in 1800, which stipulated that Spain would in theory hand over control of Louisiana to France. The 1801 Treaty of Anranjuez confirmed this agreement, and New Orleans became French territory. Soon afterward, in 1803, the United States completed the Louisiana Purchase, acquiring New Orleans for itself. The city's economy prospered following this transfer, allowing Judah to forge a career as a successful merchant.

He served as a civilian volunteer in the US Army and was severely injured at the Battle of New Orleans in 1815. Although he recovered, he seems to have largely retired from civic and social engagements following his injury, dedicating himself instead to his business ventures. He amassed a considerable fortune through a combination of successful business operations, real estate investment, and the maintenance of a modest lifestyle.

Later in life, with his financial position secure, Touro began to make philanthropic donations to a variety of causes. He contributed to Boston's Bunker Hill Monument, to Newport's public library, and to New Orleans churches. Touro's relationships with prominent Jewish leaders Gershom Kursheedt of New Orleans and Rabbi Isaac Leeser of Philadelphia likely prompted him to start contributing to Jewish causes and communities as well. Touro helped to establish a Sephardic congregation, Nefuzoth Yehuda, in New Orleans, and he also opened a Jewish hospital, the Touro Infirmary.

Judah Touro died in 1854. In his will, he bequeathed large sums to Jewish congregations and organizations, both in New Orleans and elsewhere, as well as to Massachusetts General Hospital. Among his beneficiaries was Congregation Beth Israel, which used the bequest to acquire the former church on Temple Street, which then became known as Touro Hall.







Sources
"Historic Synagogues of Hartford." Jewish Historical Society of Greater Hartford. Accessed January 08, 2019. https://jhsgh.org/historic-synagogues-of-hartford/.

Jacobs, Joseph, and L. Hühner. "Touro, Judah." Jewish Encyclopedia. 1906. Accessed January 09, 2019. http://www.jewishencyclopedia.com/articles/14464-touro-judah.

Jewish Historical Society of Greater Hartford. Jewish Community of Hartford. Charleston, SC.: Arcadia, 2016. p. 8.

"Judah Touro." Jewish Virtual Library. Accessed January 09, 2019. https://www.jewishvirtuallibrary.org/judah-touro.

"Touro, Judah." Encyclopaedia Judaica. Accessed January 09, 2019. https://www.encyclopedia.com/religion/encyclopedias-almanacs-transcripts-and-maps/touro-judah.

Image credit: https://commons.wikimedia.org/wiki/File:Judah_Touro_of_Newport_Rhode_Island.jpg
Additional Information