Museum of Natural & Other Curiosities
Introduction
The top floor of Hartford's venerable Old State House is now home to the modern incarnation of one of the nation's very first museums. Reverend Joseph's Steward opened his Museum of Natural & Other Curiosities in 1797 with the goal of promoting his services as a painter of portraits. In some ways, the museum was a precursor to the kind of exhibitions popularized by 19th-century entertainer and promoter P.T. Barnum's. Steward's museum closed sometime in the early Victorian era. This museum opened two centuries later utilizing the same name and features exhibits that include the "two-headed calf 2.0," a reference to Steward's original slideshow. The museum was temporarily closed in 2016 but reopened shortly thereafter.
Images
The celebrated two-headed calf itself (or themselves).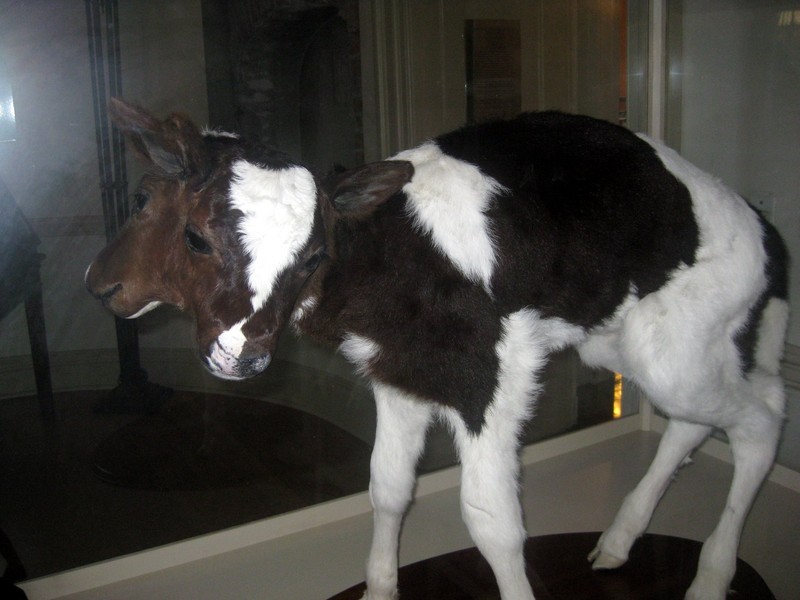 One of the few portraits Rev. Steward actually managed to sell before his museum curator career left. The portrait is that of Eleazar Wheelock, Dartmouth College founder.
The Old State House, home to the Museum of Natural & Other Curiosities.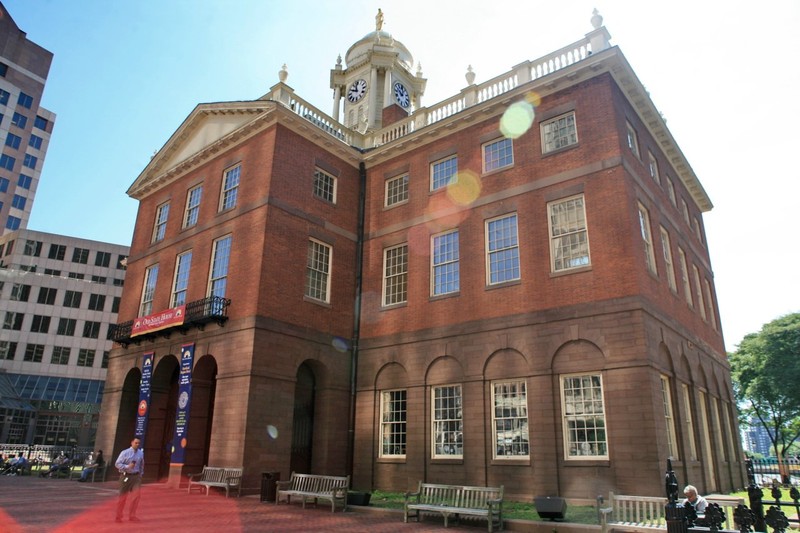 Backstory and Context
Hartford's Old State House may seem an unlikely place for a museum of this type, especially given the building's past as the host of momentous events such as the Amistad mutiny trials and the Hartford Convention of 1814-1815. The building also houses the famous Gilbert Stuart portrait of George Washington – the one familiar to anyone who's ever had in their possession a $1 bill. 
And yet, for the thousands of visitors who stream through the statehouse doors, the top attraction is something a bit less solemn. But just as the "curiosities" such as the two-headed calf provided an opportunity to teach something important about nature and farming in two centuries ago, the current two-headed calf is a genuine specimen that teaches modern residents and visitors to this urban area about the dairy industry. The calf was born in a non-living condition in 1996 from a Michigan dairy farm. 
The first iteration of this museum opened in 1797 thanks to the efforts of Hartford minister and portrait painter Joseph M. Steward. While Reverend Steward served as Deacon of the First Church of Hartford from 1797 to his death in 1822, his portrait-painting business was less successful. While Steward had few commissions, he had plenty of space after securing permission from the Connecticut General Assembly to open a studio on the third floor of its new state house. Displaying more of a gift for advertising than painting, Reverend Steward decided to assemble a display of oddities he collected in order to attract potential portrait customers. Forty years before P.T. Barnum's sideshow exhibitions, Connecticut residents could tour oddities and curiosities.
Portrait commissions may have remained scarce for Steward, but the Museum of Natural & Other Attractions was a hit. Within a decade, the collection grew to include artifacts as waxworks, stalactites, and numerous stuffed animals including a dwarf cow, a "sagacious" goat and the original two-headed calf, had outgrown its stately chambers and required new accommodations. Rev. Steward accordingly purchased the nearby Talcott Mansion, where his expanded museum reopened in 1808. Even after Steward's death, the museum kept operating and acquired a new location at 131 State Street. Records indicate that the museum operated until at least 1840, with visitors paying an admission fee of 25 cents (about $7 in modern currency).
The museum closed and the collection eventually dispersed to private collectors and filled attics and outbuildings. Some items were even acquired by the Connecticut Historical Society where they languished in storage rooms until the 1990s until state house director WIlson H. Faude (a worthy successor to both Steward and Barnum when it came to showmanship) discovered the history of the museum. Faude determined to recreate the former museum within its original location in the old state house. After securing the surviving artifacts from the historical society, he added new curiosities such as the famous bicephalic calf and a two-headed piglet in a jar donated in 1998.
The museum combined new and old curiosities, with a collection containing such rarities as a unicorn (narwhal) horn, a stuffed crocodile, a mummy's hand, and an elephant foot footstool, proved to be just as popular as its 18th/19th century predecessor. The museum may be Connecticut's quirkiest attraction, but it draws visitors from all over the United States. While the Museum of Natural & Other Curiosities, along with the rest of the Old State House, was temporarily closed due to lack of funding, it is once again open for business.
Sources
Ryan, Bill. A Museum Draw, Tried and True. The New York Times. August 31, 1997. Accessed June 01, 2018. https://www.nytimes.com/1997/08/31/nyregion/a-museum-draw-tried-and-true.html?pagewanted=1.
Michelle, Enemark. Museum of Natural and Other Curiosities. Atlas Obscura. . Accessed June 01, 2018. https://www.atlasobscura.com/places/museum-natural-other-curiosities.
The Greatest Show in Hartford. Hartford Courant. August 14, 1998. Accessed June 01, 2018. http://articles.courant.com/1998-08-14/news/9808140066_1_report-claims-two-headed-calf-museum.
Palmes, Joshua. Weirdest Museums in Connecticut. CBS Connecticut. July 22, 2013. Accessed June 01, 2018. http://connecticut.cbslocal.com/top-lists/weirdest-museums-in-connecticut/.
Joseph Steward Museum of Curiosities. Connecticut Weekender. . Accessed June 01, 2018. https://ctweekender.com/things-to-do-in-connecticut/oddities-ct/joseph-steward-museum-of-curiosities....
Museum of Natural an Other Curiosities. Roadside America. . Accessed June 01, 2018. https://www.roadsideamerica.com/story/11760.
Bendici, Ray. Joseph Steward's Museum of Natural and Other Curiosities, Hartford. Damned Connecticut. . June, 2009. Accessed June 01, 2018. http://www.damnedct.com/joseph-stewards-museum-of-natural-and-other-curiosities-hartford/.
Klein, Christopher. Hartford Collection Attracts the Curious. Boston.com. September 04, 2011. Accessed June 01, 2018. http://archive.boston.com/travel/explorene/connecticut/articles/2011/09/04/hartford_museum_of_natura....
Dunne, Susan. From The Creepy To The Bizarre, Connecticut's Cache Of Odd Artifacts. Hartford Courant. March 29, 2017. Accessed June 01, 2018. http://www.courant.com/entertainment/museums-galleries/hc-weird-stuff-in-connecticut-museums-2017040.... 
Allen, Eliasen. Historical Currency Conversions. . Accessed June 01, 2018. https://futureboy.us/fsp/dollar.fsp.
Haar, Dan. Wilson H. Faude, Historic Preservation Activist And Former Old State House Director, Dies. Hartford Courant. May 24, 2017. Accessed June 01, 2018. http://www.courant.com/news/connecticut/hc-wilson-faude-obituary-20170524-story.html.
Piro, Todd. Old State House in Hartford Reopens. NBC Connecticut. November 28, 2016. Accessed June 01, 2018. https://www.nbcconnecticut.com/news/local/Old-State-House-in-Hartford-Reopens-403451716.html.
Connecticut's Old State House. . Accessed June 01, 2018. https://www.cga.ct.gov/osh/default.asp.
Additional Information