Bushnell Park
Introduction
Bushnell Park became the nation's first publicly-funded park in 1854. The measure was led by Reverend Horace Bushnell, and thanks to his efforts, community members voted to spend $105,000 to purchase the land for the park. Hartford was thriving thanks to industries such as insurance, publishing, and munitions and the population of the city doubled over the course of a single decade. The downside to this economic growth could be felt by residents who became increasingly aware of the need for green space in the midst of the increasingly urban setting. The previous year, private investors in New York purchased land that was to become Central Park. The Reverend Bushnell, however, decided Hartford would be better served by a park that was owned by its citizenry. He worked tirelessly to advocate for the park which would one day bear his name in recognition of his efforts.
Images
A painting of a long-vanished bridge over the long-buried Park River - and also the still-standing Soldiers and Sailors Memorial Arch.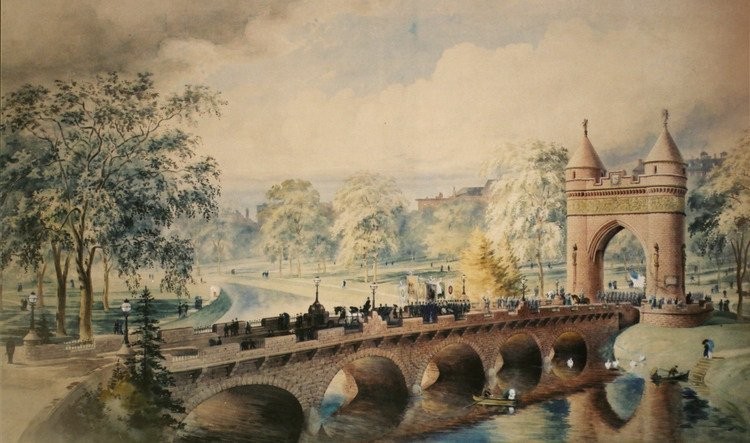 A 1906 photo of the Memorial Arch alongside the State Capitol which lies adjacent to the park.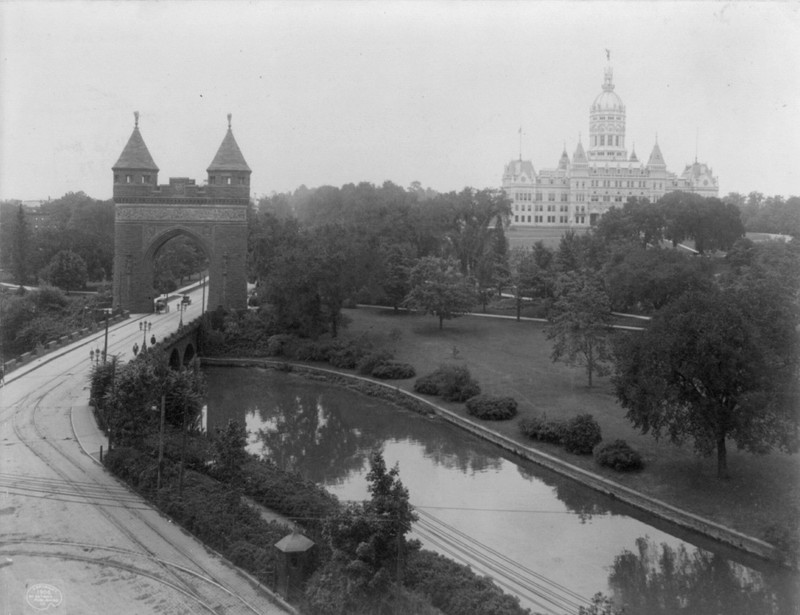 A contemporary view of the Arch and the Capitol.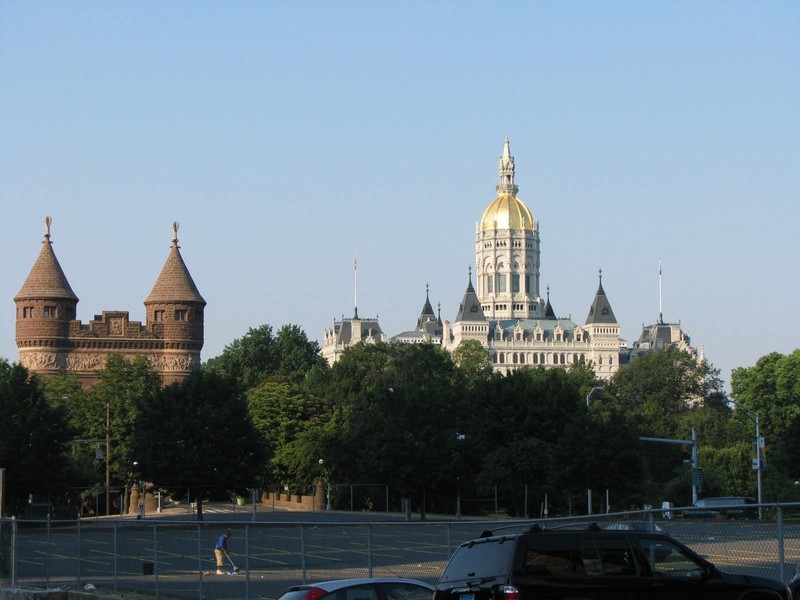 The Corning Fountain depicting several of Hartford's First People, the Saukiogs.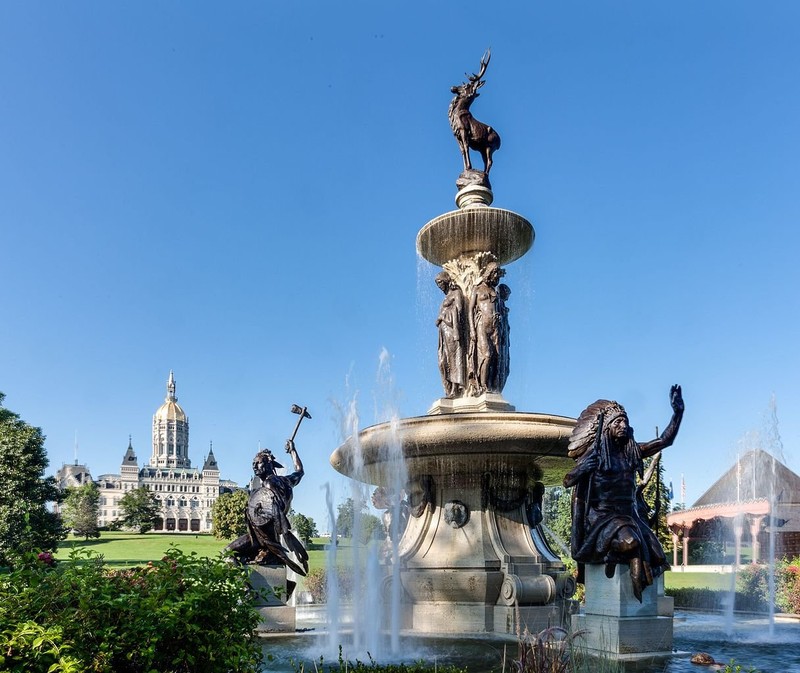 The entrance to Bushnell Park.
The Footguard Oak, a descendant of the Charter Oak planted in Bushnell Park in 1871.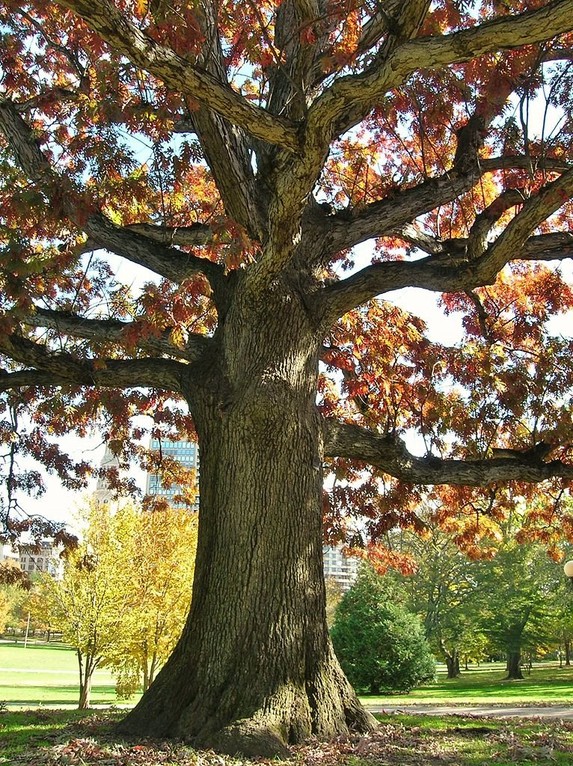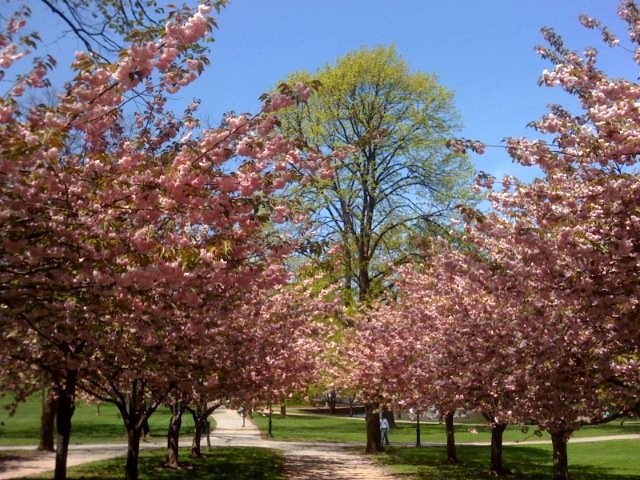 Backstory and Context
Funds for the park were approved in 1854, but the park was not actually open to the public until the following decade. First there was the matter of selecting a suitable plot of land which proved difficult owing to the city's growth. The land that was eventually chosen needed to be cleared of several pigsties and had previously been used as a garbage dump. This land had become a nuisance and an eyesore given its location near the train station, something that made the conversion of this area into a park an even more attractive project for residents. The city hoped to hir Frederick Law Olmsted t design the pak. He was unavailable, however, due to a prior commitment to design New York's Central Park. Bushnell followed Olmsted's recommendation that the city hire Swiss landscape architect Jacob Weidemann in his place.
Weidemann's original design for what was then known as City Park followed what was known as the natural style, in contrast to the more formal style of village green typical of New England towns of the time. Weidemann was a botanist as well as an architect, and he arranged for a total of 1,100 trees and shrubs of 157 different varieties to be planted all throughout the park. This created a living "screen" of greenery that created a peaceful oasis amidst the city's chaos. While some elements of the park's original design have vanished, most notably the Park River which was buried in the 1940s, numerous other scenic elements and architectural features have been added over the past 150 years which add to the park's beauty and charm.
One of Bushnell Park's best-known attractions is its Soldiers and Sailors Memorial Arch, erected in 1886 as a tribute to those who died in the Civil War. Not as celebrated, but also deserving of notice, is the 1927 allegorical sculpture Spirit of Victory, commemorating those Hartford men who served in the Spanish-American War. Park statuary includes Horace Wells, the Hartford dentist who discovered anesthesia, and Revolutionary War general Israel Putnam. The Corning Fountain, with its figures of several Native Americans of the Saukiog tribe, was gifted to the city by John Corning of the New York glass manufacturing company. This statue was meant to honor Corning's Hartford-born father who had once operated a gristmill by the site where the fountain now flows.
No trip to the park would be complete without a visit to its famous carousel. The carousel was built in 1914, and spent its first six decades in an Ohio amusement park before being relocated to Hartford in 1976. Bushnell Park also features a pond, built to replace the original park pond that was drained when the Park River was buried after disastrous flooding. A performance pavilion added in the 1970s was built in a style that harmonizes with the park's older structures.
Bushnell Park is open year-round and offers free ice skating on the pond during Winterfest, which runs from November through January. Other wintertime events include Santa's Workshop, a Winter Solstice celebration, and chilly carousel rides. In springtime, the park resumes offering tours of some of its monuments. By summer, things are in full swing, with free outdoor movies, the re-opening of the carousel, and a Monday night jazz series that has been going on for 51 years. All in all, Reverend Bushnell would probably be quite pleased to see what's become of his park – although he's still waiting on that statue of himself that he'd (jokingly) requested be placed under a bridge that no longer stands.
Sources
Park History. Bushnell Park Foundation. . Accessed July 10, 2018. http://www.bushnellpark.org/about-2/history-2.

Horace Bushnell. Bushnell Park Foundation. . Accessed July 10, 2018.

Events. Bushnell Park Foundation. . Accessed July 10, 2018. http://www.bushnellpark.org/events.

Bushnell Park Carousel. Bushnell Park Foundation. . Accessed July 10, 2018. http://www.bushnellpark.org/attractions/the-carousel.


State Capitol. Bushnell Park Foundation. . Accessed July 10, 2018. http://www.bushnellpark.org/attractions/state-capitol.

O'Brien, Jr., Joseph A.. Restoration Efforts At The Bushnell Park Carousel. Hartford Courant. July 02, 2014. Accessed July 10, 2018. www.courant.com/hartford-magazine/features/hc-hm-bushnell-carousel-20140702-story.ht.

Land Purchase Becomes Bushnell Park - Today in History: January 5. Connecticut History. . Accessed July 10, 2018. https://connecticuthistory.org/land-purchase-becomes-bushnell-park-today-in-history/.

Spirit of Victory - Hartford, CT. Waymarking.com. . Accessed July 10, 2018. http://www.waymarking.com/waymarks/WMD6KD_Spirit_of_Victory_Hartford_CT.

City Center: Bushnell Park. Hartford, Connecticut: Landmarks - History - Neighborhoods. . Accessed July 10, 2018. http://hartford.omaxfield.com/citycenter/bushpk.html.

CT – Hartford, Bushnell Park – 1914 Stein and Goldstein. Carousel History. January 01, 2015. Accessed July 10, 2018. http://carouselhistory.com/1914-stein-and-goldstein-carousel-hartford-ct/.

Hartford, Connecticut: Bushnell Park. Altruista Strada. January 24, 2018. Accessed July 10, 2018. https://altruistastrada.com/hartford-connecticut-2/.

Winterfest Events. Winterfest Hartford. . Accessed July 10, 2018. https://www.winterfesthartford.com/winterfestevents/

Leff, David K.. Charter Oak's Offspring Keep History Alive. Hartford Courant. December 10, 2015. Accessed July 10, 2018. www.courant.com/opinion/op-ed/hc-op-leff-charter-oak-1210-20151209-story.html.


Additional Information