Hartford Union Station
Introduction
Designed by architect George Keller in Richardsonian Romanesque design in 1889, it serves as a reminder of the significance of railways in the late nineteenth century, both functionally and as a method for which a city could demonstrate its vitality. The city's growth and its numerous financial institutions that called Hartford home by the 1880s forced the town to build a station suitable to handle several train routes that connected it to cities throughout New England, as well as catch the eye with its aesthetic design.
Images
Central section of Hartford Union Station in December 2017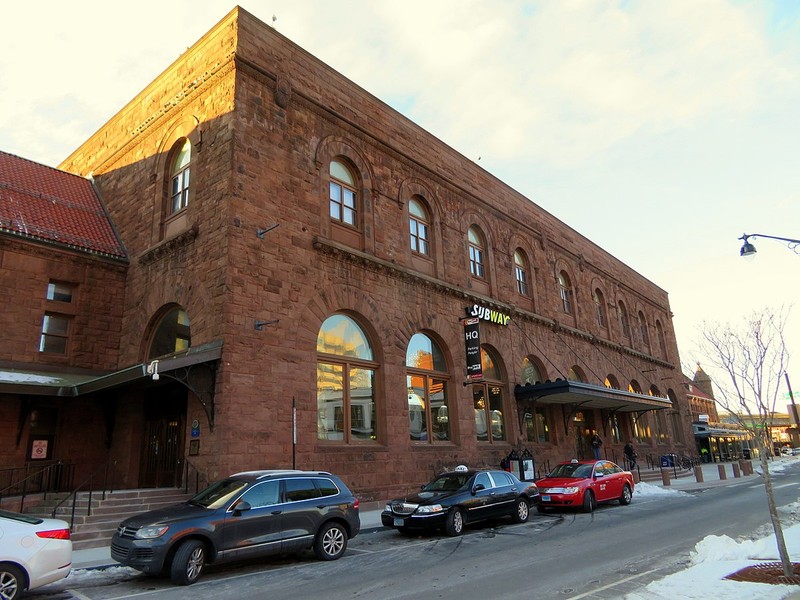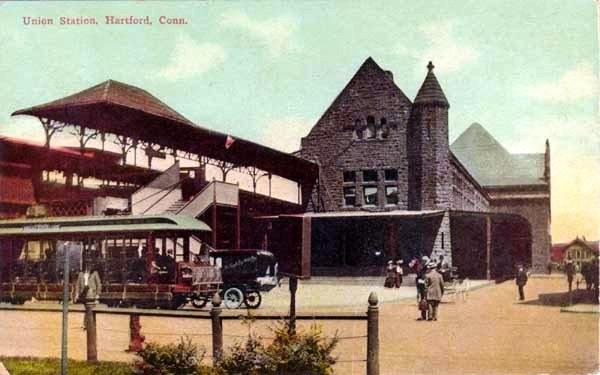 Backstory and Context
Hartford's Union Station was the largest and costliest rail station in Connecticut when it was completed in 1889. The station's cost and ornate, Richardson-Romanesque design point to the significance of railroads in late nineteenth-century society, as well as Hartford's position as a growing metropolis and an instrumental transportation hub within the New England region.
In 1887, five railroads served Hartford with routes connecting the city to Boston, Providence, Saybrook, New Haven, Banbury, Poughkeepsie, and Springfield. The significant increase in railway traffic during in the late nineteenth rendered Hartford's first two passenger stations inadequate, both regarding handling human traffic and modern trains, which forced the city to design a new station capable of handling modern-day transportation needs. By 1887, the city began work on the new station, which included better platforms, comforts, enhanced grade-level crossings and architectural designs that included ornamented details.
The railway's presence in Hartford spoke to the city's place as the home to numerous financial institutions and overall urban growth. The new station served the city functionally, to be sure, but also stood as a symbol of its vitality. The building enjoys classic Romanesque design, a concept developed by H. H. Richardson, a famed architect that designed buildings in Hartford as well as several other U.S. cities. Though he died in 1886, his influence remained for decades to come. Besides its size, the building's Romanesque design included features such as large stones, and arcaded facade, steep gabled roofs, stone arches, small dormers, deep window reveals, towers, and medieval moldings. Passengers passing through Hartford would see the station as a sign of Hartford's growth and importance (or so it was intended).
The most serious alterations to the building transpired in 1914 when a fire destroyed the roof and severely damaged the interior. Renovations to the interior occurred in the 1980s, mostly to modernize it. Today, the station serves as an Amtrak station.
Sources
Fogel, Robert W. Railroads and American Economic Growth: Essays in Econometric History. Baltimore: Johns Hopkins Press, 1964.
Glouette, Bruce. "Nomination Form: Hartford Union Station." National Register of Historic Places. July 9, 1975. https://npgallery.nps.gov/GetAsset/532afea4-b914-41a8-9b4c-d9a05bcf516b
Ochsner, Jeffrey Karl. H. H. Richardson: Complete Architectural Works. Cambridge: MIT Press, 1984.
Trachtenberg, Alan. The Incorporation of America: Culture and Society in the Gilded Age. New York: Hill and Wang, 2007, 1982.

Photo Sources

Central Section: By Pi.1415926535 - Own work, CC BY-SA 3.0, https://commons.wikimedia.org/w/index.php?curid=65590912

1912 Postcard: Author/Creator Unknown. Public Domain, https://commons.wikimedia.org/w/index.php?curid=13396426

Additional Information