Mary Todd Lincoln House
Introduction
The Mary Todd-Lincoln House opened to the public in 1977. One of the most influential presidential spouses in American history, Mary Todd-Lincoln also became the first of America's "First Ladies" to have a historic site dedicated in her honor. The house is located in downtown Lexington, Kentucky where she spent most of her adolescent years. She married 16th President Abraham Lincoln who visited the house along with the Todd family during his presidency. The house museum offers exhibits about the Todd and Lincoln families and other wealthier families along the Kentucky frontier.
Images
An outside view of the Mary Todd Lincoln House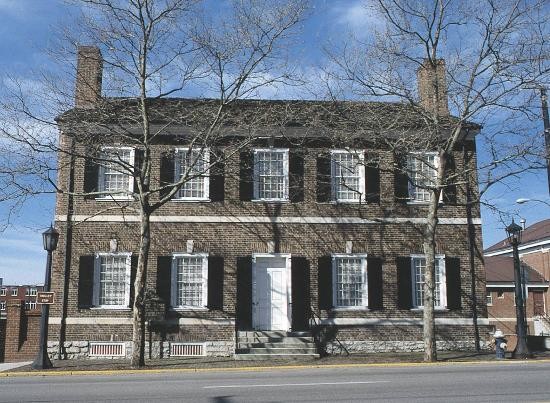 A plaque outside the house provides information about the house.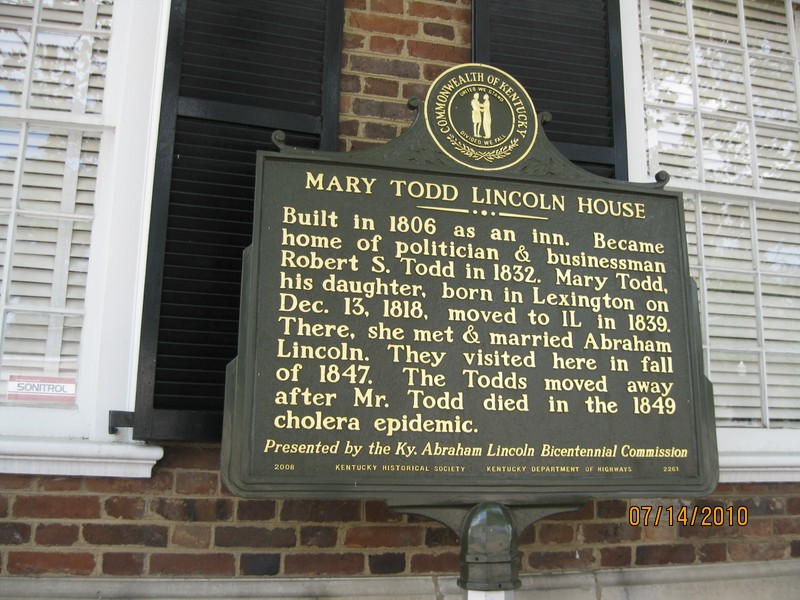 Mary Todd and President Lincoln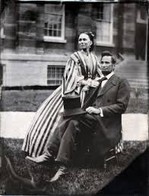 Inside the Mary Todd Lincoln House in Mary Todd's bedroom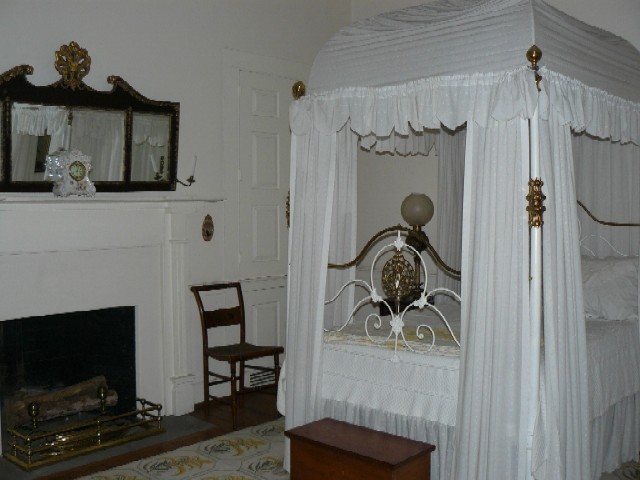 Backstory and Context
This house was constructed in Lexington between 1803 and 1806. Before President Abraham Lincoln's future wife lived there, the building served as a public inn known as "The Sign of the Green Tree." In 1832, Robert Todd, a politician and businessman, turned the inn into a home for his family which at that time included his 3-year-old daughter Mary. The house was located in the heart of growing community which was sometimes compared to neighborhoods in Philadelphia and Boston given the wealth of area land-owning residents. Because Robert Todd was a wealthier and more prominent man, he was able to provide his family with a prestigious social standing along with extravagant possessions. Her grandfather was Levi Todd, one of the founders of the city Lexington. Mary Todd received a high-quality education and became extremely well-versed in many subjects including politics.
The large house on Main Street was maintained by household slaves. Because of her father's wealth and status, young Mary Todd would have met many influential guests to the home including fellow Kentuckian Henry Clay. At the time, Clay was an ambitious leader of the young Whig party and he would later become a three-time presidential candidate. Clay was a family friend and assured Mary she would be among the first guests in Washington should he become president. She made it to the White House, but it was not through Clay.
After her sister Elizabeth Todd married the former governor of Illinois. Mary later followed her to Springfield in 1839. While in Springfield she attracted several admirers, including Stephan Douglas and her eventual husband. It was not long after she moved when she attended a dance where she met her future husband and future 16th President. At first, her family did not approve of the marriage, for Lincoln had very little formal education and grew up poor. Lincoln proposed, but then broke off the engagement due to having cold feet. Eighteen months later, the two rekindled and got married the next day in 1842. Five years later, Lincoln and Todd visited Lexington for three weeks on their way to Washington for the beginnings of Lincoln's political career.
Mary had given up her luxurious life for Lincoln while maintaining their household in Springfield. She was reportedly "worn" but not displeased with this role. Both through marriage and her advice and support, Mary helped Lincoln advance his political career. As he gained popularity and a reputation for thoughtful speeches, Lincoln began his rise to prominence. In 1860, he became the nation's first Republican President. When Mary moved into the White House there was major controversy surrounding it.
As the nation headed toward disunion, many thought Lincoln's marriage might be problematic as his wife was a product of a slave-holding Kentucky family with Confederate sympathies. Some even accused her of being a Confederate spy. Others disagreed, claiming her partnership with Lincoln as proof of her rejection of her Southern roots. This and events in their lives caused Mary to live uncomfortably in the White House for the entirety of the Lincoln presidency. Her breaking point was the loss of her child and the assassination of her husband at Ford's Theater in 1865. Some historians suggest she was driven insane by political stresses, scandals, and the pressures of the job, not to mention great personal loss. She was admitted to an asylum, never to return to her beautiful southern style home.
Mary's father passed away in 1849 and left behind an unclear will. With no clear beneficiary, the state sold this house and its contents at auction. In time, collectors and preservationists were able to acquire many of the original items from the house. Today the luxurious brick house at 528 Main Street includes 14 rooms that contain exhibits related to the Todd family including family portraits and furnishings from the Todds along with a few items that belonged to President Lincoln. Visitors can tour the original and separate slave quarters, outdoor kitchen, washhouse, smokehouse, and carriage house that were all hallmarks of status in the period. A garden was recently added to reflect the charm of the original.
Although Mary Todd Lincoln's life was tragic, she still enjoyed the trappings of her southern background usually surrounded by elites and wealth. In part because of her spending and contributions to the White House, Todd-Lincoln was designated as the first First Lady to have a historic site restored in her honor.
Sources
Lambert, Kathy. "Mary Todd Lincoln House." National Park Service - National Register of Historic Places Nomination Form. August 12, 1971. https://npgallery.nps.gov/GetAsset/3d70e312-21c4-4f55-a41b-bfddf99d2253.

Mary Todd Lincoln House. Kentucky Lincoln Trail. Accessed June 30, 2017. http://kentuckylincolntrail.org/candice-whitman.

Greer, Warren. "Mary Lincoln Todd House." Explore KY History. Accessed March 9, 2019. https://explorekyhistory.ky.gov/items/show/129

Mary Lincoln Todd. Biography.com. Published April 2, 2014. Accessed March 9, 2018. https://www.biography.com/people/mary-todd-lincoln-248868







Additional Information