Robert S. Abbott House
Introduction
This historic house was home to Robert S. Abbott, the founder of the Chicago Defender, one of the largest African American newspapers in the country. This home became a national landmark on Dec 8, 1976 and a city landmark on March 1, 2006. This property is privately owned. Visitors are welcome, but are asked to please respect the privacy of the owners.
Images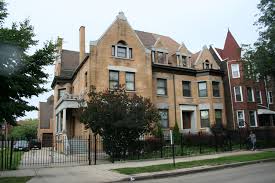 Backstory and Context
Abbott founded the Chicago Defender in 1905 with an initial investment of 25 cents, not knowing that it would turn out to be the most widely circulated black newspaper in the country. It became known as "America's Black Newspaper," making Abbott one of the first self made African-American millionaires.

The unique circumstances of the early 1900s paved the way for the Defender to become so successful. With tensions burning high because of WWI, blacks were migrating from the South to the industrial centers of the north that were in desperate need of workers. Furthermore, the stories from the north were trickling down from former migrants to the South and giving people hope for a better future. Robert Abbott's stepfather John Sengstacke also wrote for the newspaper and it was his stories that helped encourage people to leave the South. Stepfather and stepson were a dynamite team; John would display pictures of Chicago in the paper and give plenty of space in the classifieds for housing, while Robert would write pieces about how awful a place the South was to live in in comparison to the north, a place of prosperity and justice.

The Chicago Defender not only encouraged people to migrate north for a better life, but to fight for an even better lifestyle once they got there. The slogan of the paper was "American race prejudice must be destroyed". It served as an great example of what the paper was capable of and what the ideal experience of any American should be. The Chicago Defender actively promoted the northward migration of Black Southerner by not only reporting on the Great Migration, but also helping to bring it about. By 1916, the Defender circulation was at 50,000; by 1918, 125,000; and by the early 1920s, more than 200,000.

Sources
http://en.wikipedia.org/wiki/The_Chicago_Defender http://www.pbs.org/blackpress/news_bios/defender.html
Additional Information