Quaker Square
Introduction
In 1936 the Quaker Oats Company built a new storage facility. The company was Akron Based and was founded in 1856 by Ferdinand Schumacher. The storage facility was fairly large with thirty six grain silos each standing 120' tall and 24' in diameter. The storage facility only remained open until 1970 when the company moved to Chicago. Since then the building has gone through many changes and renovations. Once Quaker Oats moved to Chicago, their storage building was purchased by private investors and completely transformed. Throughout the next five years it was transformed into a hotel, restaurant and shopping complex. It fully opened in 1975 and became known as Quaker Square. The thirty six silos were changed into 196 hotel room, 6 suites, and also included meeting spaces and dining areas. There were also two restaurant located within the building as well as Christmas store and a general store. The Quaker Square complex remained open and a popular attraction in Akron for many years until 2007 when it was purchased by the University of Akron which is located within walking distance. Before the university's purchase there was talk of the building being completely shut down but has been saved yet again. Soon the University of Akron's plans to turn the grain silos into a dorm that will house almost 400 students. This will be the second time in the history of the building that it will be completely transformed. The process of remodeling the rooms to become dorms is currently in the works. Quaker Square is still a prominent fixture within the city of Akron. Although the interior is most likely closed to visitors, it is still worth a visit to see the exterior of an old silo used by the Quaker Oats Company. It is located within walking distance of downtown Akron and has been place on the National Register of Historic Places.
Images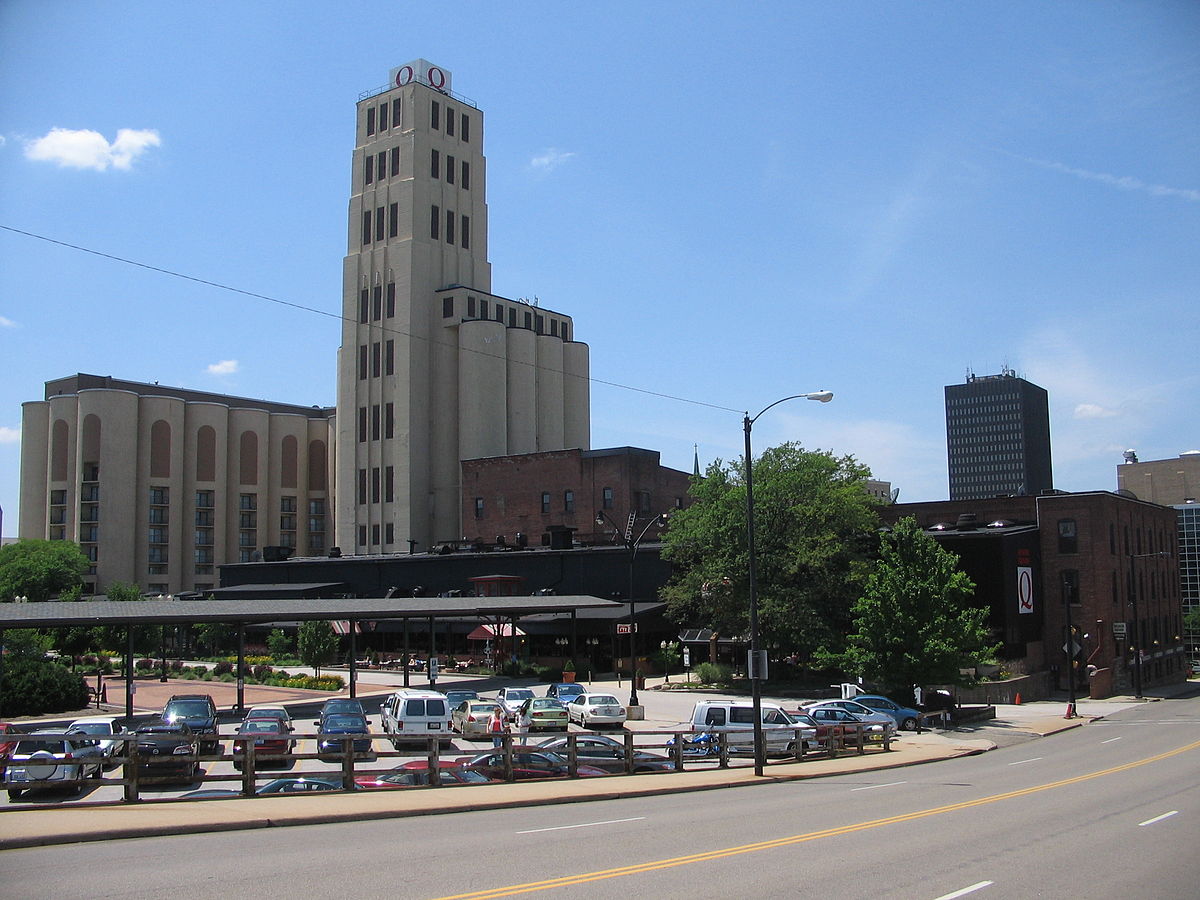 Aerial view of the Quaker Oats Mill. Photograph from the Library of Congress.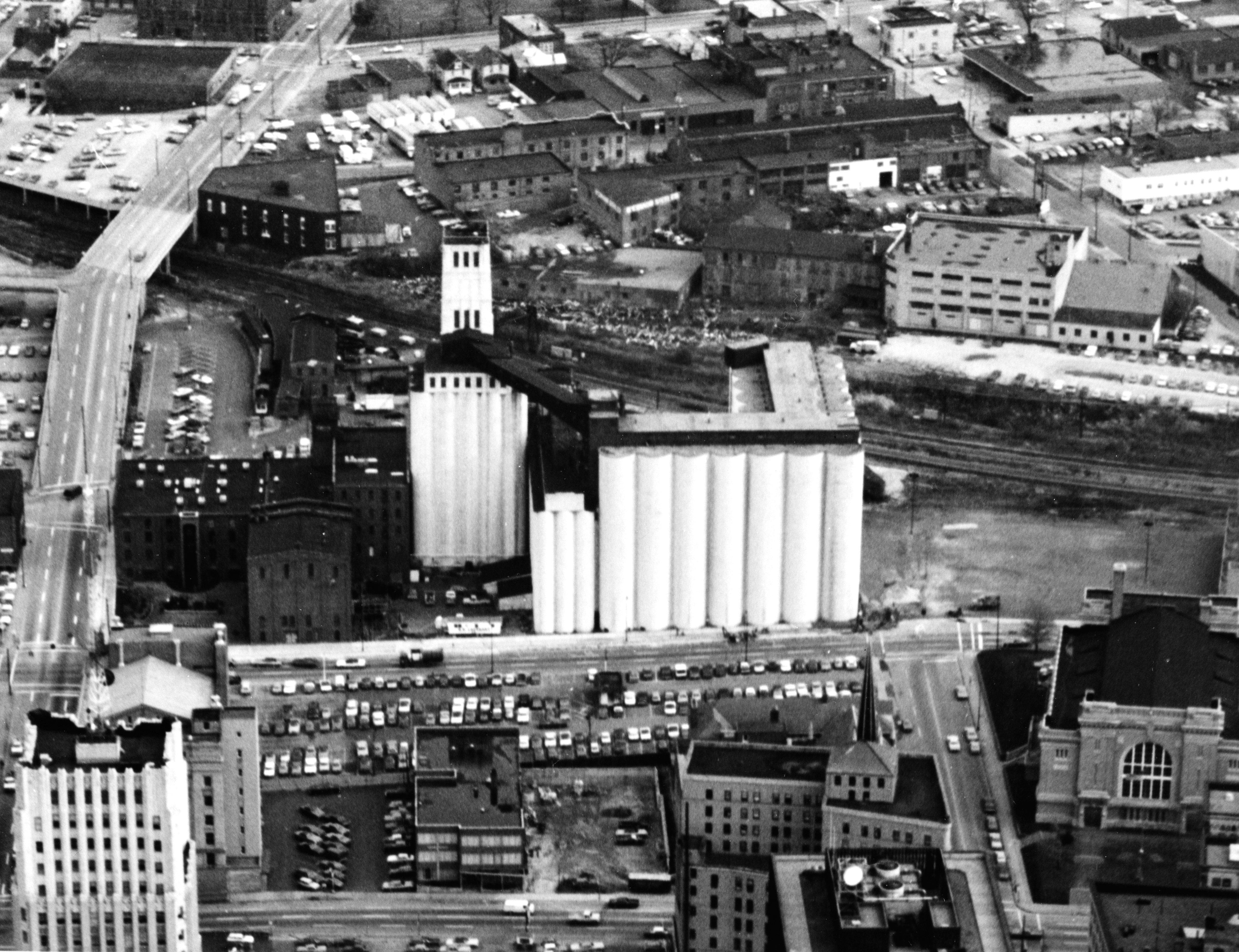 View of the grain towers and elevator. Photograph from the Library of Congress.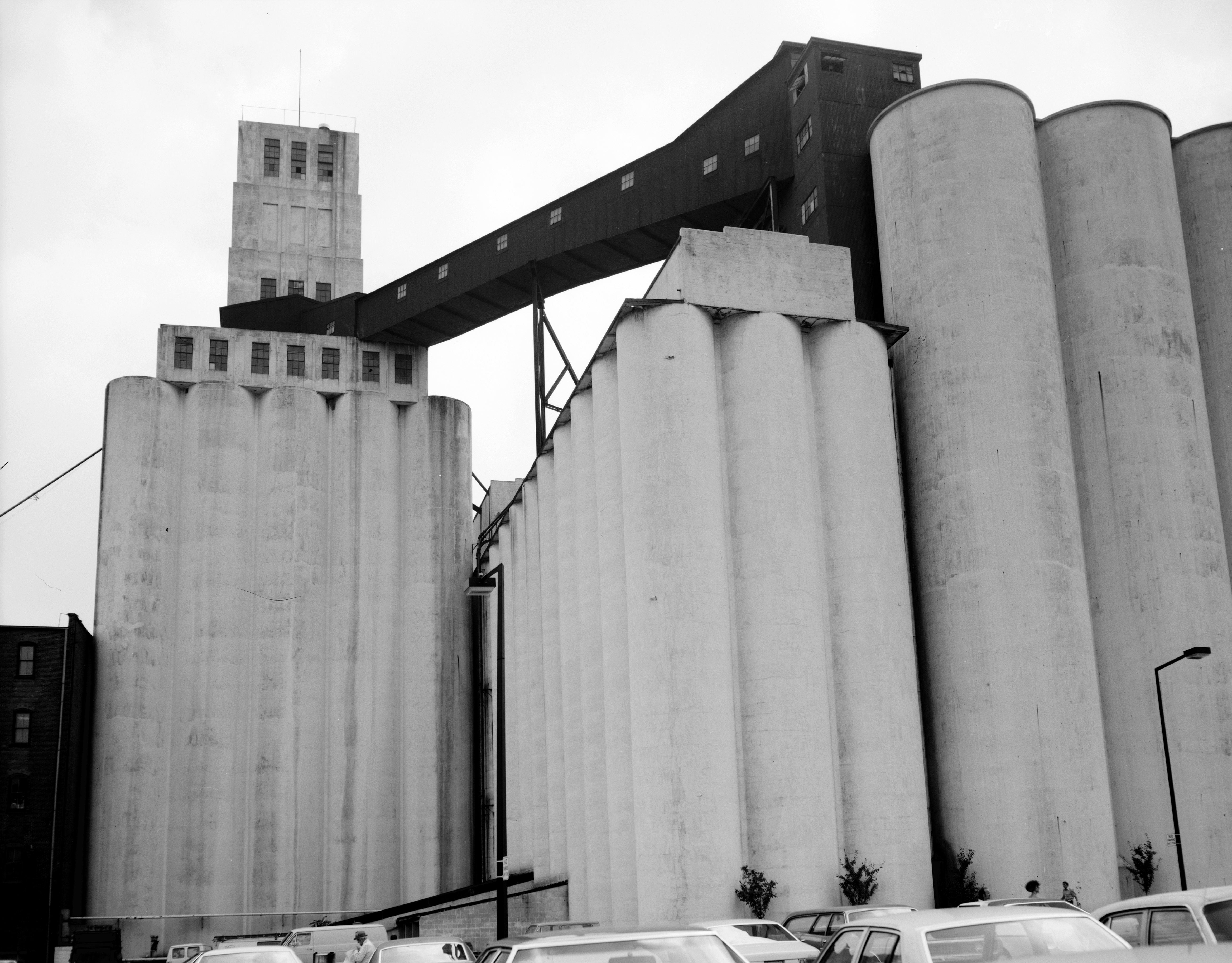 View of the grain towers in the 1970s. Photograph from the Library of Congress.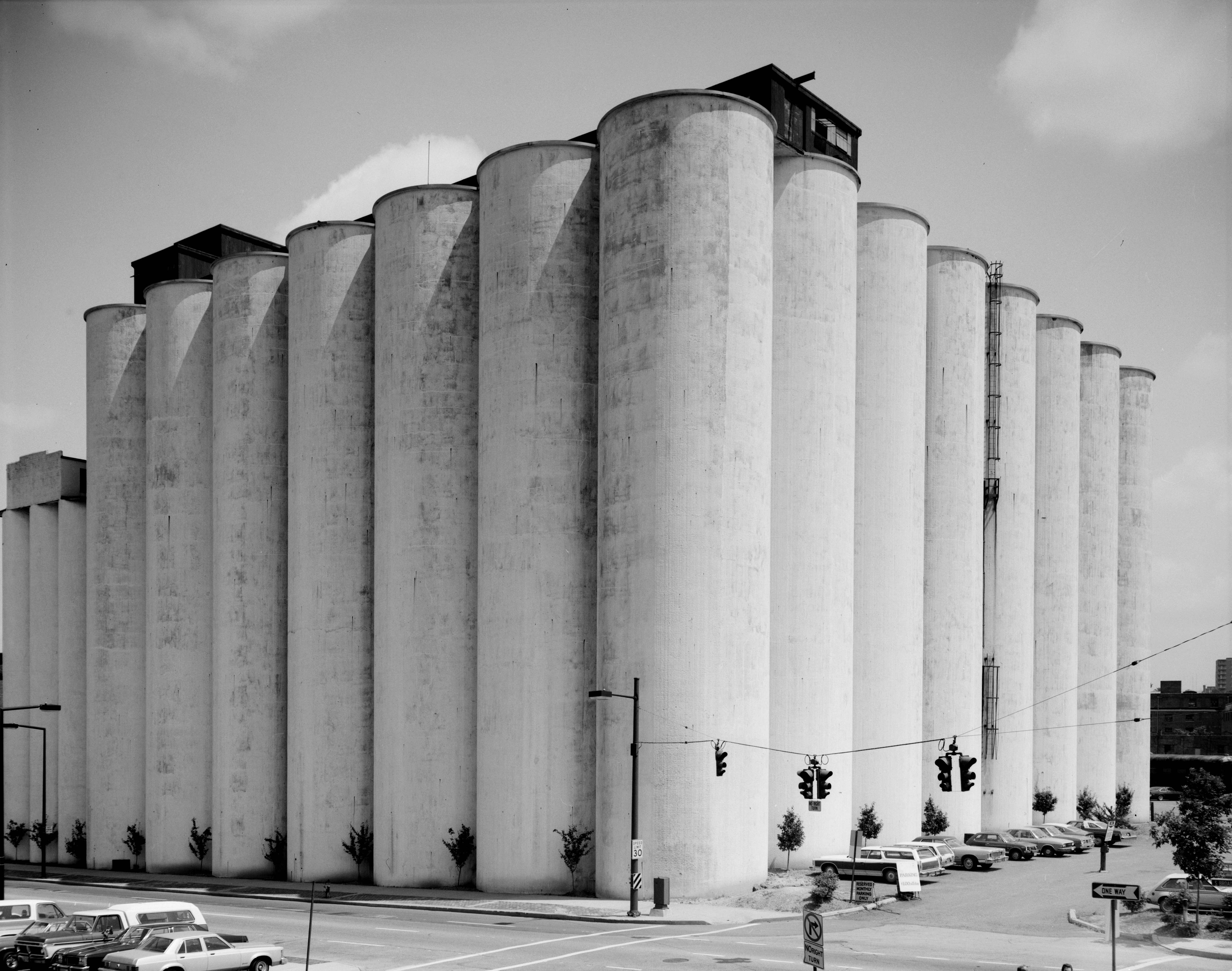 Contemporary view of the grain towers showing the balconies cut into the towers. The facility is now student housing for The University of Akron.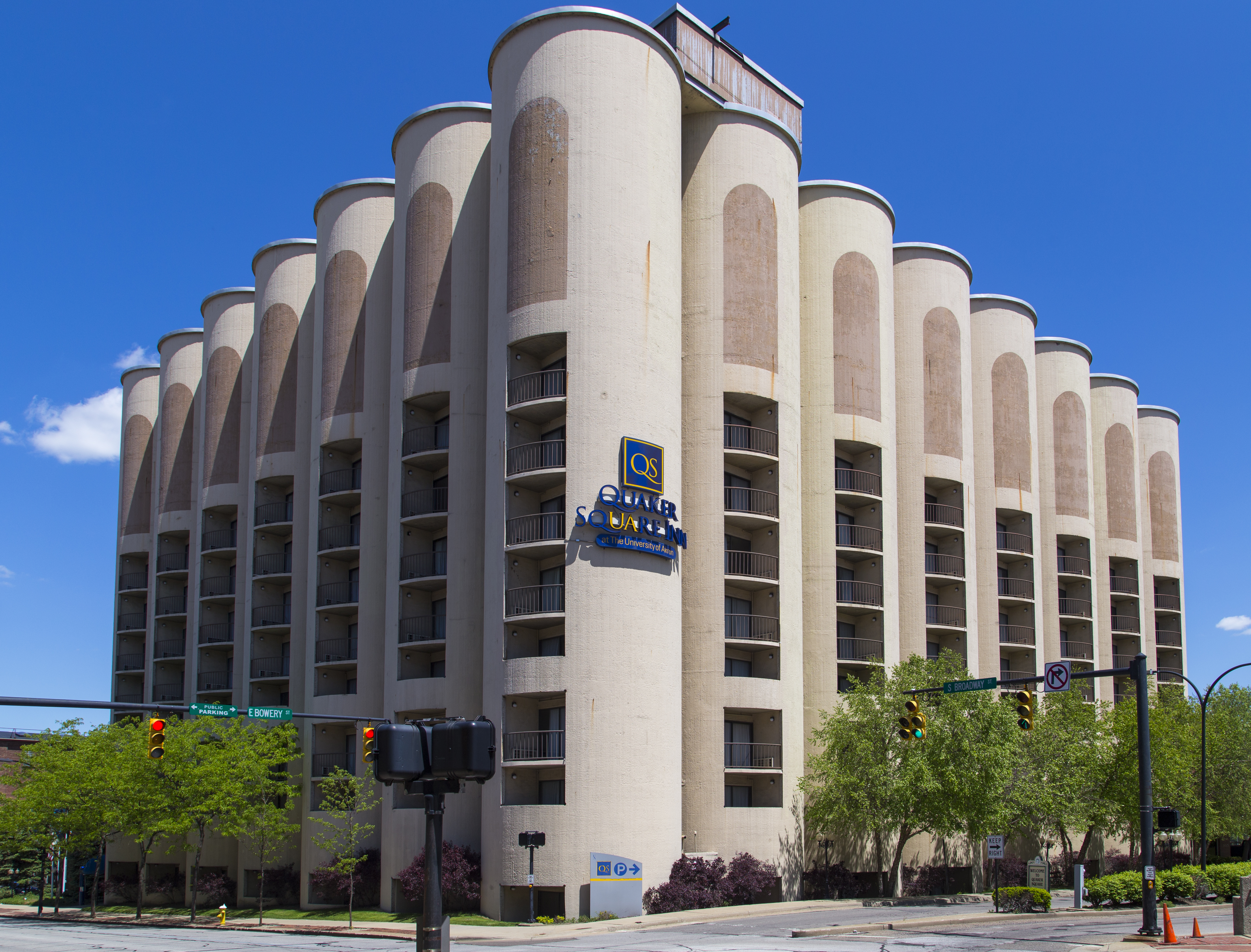 A detail view of one of the balconies in the tower illustrating the thickness of the walls.