National Blues Museum
Introduction
The National Blues Museum opened to the public in 2016 in what was once a downtown St. Louis department store for nearly a century. One of the goals of the museum is to educate those about music and its importance when speaking of America's culture, race, and diversity. Blues is the foundation for nearly all music that became popular, such as jazz and rock and roll. The museum encourages even those who are not blues fans to visit in order to gain appreciation for the music. The Blues Museum holds various events, including live music, and visitors can sign up for a newsletter on the official website to find out more about them.
Images
The National Blues Museum opened in 2016 and celebrates the history of the blues.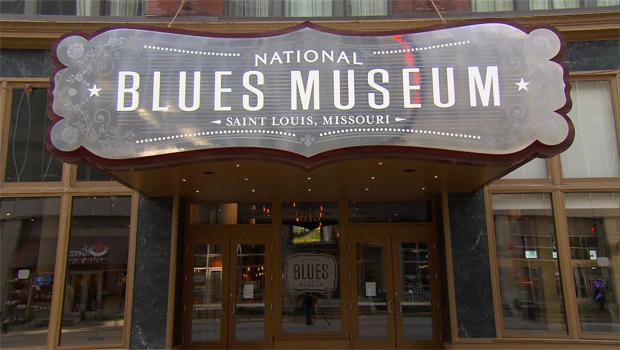 One of the exhibits that visitors can see while visiting the musuem.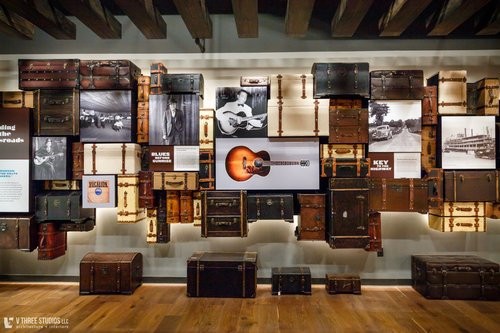 Backstory and Context
The National Blues Museum aims to tell the story of how blues emerged from the slave plantations and evolved as former slaves traveled northwards, settling in St. Louis, Chicago, and other northern cities. The museum celebrates the music that would eventually be the basis for Jazz, Rock & Roll, Funk, and R&B, featuring interactive exhibits, photographs, guitars and some outfits worn by blues legends. It opened on April 2nd, 2016 and was designed by internationally-recognized museum design firm, Gallagher & Associates. The museum also offers performances, lectures, film showings, and other events.

William Christopher (W. C.) Handy was said to be "The Father of the Blues". Born on in 1873 in Florence, Alabama, Handy grew up in a strict household where he was forbidden to play any musical instruments, but secretly bought a guitar that he would practice with. He could also play many others, including the piano and organ and was particularly skilled with the trumpet. In 1892, he left Alabama to travel to the Midwest where he would join various other music groups. Through 1900-02, he worked as a teacher, and then the next year, Handy conducted his own orchestra called The Knights of Pythia, in Mississippi up until 1921. During those years, he would arrange harmonizing tunes, influenced by the music by the Mississippi Delta and Memphis, Tennessee. He joined Harry Pace and they would form a music company that would become the Handy and Pace Music Company. Handy's music had a melodic element to it, which can be heard in his "Memphis Blue's", a campaign song that he wrote for elections in Tennessee that was the first example of music to be written and published as sheet music.

The origins of blues can be traced back to the 19th Century in Northwestern Mississippi where it was being sung by former slaves and would eventually spread to the rest of the South and the rest of the U.S. The Blues music that was performed would often accompany those who were traveling, such as doctors, musicians, circuses, etc. that would go anywhere to be able to share their music. There were also many different styles of blues music such as ballads, folk music, gospel, and ragtime. The music had both melancholy and upbeat tunes, for both the hard times and the pleasures of life. The crowds were often segregated due to the Jim Crow Laws.
During the time, thousands of settlers would travel along the Mississippi and Missouri rivers, that would become known as the "Gateway to the West". By 1890, St. Louis was the 4th largest city in the U.S. as it became a place where people could exchange new ideas and old traditions, especially in regards to music. African Americans who were former slaves would be important contributors to the development of blues, ragtime and jazz by combining their traditional music based with the tunes they would hear in bands, parlors, and dance. Blues music would continue to grow and evolve in St. Louis into the early 20th Century. Jazz and swing would become popular in the 1930's and 40's. After World War II, blues music became electric and would turn into what we now know as R&B and Rock and Roll, with musicians such as Chuck Berry and Tina Turner.

Sources
"About Us." National Blues Museum. Accessed May 8, 2017. https://www.nationalbluesmuseum.org/about.

Brown, Stephen Rex. "St. Louis adds National Blues Museum to the list of things to see in the Gateway City." Monday, May 9, 2016. http://www.nydailynews.com/entertainment/music/national-blues-museum-sings-new-tune-st-louis-article...

Miller, Michelle. "​A New Museum Sings the Blues." CBS News. July 10, 2016. http://www.cbsnews.com/news/a-new-museum-sings-the-blues.

Photo: CBS News The Origins of Blues Music.

All About Blues Music. . Accessed September 14, 2018. https://www.allaboutbluesmusic.com/the-origins-of-blues-music/.

W.C Handy: An Amecrican Composer. Encyclopedia Britanicca. . Accessed September 30, 2018. https://www.britannica.com/biography/W-C-Handy.

St. Louis and the Blues. thesheldon.org. . Accessed October 10, 2018. http://thesheldon.org/pdf/BluesTexts.pdf.

Horn, Nick. The National Blues Museum Opens Its Doors In St. Louis This Saturday. Riverfront Times. March 30, 2016. Accessed October 10, 2018. https://www.riverfronttimes.com/musicblog/2016/03/30/the-national-blues-museum-opens-its-doors-in-st-louis-this-saturday.

Bryant, Tim. "Old department store space will reopen as National Blues Museum." St. Louis Post Dispatch December 04, 2015. .

Harpaz, Beth J.. "New St. Louis museum is all about the blues." Chicago TribuneMarch 31, 2016. .


Additional Information