Presidio Park Archives and Records Center
Introduction
Housed in one of the Presidio's historic 1914 brick cavalry stable buildings is the Park Archives and Records Center (PARC). PARC is managed by the National Park Service, and its collection of over five million documents, artifacts, oral histories, maps, and historic images are accessible to the public during walk-in research hours or by appointment. The archives contain records related to the Golden Gate National Recreation Area, including the Presidio, from the Spanish colonial period to the present, though the majority of PARC's records are from the United States Army era of the Presidio's history.
Images
Presidio Park Archives & Records Center (image from National Park Service, Presidio)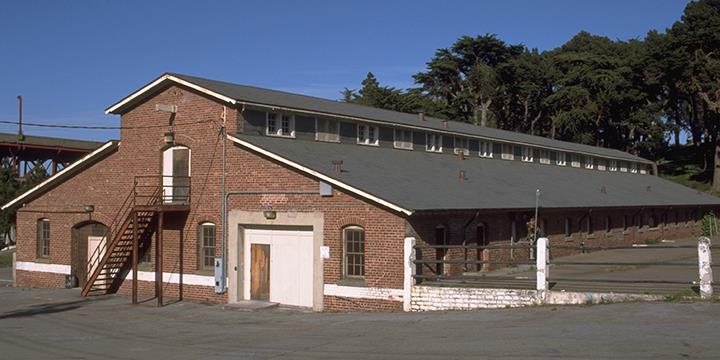 Backstory and Context
Contained in the Park Archives and Records Center are over 5 million documents, images, maps, and all sorts of other history associated with the Golden Gate National Recreation Area from Spanish exploration and the establishment of the Presidio in 1776 to the occupation of Alcatraz in 1969 all the way to present day.
PARC houses a number of Presidio Army Records associated with the surrounding military sites and fortifications. Because the National Park Service manages these historical army records there has been a continual line of information regarding the natural and cultural resources of lands that were formerly managed by the Department of Defense.
Many of the documents and images are also available online, including a historic photo gallery, military topics, and collections on the Marin, San Mateo, and San Francisco Parklands; Muir Woods and other natural resources and geological features of the Golden Gate area; the Presidio of San Francisco; Alcatraz Island; Fort Point and the Golden Gate Bridge; and the Panama-Pacific International Exposition, 1906 Earthquake and Fire, Spanish-American War, and World Wars I and II.

Sources
Park Archives and Records Center. Presidio. Accessed April 12, 2017. http://www.presidio.gov/places/park-archives-and-records-center.

Collections. National Park Service. Accessed April 12, 2017. https://www.nps.gov/goga/learn/historyculture/collections.htm.


Additional Information