Nathan Scarritt House
Introduction
The Nathan Scarritt House is the oldest surviving frame house in Westport. It was built around 1847-1852 by Dr. Joseph O. Boggs, in a simple, domestic style. The home's most notable resident was Nathan Scarritt (1821-1890). A prominent Methodist missionary, preacher, teacher and real estate developer, Scarritt and his family lived in the house from 1852 to around 1862. By the late twentieth century, the house attracted attention for its age and significance as a surviving relic of the community's pre-Civil War history. It underwent some restoration work in the 1970s, and again in 2004 after its purchase by the James B. Nutter Company. Today the building functions as a commercial space housing businesses, though it retains much of its original appearance. The house was added to the National Register of Historic Places in 1977.
Images
Nathan Scarritt Home, November 3, 2017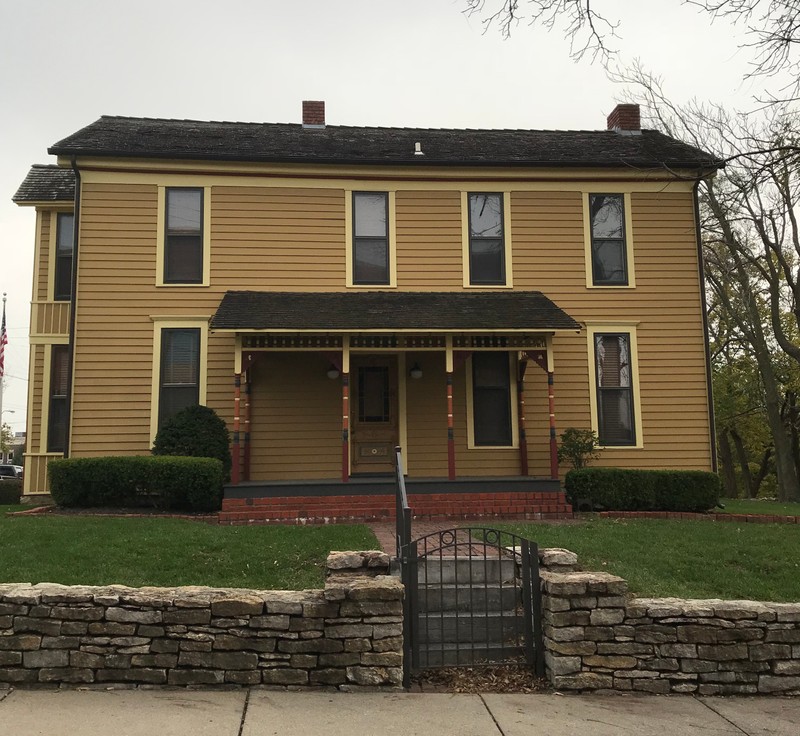 Backstory and Context
Nathan Scarritt was born in 1821 in Illinois. He migrated to Missouri in the 1840s and worked for several years as a teacher. Around 1848, Scarritt decided to enter the missionary field through the Methodist Episcopal Church, South. He moved to the Westport area and worked for Rev. Thomas Johnson at the Shawnee Indian Mission, where he taught Latin and Greek classes. After four years, he became pastor of Westport Methodist Church. Later, he was appointed a traveling Methodist missionary to the Wyandott, Delaware, and Shawnee tribes.
In 1852, Scarritt and his wife, Martha Matilda Chick, purchased a two-story, frame house from Dr. Joseph Boggs for $2,150. The simple, clapboard house was built around 1847. The Scarritts only lived here for a decade; in 1862, fearing for their safety during the Civil War, Nathan Scarritt moved his family to a 40-acre property on the outskirts of town. He continued to own the previous house, renting it own to tenants, before selling it in 1881.
After the Civil War, Scarritt spent many more years teaching, preaching, and, increasingly, investing in real estate. During the 1880s especially, he took advantage of Kansas City's rapid growth and sold some of his land to create upper class neighborhoods for the local elite, including the Melrose, East Melrose, and Scarritt Renaissance neighborhoods. By the time of his death in 1890, Scarritt had become a millionaire through his land speculation.
The original house, later dubbed the Nathan Scarritt House, changed hands various times and underwent several alterations over the decades. During the 1950s, it was converted into a three-unit apartment building. In 1970, an antique dealer bought the house, made some restorations, and opened a shop in it. The James B. Nutter Company, a local banking firm, purchased the Scarritt House and several other nearby homes and restored the exteriors to their original appearances. Today the house continues to be used as commercial space. 
Sources
"The History of Westport: Where the West Began." Westport Historical Society. Accessed August 12, 2021. https://www.westporthistorical.com/westport-history.
"The Rev. Nathan Scarritt: From Teacher to Preacher to Real Estate Dealer." Martin City Telegraph. September 28, 2020. Accessed August 12, 2021. https://martincitytelegraph.com/2020/09/28/the-rev-nathan-scarritt-from-teacher-to-preacher-to-real-estate-dealer/.
Rosin Preservation, LLC. "Westport Historic Resources Survey." Accessed August 12, 2021. https://www.historickansascity.org/wp-content/uploads/2018/02/Westport-Survey-Report-FINAL.11dec17-reduced-size.pdf.
Ryder, Elaine B. "Scarritt, Reverend Nathan, Residence." National Register of Historic Places Nomination Form. 1977. Accessed August 12, 2021. https://dnr.mo.gov/shpo/nps-nr/78001660.pdf. 
Additional Information