Albuquerque Electric Streetcar System Historical Marker
Introduction
Established in 1904, the Albuquerque Electric Streetcar System quickly supplanted the network of companies that offered horse-drawn trolleys. This historical marker located near the fountain at the Alvarado Transportation Center shares the story of the creation of the electric streetcar system and its relation to housing patterns and urban sprawl as Albuquerque was becoming a suburban city. The trolley system and later streetcar network were significant to the expansion of the city and development of residential suburbs because workers no longer had to live within walking distance of their workplaces. Even though the streetcar system was a major advancement in Albuquerque, gas-powered buses replaced the streetcars starting slowly at the end of the 1920s. Although gasoline-powered buses did not replace the streetcars as quickly as the cars had replaced horse-drawn trolleys, the end of World War II saw an end to gasoline rationing and the rapid expansion of buses as the primary mode of intercity and intracity public transportation.
Images
The Albuquerque Alvarado Transportation Center where the historical marker is located outside of. Photo is courtesy of Bill Kirchner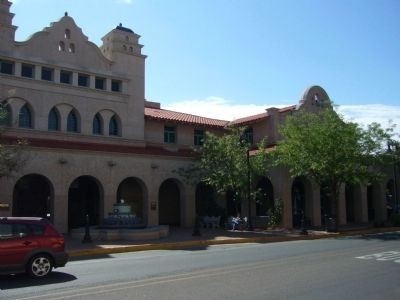 this plaque is located just past the central fountain at the entrance of the Alvarado Transportation Center.
Backstory and Context
Up until 1904, trolleys in Albuquerque, New Mexico, were pulled by horses. In 1904, however, an electric streetcar system was created, and two companies were established. One company served downtown Albuquerque and the Old Town Plaza areas, and another served the Huning Highlands-University area. In only four years, six miles of tracks connected different places in Albuquerque. A motorman and a conductor ran 10 green double-ended streetcars.
While convenient for residents of Albuquerque, the electric streetcar system also meant that suburbs were beginning to grow. Albuquerque had a morning rush hour like many other cities, with businessmen and workers, but these workers no longer had to live within walking distance of their places of employment. The streetcar system meant that people could move to the suburbs and commute into the city for work every day.
By 1929, technological advancement again changed transportation in Albuquerque. Automobiles became popular in the 1920s, and buses that were powered by gas replaced streetcars at the end of the decade.
Sources
Kirchner, Bill. Albuquerque Electric Streetcar System, The Historical Marker Database. August 2nd 2011. Accessed December 27th 2019. https://www.hmdb.org/m.asp?m=45447.
Simmons, Marc. Trail Dust: Trolleys were once the rule in New Mexico cities, Santa Fe New Mexican. October 25th 2013. Accessed December 27th 2019. https://www.santafenewmexican.com/news/trail_dust/trail-dust-trolleys-were-once-the-rule-in-new-mexico/article_e8e27ef3-8e91-5ddf-99f7-df2e5427a4f3.html.
Image Sources
Historical Marker Database

Image from user GeoFeret at the Waymarking website