U.S. Bank Tower
Introduction
Completed in 1989, after construction began in 1987, the U.S. Bank Tower stands at a monumental 1,018-feet (310.3 m), making it the second tallest building in the city and the third tallest in the state behind Wilshire Grand Center and Salesforce Tower. It is also the fifteenth tallest in the United States and the 92nd tallest building in the world. It stands 73 stories above ground level and has two parking levels below ground. It was designed by Henry N. Cobb of the architectural firm Pei Cobb Freed & Partners and cost about $350 million to build.
Images
A shot of the Bank Tower.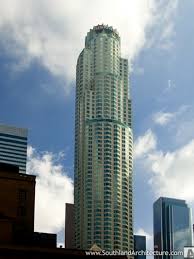 The US Bank sign that adorns the tower's top.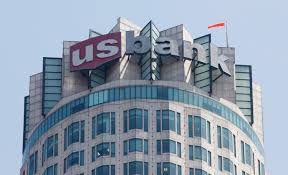 A shot of the tower lit up at night time.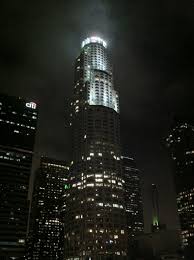 Backstory and Context
The building was originally built as part of a $1 billion redevelopment by Los Angeles Central Library and was thus known as the Library Tower. The library had suffered two devastating fires in 1986 at its previous location, just across the street. In order to help cover the construction costs, the land's air rights were sold off to the developers of the tower. In March 2003, the building was leased to U.S. Bancorp and was renamed U.S. Bank Tower.
At night time the tower's large glass crown lights up the night sky in a luminous white light. The crown also adopts other colours at various times of the year such as red and green at Christmas and orange for Halloween. In 2004, two U.S. Bank logo signs were installed on the crown, although there was much controversy over the effect they would have on the building's appearance.
The Tower was sold to the Overseas Union Enterprise Ltd (OUE) in 2013. OUE is a hotel and property group which is owned and controlled by Lippo Group, from Indonesia. The Tower was acquired for $367.5 million. The following year they announced the construction of a new observation deck and restaurant. These new additions opened on June 24, 2016, at a cost of around $31 million, and also included a redesigned ground floor lobby and the addition of a second-floor entrance for tourists.
As an iconic structure, the Tower has made an appearance in many movies such as:
Terminator 2
Predator 2
Independence Day
Disney's The Kid
Swordfish
The Day After Tomorrow
Dragon Wars
Southland Tales
2012
San Andreas
Sources
About. US Bank Tower. Accessed July 20, 2017. https://www.usbanktower.com/about.

Hawthorn, Christopher. Ride the U.S. Bank Tower's glass Skyslide with 70 floors of nothingness below you. LA Times. June 23, 2016. Accessed July 20, 2017. http://www.latimes.com/entertainment/arts/la-et-cm-hawthorne-skyslide-20160621-snap-story.html.

U.S. Bank Tower. LA Conservancy. Accessed July 20, 2017. https://www.laconservancy.org/locations/us-bank-tower.


Additional Information