The Dallas Morning News- Historical Marker
Introduction
This marker commemorates the start of The Dallas Morning News on October 1, 1885. Alfred H. Belo, a former Confederate Army colonel, founded the newspaper as a North Texas branch of the Galveston News, which he also founded. Today, the A.H. Belo corporation owns both publications (the Galveston News changed its name to The Daily News). The newspapers were among the first to exchange information by telegraph, which was a new technology at the time.
Images
The Dallas Morning News historical marker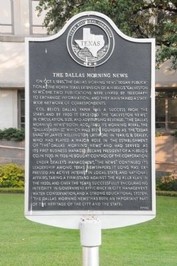 The location of The Dallas Morning News and AH Belo Corporation markers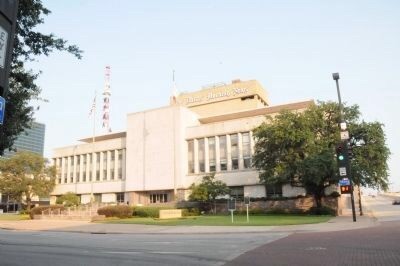 The Dallas Morning News distribution center in Plano, TX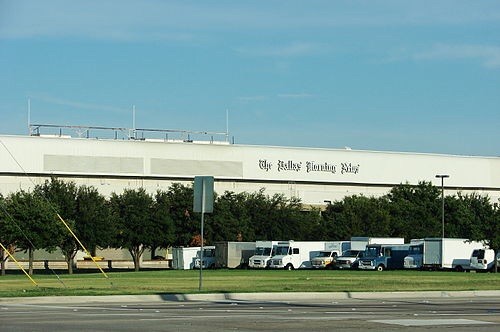 Backstory and Context
By 1900, the Dallas newspaper had exceeded its Galveston predecessor in circulation and size, as well as advertising revenue. The Dallas Morning News had one significant morning news rival: the Dallas Herald. The Herald, which was established as the Cedar Snag by James Wellington Latimore in 1849, was eventually acquired by the Dallas Morning News. G.B. Dealey, who helped establish the paper, served as the paper's first business manager. He became president of A.H. Belo & Co. in corporation in 1926.
The newspaper continued to thrive under Dealey's management. Notably, the publication took a stand against the Ku Klux Klan in the 1920s. Today, the paper has over 400,000 daily subscribers. It is among the top 20 largest paid circulations in the nation. It has won multiple Pulitzer Prizes both in reporting and photography, most recently in 2010, as well as multiple George Polk awards for education, regional reporting, and an Overseas Press Club award for photography.
The most recent Pulitzer Prize won by the publication, in 2010, was for editorials depicting the "stark social and economic disparity between the city's better off northern half and distressed southern half." Editorial writers named as winners of the award were Tod Robberson, Colleen McCain Nelson, and William McKenzie. They were led by Sharon Grigsby, deputy editorial page editor, and Keven Ann Willey, Vice President and editorial page editor of the publication. This was the newspaper's ninth Pulitzer Prize. In 2006, the publication was awarded the Pulitzer for photography. Photographers Irwin Thompson, Smiley Pool, and Michael Ainsworth were awarded for their photographs depicting the aftermath of Hurricane Katrina.
Sources
"The Dallas Morning News." Historical Marker Database. Accessed November 9, 2015. http://www.hmdb.org/marker.asp?marker=43392. "The Dallas Morning News." Accessed November 9, 2015. https://en.m.wikipedia.org/wiki/The_Dallas_Morning_News. Young, Michael. "Dallas Morning News wins Pulitzer for editorial writing." Dallas Morning News. April 12, 2010. http://www.dallasnews.com/news/local-news/20100412-Dallas-Morning-News-wins-Pulitzer-for-7608.ece "2006 Pulitzer Prizes." The Pulitzer Prizes." Accessed November 9, 2015. http://www.pulitzer.org/citation/2006-Breaking-News-Photography.
Additional Information