Majestic Theatre
Introduction
The Majestic is a historic performing arts theater in the City Center District and the last remnant of Theater Row, the city's historic entertainment center that was based around Elm Street. The Majestic hosted a variety of acts from Houdini to Mae West and Bob Hope during the vaudeville era. Beginning in 1922, films were added to the regular vaudeville offerings. The theater began hosting movie premieres and associated stars such as Jimmy Stewart, Gregory Peck, and John Wayne. The Big Bands featuring Cab Calloway and Duke Ellington continued the tradition of live entertainment at the Majestic. Today, the Majestic has been restored and is a contributing property in the Harwood Historic District. The structure is a Dallas Landmark and is listed on the National Register of Historic Places.
Images
The Majestic Theatre opened in 1921 and was added to the National Register of Historic Places in 1977.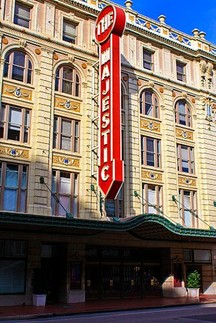 Backstory and Context
Majestic Theatre was constructed in 1920 as the flagship theater for Interstate Amuseument Company, a chain of vaudeville houses. The $2 million Renaissance Revival structure opened on April 11, 1921 with a seating capacity of 2,800. It replaced a previous theater of the same name (located at Commerce Street and St. Paul Street) which burned down December 12, 1917.

In 1932, the Majestic began exclusively showing movies. It was known as the "man's house" featuring films of Humphrey Bogart, James Cagney and other macho heroes while the nearby Palace was known as the "ladies' house" featuring films with female leads. On July 16, 1973, the Majestic Theatre closed after the final showing of the film "Live and Let Die." The theater was reopened on January 28, 1983. Today, the Majestic is regularly used for musical productions, dramatic plays, national pageants, dance, and concerts.

Sources
Williams, Joe. "Majestic Theatre." National Park Service - National Register of Historic Places Nomination Form. November 14, 1977. https://atlas.thc.state.tx.us/NR/pdfs/77001437/77001437.pdf.

Photo: JVanT, via Wikimedia Commons
Additional Information