Dwight D Eisenhower Memorial
Introduction
The Dwight D Eisenhower Memorial commemorates the life of the 34th US President who is best known for leading allied forces in World War II. The memorial was designed by Frank Gehry and consists of a series of three statues, inscriptions, and a first-of-its-kind tapestry. The memorial features three statues sculpted by Sergey Eylanbekov, one of Eisenhower as a boy, one as Supreme Allied Commander with troops from the 101st Airborne Division, and one as President featured with civilian and military advisors. The tapestry by Tomas Osiniki depicts the cliffs at Pointe du Hoc on the Normandy coastline. Dedicated on September 18, 2020, this was the newest memorial on or near the National Mall at the time this article was written.
Images
The Dwight D Eisenhower Memorial opposite the Smithsonian National Museum of Air and Space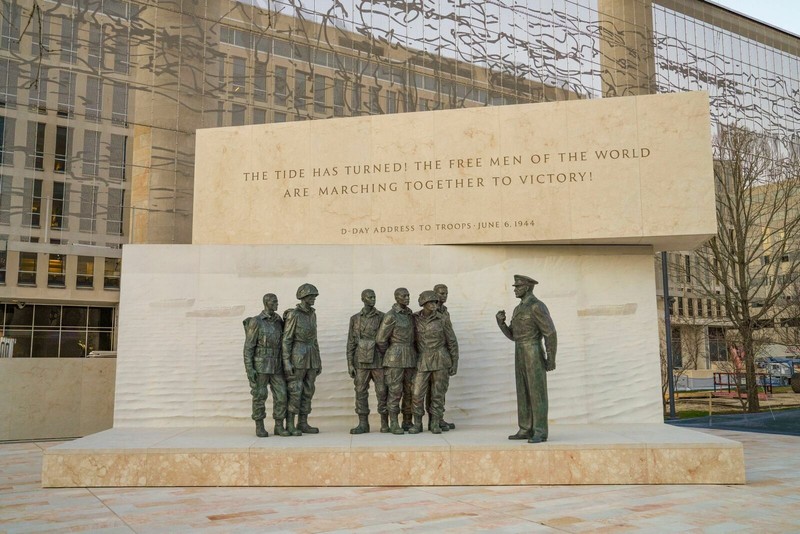 Tapestry on the Eisenhower memorial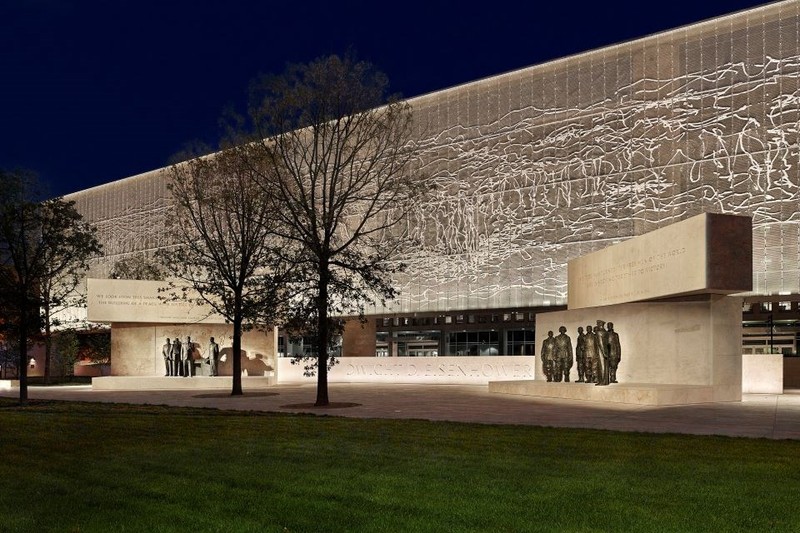 Three groups of statues and inscription at the memorial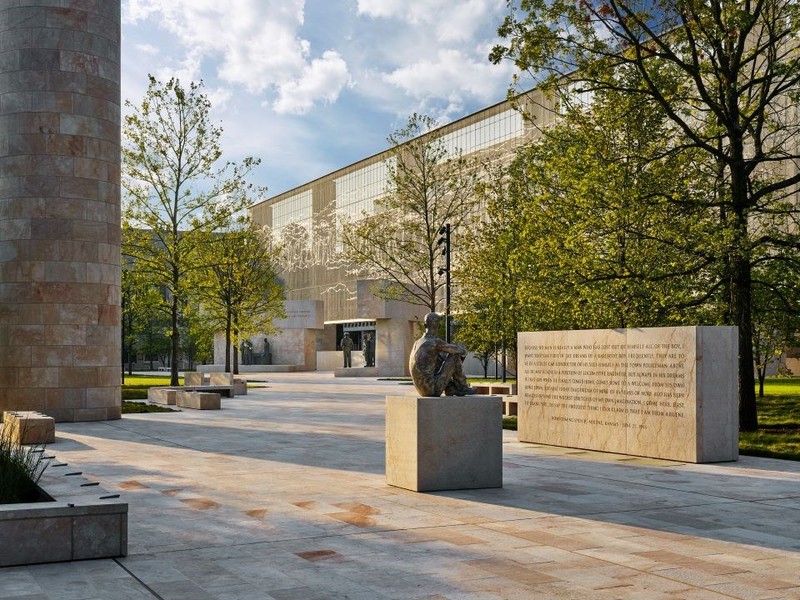 Eisenhower memorialized with troops of the 101st Airborne Division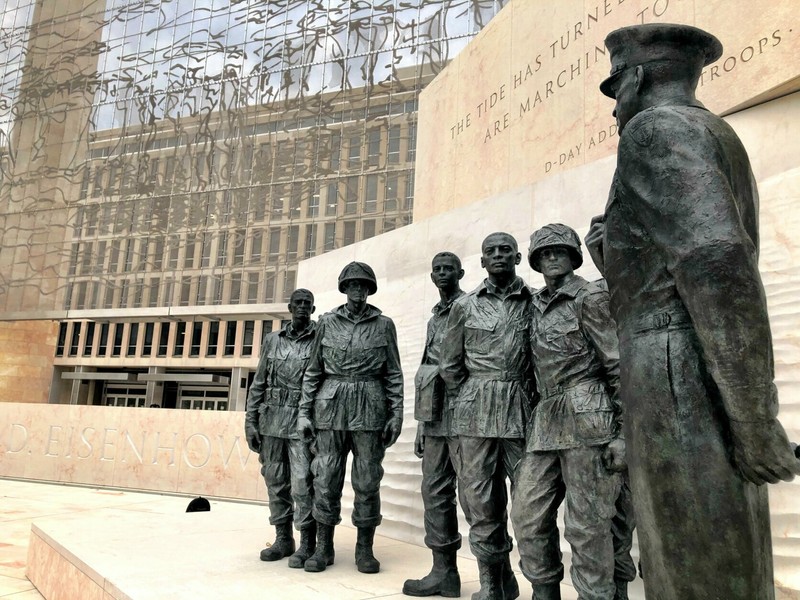 Dwight D Eisenhower, Supreme Allied Commander and 34th US President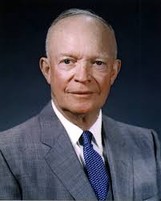 Backstory and Context
Dwight D Eisenhower was born in Denison, Texas, on October 14, 1890. Eisenhower grew up in Abeline, Kansas, having moved there when he was one. He was born into a poor family, as his father worked in a creamery. Dwight was nicknamed "Ike" a name that stuck into his later life. He enjoyed sports but took a moderate interest in his studies. After graduating from Abeline High School in the Class of 1909, Eisenhower attended West Point US Military Academy. He excelled in football but injured his knee, forcing him to stop playing. Graduating in the class of 1915, which produced 59 generals, Eisenhower was 61st and 125th in academics and discipline, respectively, out of 164 graduates.
After graduating from West Point, Eisenhower was commissioned second lieutenant and sent to San Antonio, Texas, where he met his future wife, Mamie Geneva Doud. Eisenhower commanded a tank training center as a Captain during WWI and although he was to be shipped overseas, the war ended before his departure. During the interwar period, Eisenhower attended the Army's Command and General Staff School at Fort Leavenworth, Kansas, where he graduated first in the 1926 class of 275. Eventually, Eisenhower became an aide to legendary World War II Pacific Commander Douglas MacArthur.
In 1941, at the start of World War II Eisenhower was promoted to chief of staff of the Third Army. After winning the attention of Army Chief of Staff George C Marshall, in June 1942, Eisenhower had rapidly advanced to command all US troops in Europe. Through 1944, Eisenhower commanded assaults on Northern Africa and Southern Italy. In December of 1943, Eisenhower had again been promoted to command all allied troops, including British and Canadian forces, in Europe. During the joint invasion of Normandy beaches, Eisenhower commanded the amphibious attack, leading to the eventual recapture of Paris. Eisenhower retired in 1948 with high popularity.
In 1952, Eisenhower was elected US President, with the campaign slogan "I Like Ike". During his two terms, Eisenhower set US foreign policy for the Cold War against the USSR and helped end the Korean War. In 1957, in his second term, Eisenhower signed the Civil Rights Act of 1957 and sent troops to Little Rock, Arkansas to enforce desegregation in public schools. He also finished desegregating the military which Truman had started. In addition, Eisenhower signed a massive infrastructure bill that created the National US Highway System. Eisenhower died on March 28, 1969.
The memorial in DC was commissioned by Congress in 1999 and built by the Eisenhower Memorial Commission at a cost of 150 million. The original design of the memorial caused many conflicts between architect Frank Gehry and the family of Eisenhower. Originally, Gehry had proposed a memorial where a sole statue of a barefoot, young Eisenhower was shown, against a tapestry background of the Kansas plains. Secretary of State James A Baker III brokered a compromise in which the tapestry was changed to Normandy, and put the youthful Eisenhower statue to the side. The memorial is built on a 4-acre site along eastbound Independence Avenue. Originally, the opening of the memorial was scheduled for May 8, 2020, the 75th anniversary of the end of World War II in Europe, however, due to Covid-19 the opening was postponed to September 2020.
Sources
Augenstein, Neal. See the new Eisenhower Memorial before Thursday dedication, WTOP News. September 14th 2020. Accessed January 4th 2021. https://wtop.com/gallery/local/see-the-new-eisenhower-memorial-before-thursday-dedication/
Baker, Peter. Eisenhower Memorial, Delayed by Design Disputes, Opens This Week, The New York Times. September 13th 2020. Accessed January 4th 2021. https://www.nytimes.com/2020/09/13/us/politics/eisenhower-memorial.html
Reeves, Thomas C. Dwight D. Eisenhower, Encyclopedia Britannica. October 10th 2020. Accessed January 4th 2021. https://www.britannica.com/biography/Dwight-D-Eisenhower
Image Sources
WTOP News

National Park Service

Additional Information