This entry includes a walking tour! Take the tour.
Introduction
Girard College is a 1st-12th grade independent school in Philadelphia that has provided free education and boarding for financially disadvantaged students since it first opened in 1848. Despite the name "College," Girard has always been a residential school for students between the ages of six and eighteen. The boarding school was created and financed through the will of Stephen Girard, one of the first millionaires in US history, who originally endowed the school for "poor white male orphans." Owing to the rigorous efforts of civil rights activists to desegregate the school, Girard admitted its first non-white students in 1968; the school became coeducational in 1984. Today, Girard students represent various cultural backgrounds, but all come from families with demonstrated financial need and with one or no birth parents living at home. For much of its history, the school taught a dual curriculum of academic subjects and vocational skill training; today it is fully college-preparatory. Girard College is a significant site in local history and a place of opportunity, student life, and achievement for many generations of students. Please note that Girard College is an active residential school, and campus is only open to the public for advertised events. Founder's Hall Museum is open to the public for walk-in visitation on Thursdays, 9:00 a.m. to 2:00 p.m. unless otherwise noted, with additional times available by appointment. Visitors are required to check in with the Security Office and present photo ID upon arrival.
Images
1851 print depicting original Girard College buildings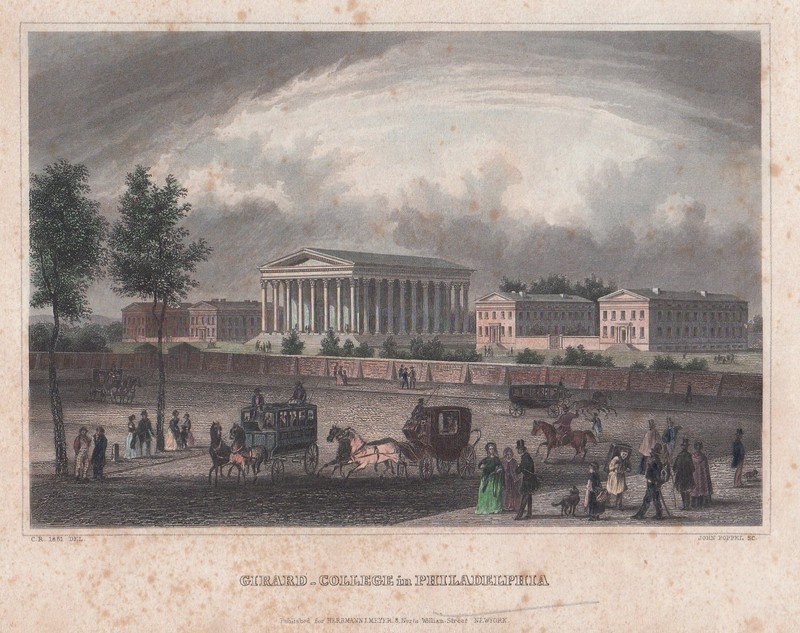 1893, balloon view of Girard College and neighborhood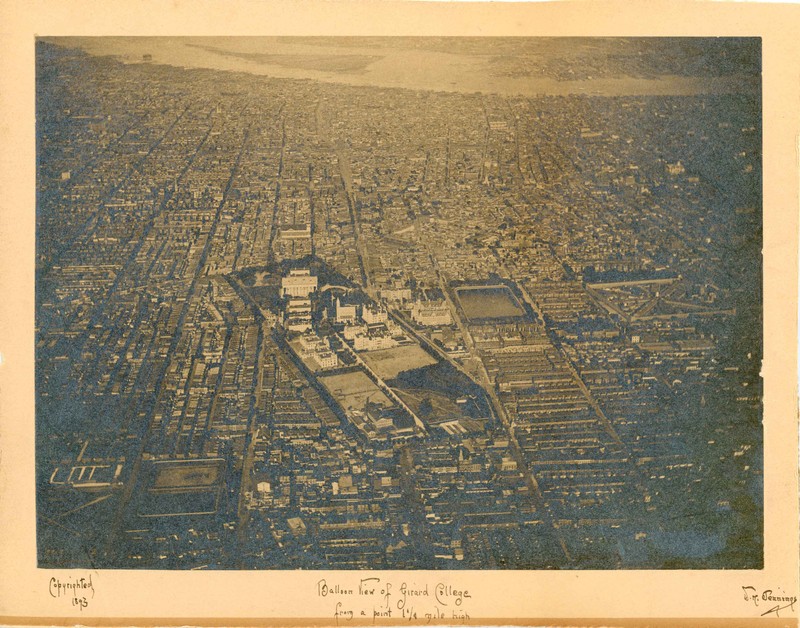 ca. 1900 double postcard of Girard College entrance

2017 Girard College Campus Map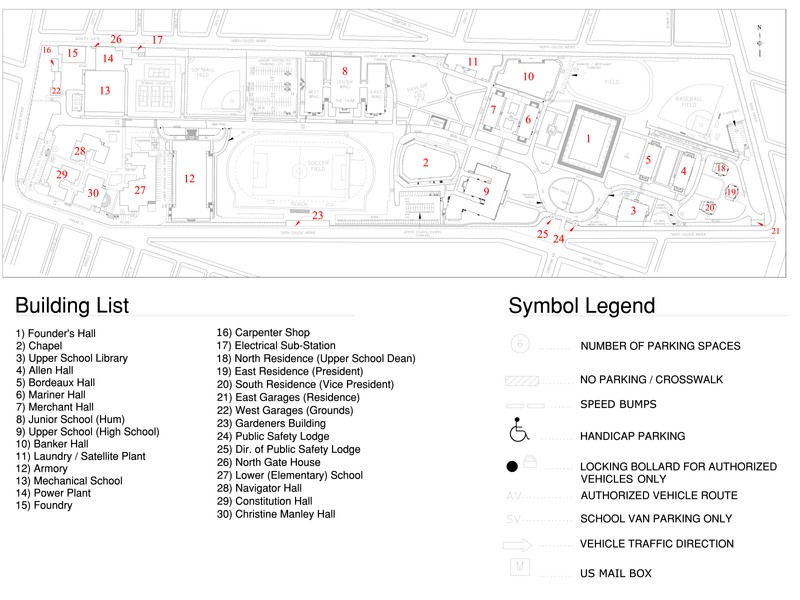 Backstory and Context
French immigrant Stephen Girard (1750-1831) died in his adopted city of Philadelphia in 1831, leaving behind a multi-million dollar fortune earned from a lifetime of maritime trade, banking, and real estate. In his will, the philanthropist dictated that most of his wealth should be used to build and operate a boarding school for poor, white, male orphans. He originally intended that it would be located on a block between Market and Chestnut Streets and 11th and 12th Streets that he owned in Center City, but in 1831, he bought the 45-acre Peel Hall Farm and added a codicil to his will placing the school on this larger tract of land. Girard hoped that by providing a "better education, and a more comfortable maintenance" than the city's publicly-funded schools or orphanages could offer, students would become productive, independent members of society. Girard endowed the school with $6 million of his $7.5 million dollar fortune for its construction and operation, the largest philanthropic gift in American history at the time. Stephen Girard detailed many specifications for the establishment of the school he would endow, from the subjects that students should be taught to the dimensions of the main building where students would learn. 
Girard College opened its doors to almost one hundred orphan students on January 1, 1848. Students entered the school between six to ten years old, and were required to leave by age 18. Admission preference, as per Girard's will, was given first towards orphans from Philadelphia, second to those living in the rest of Pennsylvania, then the city of New York, then New Orleans. The admissions department's definition of "orphan" only required the child applicant to have a deceased father. Youth lived in boarding dormitories year-round, where they were supervised by household staff. Intending that the school should be non-sectarian, Girard's will controversially banned clergy from setting foot on campus, but called for students to be taught "the purest principles of morality." Thus, students were led in daily non-denominational services by College officers or invited laymen. 
Educational levels at Girard College were initially organized into three departments: Primary Department No. 2 for the youngest students, Primary Department No. 1 similar to middle school grades, and a Principal Department for the highest level of students. Although division of classes and grades changed often in the 19th century, the youngest levels were consistently taught basic knowledge in reading, writing, and some arithmetic. These studies continued in the middle years, with the addition of science and history introduced. Advanced subjects for the high school equivalent were taught by specialized professors. 
Initially, the school placed graduating students in the apprenticeship of master craftsmen before they reached the age of 18, as mandated by the founder's will. In 1861, a manual labor department was established to prepare students with basic skills in several mechanical arts before they became apprentices. By the late 19th-century, the societal decline in the apprenticeship system meant Girard College was struggling to secure enough suitable apprenticeship placements for their graduates. The Mechanical School opened in 1884 as the successor to the manual labor department and a replacement for apprenticeships. Older pupils were enrolled in this secondary curriculum where they attained a variety of mechanical skills including metalworking, woodworking, carpentry, and electrical mechanics. The High School also offered a business course, with classes in accounting, typing, and finance. More Girard College graduates began pursuing higher education in the early decades of the 20th century and post-secondary enrollment climbed in the post-World War II era. 
As the school constructed new campus buildings to accommodate more youth, Girard College was able to admit even more orphan boys. Student enrollment reached its peak at 1,733 students in 1940. Enrollment at institutions for orphans declined across the nation after WWII, as financial safety nets in the form of social security for widowed mothers provided families with more options, and advances in healthcare extended the survival of working fathers.
Confronting the will's restrictions on race proved to be a lengthy battle and a key struggle of the northern civil rights movement. In 1954, the Supreme Court's ruling in the landmark case of Brown v. Board of Education declared that "separate but equal" education in public schools was unconstitutional. Although Girard College was privately funded through Girard's bequest, it was publicly managed. The North Philadelphia neighborhood around Girard College had become home for an increasing number of African American residents. Yet, Girard College remained all white, owing to the "poor, white, male orphan" qualification required in Stephen Girard's will. In 1954, African-American activist, lawyer, and Philadelphia city council member Raymond Pace Alexander brought a lawsuit on behalf of boys denied admission on the basis of race. Although the case ultimately went to the Supreme Court, it did not result in the school's desegregation. In the 1960s, Cecil B. Moore, the newly elected leader of the Philadelphia branch of the NAACP, reignited the issue and beginning on May 1, 1965 he organized daily protests outside of the wall of the Girard College. On August 3, 1965 Martin Luther King came to Girard and gave his support to the activists, making a speech announcing that "the walls would crumble like the walls of Jericho." After 7 months and 17 days of daily protests, a new lawsuit was filed in December 1965. This new suit eventually forced the desegregation of the school and in 1968 the first four African-American boys and the first two boys of Asian descent were enrolled as students. 
Further enrollment changes happened in the 1970s and 80s. In hopes of admitting more students, Girard College amended its admission policy in 1977 to accept "functional orphans" ­– children from single-parent families who do not necessarily have a deceased father. This measure increased the number of applicants significantly and reversed the downward trend of student enrollment. In 1982, following the filing of a law suit by the Women's Law Project and N.O.W. on behalf of a female applicant, the city requested and received permission from the Orphans Court to put aside the will's male-only requirement. The school admitted its first girls in 1984, starting with an initial cohort in the elementary school. Girard became fully coeducational as these students aged and the class of 1993 was the first to include female graduates.
Instruction in the Mechanical School was phased out in the 1980s, and the school's curriculum became exclusively college preparatory in the 1990s. In 2009, Autumn Adkins Graves became the first African American and female president of Girard College. Girard College transitioned to a 5-day boarding program in the early 2010s, in which all students board on campus during the week and return home for the weekend. 
Today, the 1st-12th grade school continues to provide full scholarships that cover schooling and boarding for all students. Girard College is organized into an elementary, middle, and high school. The high school's academic focus centers on college prep, boasting a 100% college acceptance rate for all of its students. The campus's varsity-level athletics include soccer, basketball, track, baseball, and softball. Girard College has been a major site for civic engagement, such as serving as the site of Philadelphia's annual Martin Luther King Day of Service program since 2010. Its alumni have made substantial impact in the local community and American society.
Sources
Canton, David A. Girard College, Encyclopedia of Greater Philadelphia. Accessed May 12th 2020. https://philadelphiaencyclopedia.org/archive/girard-college/.
Chronology of GIRARD COLLEGE, 1832-2016. June 2016. Compiled by Gil Bunker, Thomas J. DiFilippo, Walter C. Gold, and Cheesman A. Herrick for the Founder's Hall collections in Girard College.
DiFilippo, Thomas J. Stephen Girard, The Man, His College and Estate. Edition 2nd. 1999. Accessed May 12th 2020. http://www.girardweb.com/girard/contents.htm.
Founder's Hall Museum - History of Girard College, Girard College. Accessed May 13th 2020. https://www.girardcollege.edu/visitors/founders-hall-museum/history-of-girard-college/.
Herrick, Cheesman A. History of Girard College. Philadelphia, PA. Girard College, 1927.
Homan, Spencer. "Know Your History: Stephen Girard and Girard College", Spirit News (Philadelphia). May 11th 2016. Accessed May 12th 2020. https://spiritnews.org/articles/know-your-history-stephen-girard-and-girard-college/.
Main Page, Girard College. Accessed May 12th 2020. https://www.girardcollege.edu/
Simpson, Stephen. Biography of Stephen Girard, with His Will Affixed. Philadelphia, PA. T. L. Bonsal, 1832.
Wilson, George. Stephen Girard: The Life and Times of America's First Tycoon. Signpost Biography Series. Conshohocken, PA. Combined Publishing, 1995.
Image Sources
John Poppel, "Girard College in Philadelphia." Published for Hermann J. Meyer, New York. 1851. Girard College Historical Collections

W.N. Jennings, " Balloon View of Philadelphia from a point 1 1/4 mile high." 1893. Girard College Historical Collections

"Philadelphia: Girard College and Grounds." ca. 1900. Girard College Historical Collections

Girard College.

Additional Information