Haskell Memorial Stadium
Introduction
In 1926, the Haskell Institute dedicated to their new football stadium and arch that had been built largely by Haskell students. With funds raised by Native American donors from all over the country and labor provided students who came to Haskell from dozens of tribes, Native Americans around the nation viewed the stadium with great pride. The size and grandeur of the stadium also represented the prominence of Haskell and several other Native American schools in the college football world during the 1920s. Some of the greatest American athletes attended Haskell including John Levi, Jim Thorpe and Billy Mills.
Images
An overview picture of the Haskell Celebration Marker.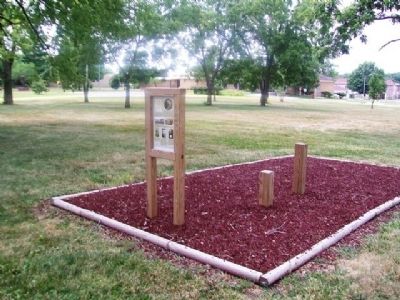 Up close picture of the Celebration Marker and the three athletes mentioned.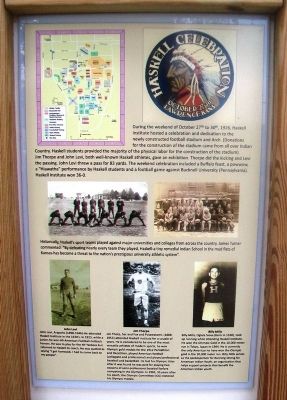 Dedication of the stadium in 1926. Photo part of the collections of the Kansas State Historical Society.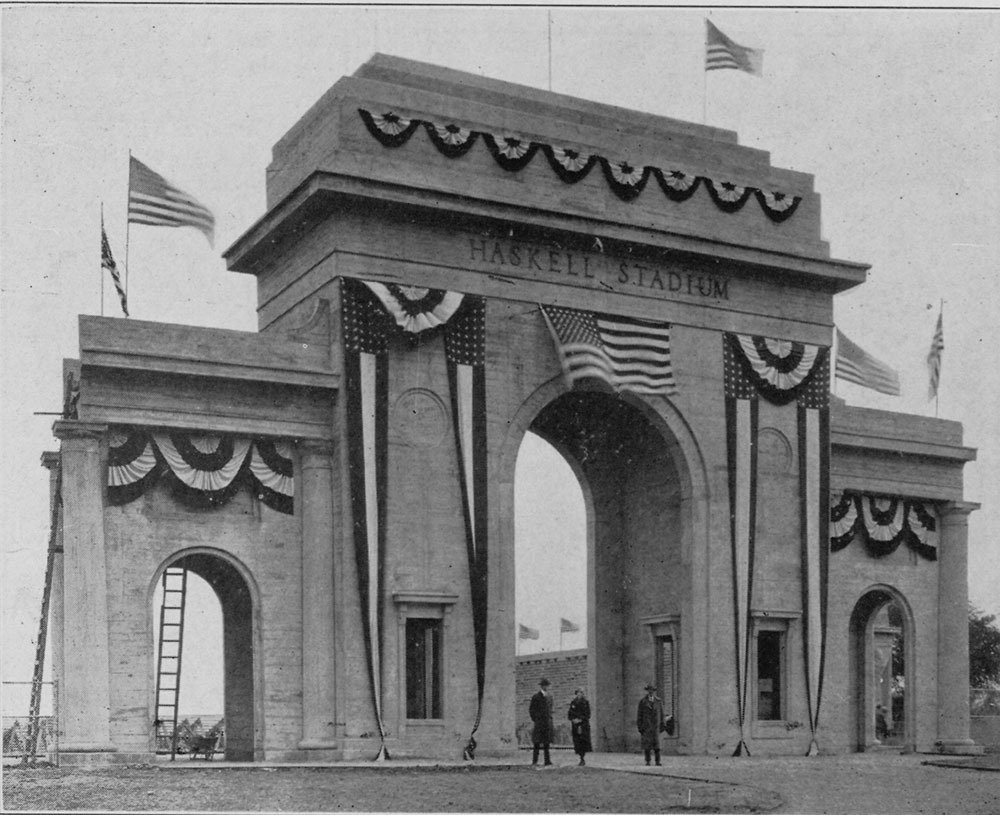 Backstory and Context
Haskell Institute, now known as Haskell Indian Nations University, was home to several prominent Native American athletes and their football team was one of the best in the nation in the early 1900s. This stadium was dedicated in 1926 thanks to donations of many Native people throughout the United States. The 1926 dedication ceremony was a celebration of the a new football stadium and its grand memorial arch. The stadium was largely built by the physical labor of Haskell Institute students.
To honor this accomplishment a celebration was planned for 27-30 October. Well known Native American athletes and Haskell students, Jim Thorpe and John Levi participated in the celebration. Thorpe kicked while Levi threw passes, one of which reportedly traveled an astonishing 83 yards. The weekend included cultural celebrations related to Native American tribes including a powwow, Buffalo feast, and a Hiawatha performance by Haskell students. The celebration concluded with a football match against Bucknell University from Pennsylvania.
Haskell was home to several prominent Native American athletes and fielded one of the most prolific football teams in the early 20th century. The 1903 Haskell Fighting Indians defeated Kansas and Missouri but lost to Nebraska. However, the following year the team defeated Nebraska. Eli Stover played for Haskell and earned all-conference in 1914 and 1915 and earned All American Honorable Mention. The 1915 team played powerful schools like Notre Dame, Wisconsin, Illinois, Texas, and LSU. The apex of the team's success came in the 1920s.
In 1922, Haskell scored 287 points and held opponents to 69 points in seven games in a season that saw Haskell defeat national powerhouse Baylor in front of 4200 fans. In 1926, Haskell seemed poised to continue their success with the dedication of this new football stadium that could hold 10,500 people. Haskell alumni and other Native people donated much of the funds needed to complete this $250,000 stadium which opened with a Homecoming victory over Bucknell by a score of 36-0. However, the team's success did not continue owing to a lack of funding and the university discontinued the football program in the 1930s. The program was later revived and today, Haskell competes against area junior colleges.
Jim Thorpe, part of Sac, Fox and Potawatomi nations, attended Haskell for several years and many still consider him to be the most influential and well-known athlete of his era. He might also be the most versatile athlete in American history as he not only played in the National Football League but also set many records in track and field. He won the Olympic Decathlon and also played professional baseball and basketball.
John Levi, of the Arapaho tribe attended Haskell in the 1920s where he won All-American Football honors as a fullback. After being recruited by the New York Yankees he returned to Haskell to coach. "I got homesick, Levi explained when discussing his decision to return to Kansas. "I had to return to my people."
Billy Mills, of the Oglala tribe, became a runner while attending Haskell. In 1964, he received Olympic Gold Metal for the 10,000 meter run in the Tokyo Olympics and to date is currently the only American to have won the gold in that event. Mills is the spokesman for the Running Strong for American Indian Youth program.
Sources
Iowa City Press-Citizen. 1923. "Big Ten Football Minnesota 13 Haskell 12." October 15: 8.
San Antonio Express. 1922. "4200 Fans See Haskell Down Baylor Eleven." December 10: 29.
San Antonio Express. 1922. "Haskell Braves Take Baylor Bears Into Tepee 21-20 ." December 10: 28.
San Antonio Express. 1922. "Haskell Indians Have 5-2 Record." December 3: 29.
Vuckovic, Myrium. 2008. Voices From Haskell Indian Students Between Two Worlds. Lawrence: University Press of Kansas.

Fischer, William. Haskell Celebration 1926. September 20, 2014. Accessed July 12, 2018. https://www.hmdb.org/marker.asp?marker=77303&Result=1.

Running Strong for American Indian Youth. . Accessed July 12, 2018. http://indianyouth.org/billy-mills.