Thomas H. Swope Memorial
Introduction
This granite memorial serves as a mausoleum for Thomas Hunton Swope and honors his gift of over 1300 acres to Kansas City in 1896. The gift allowed for the creation of Swope Park, which was the second-largest municipal park in the United States at that time. Kansas City philanthropist Thomas H. Swope was held in such high regard, that following his death on October 3, 1909, businesses and schools closed so that families could pay their respects and his body lay in state in the rotunda of the Kansas City Public Library which was located at 8th and Oak Street. Swope's remains were placed in a vault until this mausoleum was completed and his remains were interned here on April 8, 1918. The memorial rests on top of a hill, surrounded by and overlooking the natural beauty of the park which is home to the Kansas City Zoo, Starlight Theater, a municipal pool, golf course, and a variety of nature trails and recreational fields.
Images
A portrait of Thomas "Colonel" Swope c.1906. Photo courtesy of Missouri Valley Special Collections, Kansas City Public Library.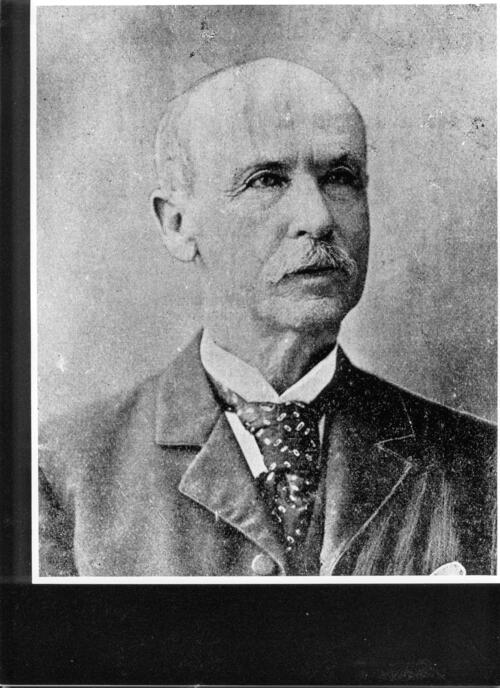 The Thomas H. Swope Memorial serves as the mausoleum for Kansas City philanthropist "Colonel" Swope (1827-1909)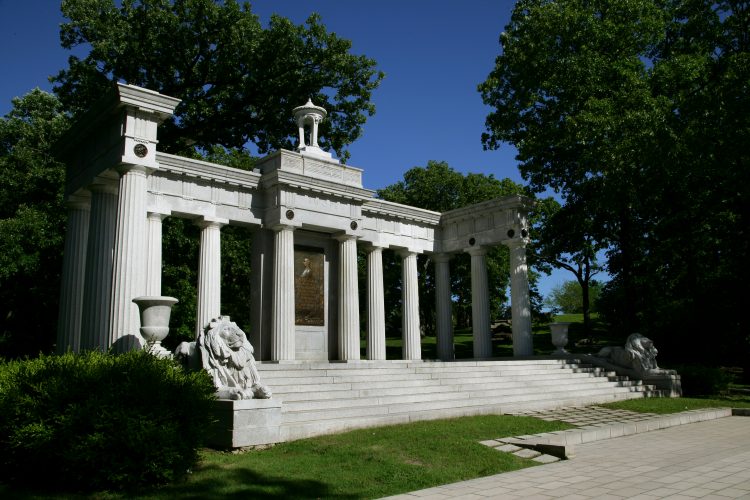 The Thomas H. Swope Memorial overlooks a fountain and Swope Park.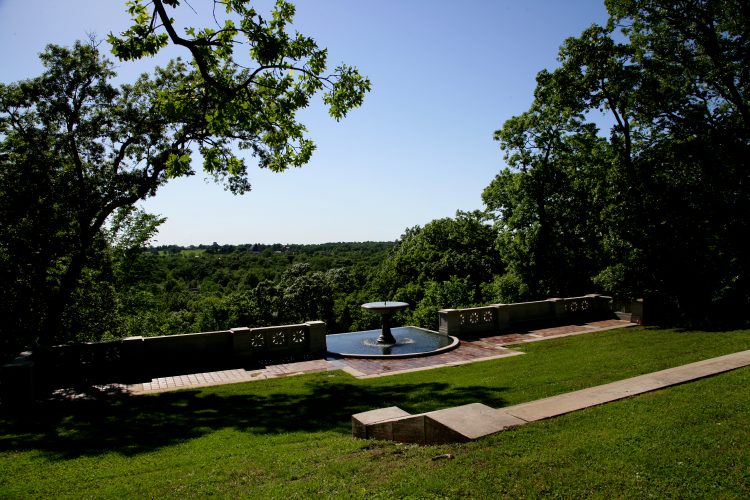 An aerial view of Thomas H. Swope Memorial at Swope Park.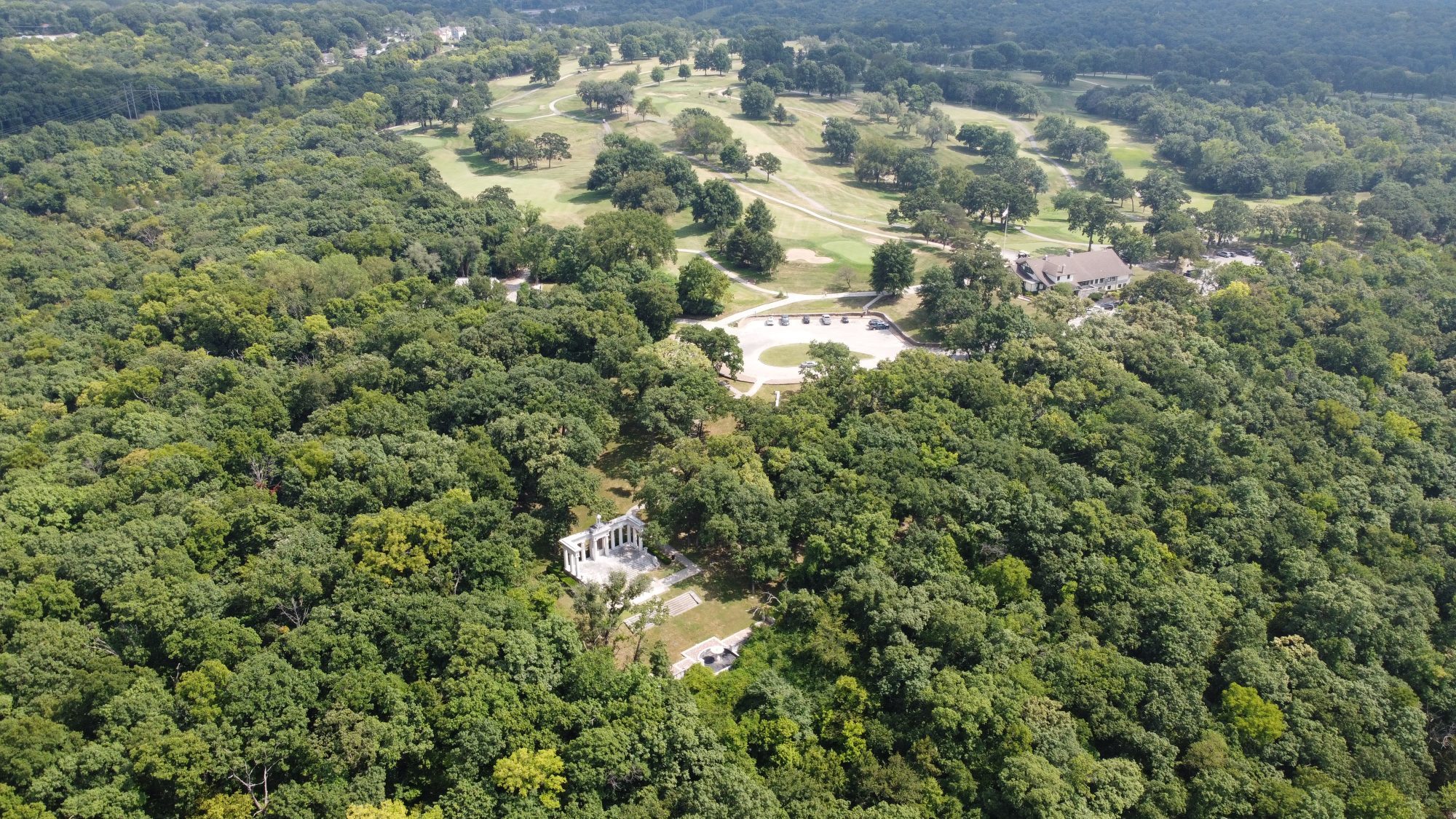 A close up view of the bronze plaque at Thomas H. Swope Memorial.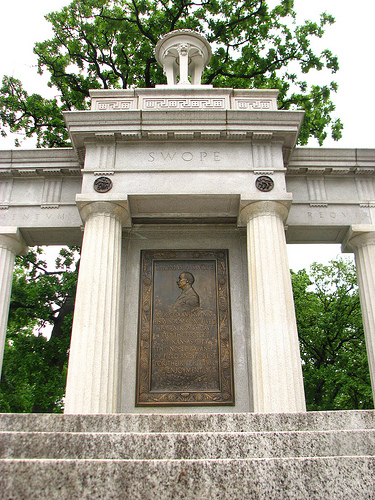 The view of Thomas H. Swope Memorial overlooking Swope Park lagoon c.1932. Photo courtesy of Missouri Valley Special Collections, Kansas City Public Library.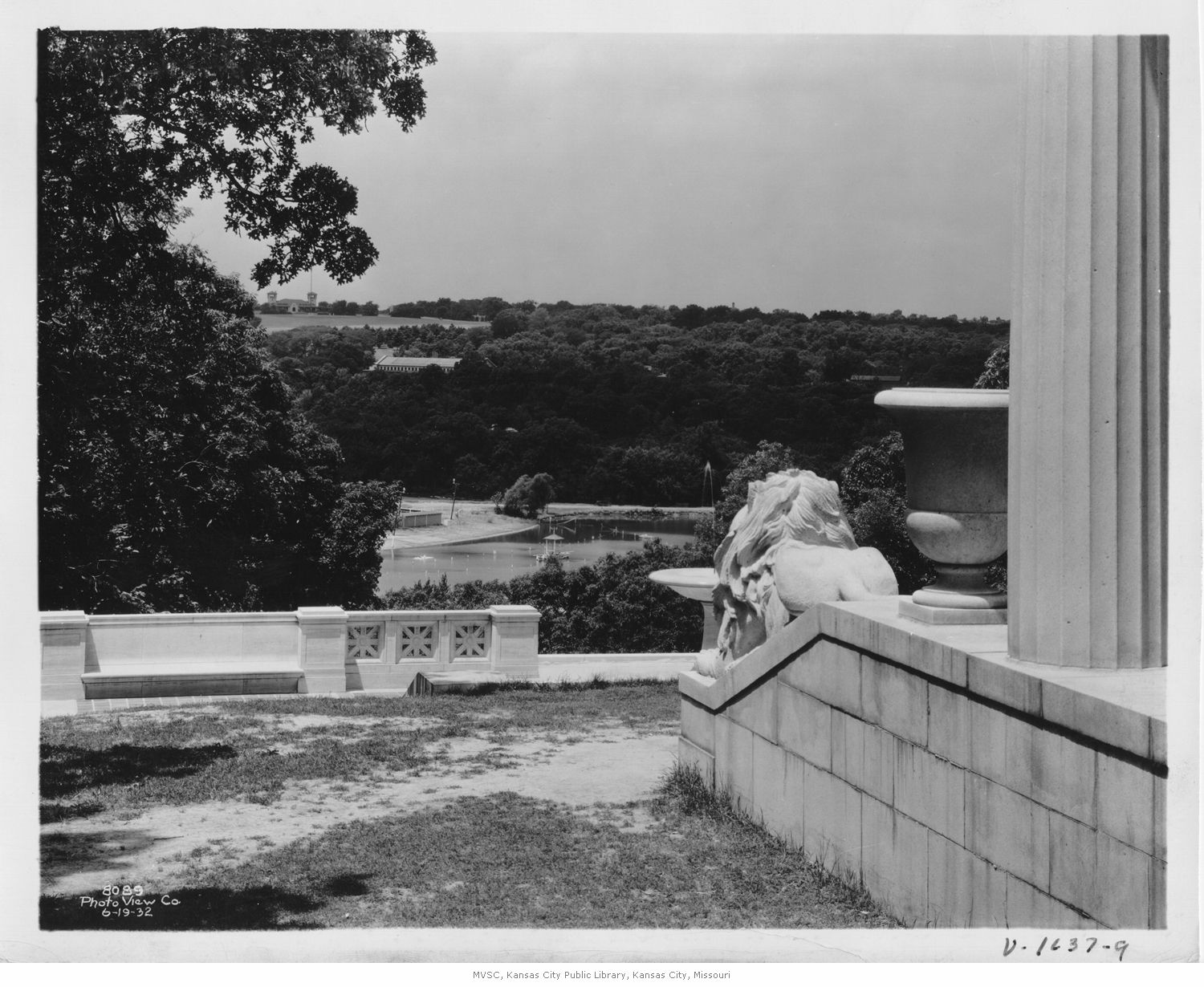 Backstory and Context
Located just east of the lagoon in Swope Park, the Thomas H. Swope Memorial is made from Bethel white granite and features twelve 14-foot tall, Greek style columns that create a U-shape around a stone court. The columns support an entablature engraved with a Latin inscription that reads, "LECTOR SI MONUMENTUM REQUIRIS CIRCUMSPICE," which translated means, "Reader, if you would see his monument, look about you." A decorative lantern with carved lion heads and feet sits on top of the colonnade while eight bronze medallions that depict species of trees found in the park are mounted within. A bronze plaque created by Charles Keck is featured in the central projecting bay and includes a bas relief portrait of Mr. Swope with an inscription that reads, "THOMAS H. SWOPE / MDCCCXXVII-MCMIX / HIS WISDOM CONCEIVED HIS GENEROSITY GAVE TO THE PEOPLE OF KANSAS CITY THIS NOBLE EXPANSE OF FIELD AND FOREST FOR THEIR PERPETUAL ENJOYMENT." In addition, Keck sculpted the two large lions and urns which flank each side of the stone steps leading up to the courtyard. In the center, Mr. Swope lies under an inscribed stone which reads, "THOMAS HUNTON SWOPE / SON OF JOHN B. SWOPE AND FRANCES HUNTON SWOPE / DIED OCTOBER.3.1909 / AGED 82 YEARS." 
Eighty-four feet to the west of the memorial, a 4-foot stone balustrade lines the edge of the bluff and flanks a 6-foot pedestal fountain that was installed in 1923. This is one of two fountains in the Kansas City park system that is solar powered.
In 2003, the memorial and fountain underwent restoration due to deterioration and vandalism. Susan Richards Johnson & Associates, Inc. (now STRATA Architecture and Preservation) won several awards for the project including the Preservation Award from Historic Kansas City Foundation and the Allied Arts and Craftsmanship Award of Recognition from American Institute of Architects of Kansas City.
Thomas Hunton Swope (1827-1909)
Thomas H. "Colonel" Swope was born on October 21, 1827 in Kentucky. He was a Yale graduate and speculated in mining and real estate investments in New York early on. In 1855 he headed west as the Kansas Territory opened, first investing in real estate in Saint Louis before settling in the Kansas City area in 1857. Here, he purchased an abundance of land, becoming the largest individual landowner in Kansas City. Swope was a lifelong bachelor and lived in a mansion with several members of his extended family near Independence, Missouri. 
Colonel Swope, named not from military service but as a term of endearment, became very successful but remained generous. His most famous legacy is the donation of 1,334 acres of land for Swope Park in 1896, which at the time was the second largest municipal park in the United States. In 1905, he donated a 4.5-acre tract of land at 23rd and Cherry for a new hospital which had been approved for a bond two years earlier. General Hospital opened in October 1908, offering 600 beds and free municipal healthcare for the indigent; one of the only cities in the country to do so. Thomas Hunton Swope died of a cerebral hemorrhage on October 3, 1909. He was held in high regard for his contributions to the city, as public schools were dismissed at noon and patrons lined the streets in his honor for his services on October 8. On this day, his body lay in state in the rotunda at the Kansas City Public Library and funeral services were held at Grace Episcopal Church. However, his body remained in a holding vault until his wish of a Memorial was built in Swope Park and was laid to rest on April 8, 1918. 
Swope's sudden and tragic death, in conjunction with a series of other deaths and illness in the family mansion, led to a murder investigation of the family physician, Dr. Bennett Hyde. The first incident occurred two days prior to Colonel Swope's death when a cousin, who happened to be the executor of Swope's will, died suddenly. Two months later, an outbreak of illness swept the Swope mansion, as Typhoid fever took the life of his nephew. Investigators quickly realized a motive for Dr. Hyde as he had married Swope's niece Francis a few months prior, and because Swope had no direct kin, his extended family would become the heir to his multi-million dollar fortune. Hyde was indicted for murder when investigators revealed he had recently purchased cyanide capsules and samples of typhoid, as well as an autopsy report of Swope's exhumed body that showed traces of "some convulsive and paralyzing poison" in his system. On May 16, 1910, Bennett Hyde was convicted of murder by a jury. However, during the appeals process that verdict was overturned. After several more trials, prosecutors were unable to get another guilty verdict, and after 7 years Hyde was cleared of suspicion of murders. The trials ruined his career and he eventually divorced Francis. He died in 1934 never having confessed to the tragic events, leaving the true cause of Swope's death unknown to this day. 
Sources
Thomas H. Swope Memorial, Kansas City Parks and Recreation. Accessed February 21st 2022. https://kcparks.org/places/swope-thomas-h-memorial/.
Thomas H. Swope Memorial, (sculpture), Smithsonian Institute. Accessed February 21st 2022. https://www.si.edu/object/siris_ari_1536.
Thomas H. Swope Memorial Fountain, City of Fountains. Accessed February 21st 2022. https://cityoffountains.org/thomas-h-swope-memorial-fountain/.
About Us: Recognition, STRATA Architecture and Preservation. Accessed February 21st 2022. http://www.strata-arch.com/about-us/recognition/.
Stahly, Nichole. "Swope Park." Clio: Your Guide to History. February 11, 2022. Accessed February 21, 2022. https://theclio.com/entry/146055
Image Sources
https://kchistory.org/image/thomas-swope?solr_nav%5Bid%5D=13c76a324e531ae81004&solr_nav%5Bpage%5D=0&solr_nav%5Boffset%5D=7

https://kcparks.org/places/swope-thomas-h-memorial/

https://kcparks.org/places/swope-thomas-h-memorial/

https://kcparks.org/places/swope-thomas-h-memorial/

https://murderpedia.org/male.H/h/hyde-bennett-photos.htm

https://kchistory.org/image/thomas-swope-memorial-6?solr_nav%5Bid%5D=27414386f89ae1e77bd2&solr_nav%5Bpage%5D=0&solr_nav%5Boffset%5D=0

Additional Information