Unique Hair Studio
Introduction
This mural was created by Japanese graffiti artist Shiro. She created the piece with the help of students from the organization Youth for Change, whom she first taught in a workshop how to paint graffiti. The mural only took about half a day to complete, and the artists were so invested that they stayed long after nightfall, with car headlights pointed at the wall to help them see.
Images
Photograph thanks to the Liberal Arts Action Lab team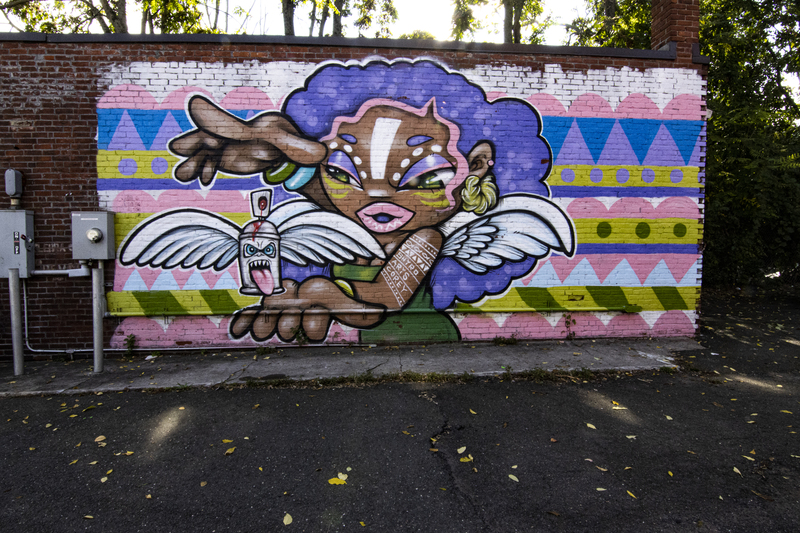 Backstory and Context
Author-Uploaded Audio
Lindaluz Carillo: "I got in contact with Shiro. She's a graffiti artist, a Japanese graffiti artist, but also has traveled all over the world. At the time she was in New York. I don't know if she's still there. So I had reached out to her via Instagram just to see, you know, if she would be down to come and paint. She said yeah. She came out, you know, we picked her up, and she was here for like a span of two to three days. She did a workshop with, at the Hip Hop Festival with Youth For Change, taught some kids how to do, you know, the basics of graffiti and tagging and all that."
Shiro also created two more murals in Hartford for 2022's Trinity International Hip Hop Festival at the Art Box Lot and Heaven Skate Park.
Sources
Frog Hollow Oral History Research Team, "Unique Hair Studio," Frog Hollow Oral History, accessed April 12, 2022, https://action-lab.org/frog-hollow-oral-history/items/show/37.
Image Sources
Frog Hollow Oral History Research Team