Colson Hall
Introduction
Built in 1923 as the new home of the West Virginia University law school, Colson Hall is one of the most eye-catching structures on WVU's downtown campus. The building gained its moniker in 1975 in honor of former law school dean and two-time interim university president Clyde L. Colson, one year after the law school moved to its current location and the West Virginia & Regional History Center took its place. During its time as WVU's law school Colson Hall witnessed the graduation of several prominent individuals, among them the law school's first African American graduate (Charles E. Price of Fairmont, West Virginia), three West Virginia governors, and a US ambassador. Through its association with these individuals, Colson Hall serves as a unique window into the legal, political, and diplomatic histories of West Virginia and the nation at large. After the West Virginia & Regional History Center moved to its current location in Wise Library in the early twenty-first century Colson Hall became the home of WVU's English Department, which continues to occupy the building and is open during regular university hours.
Images
Current photo of Colson Hall.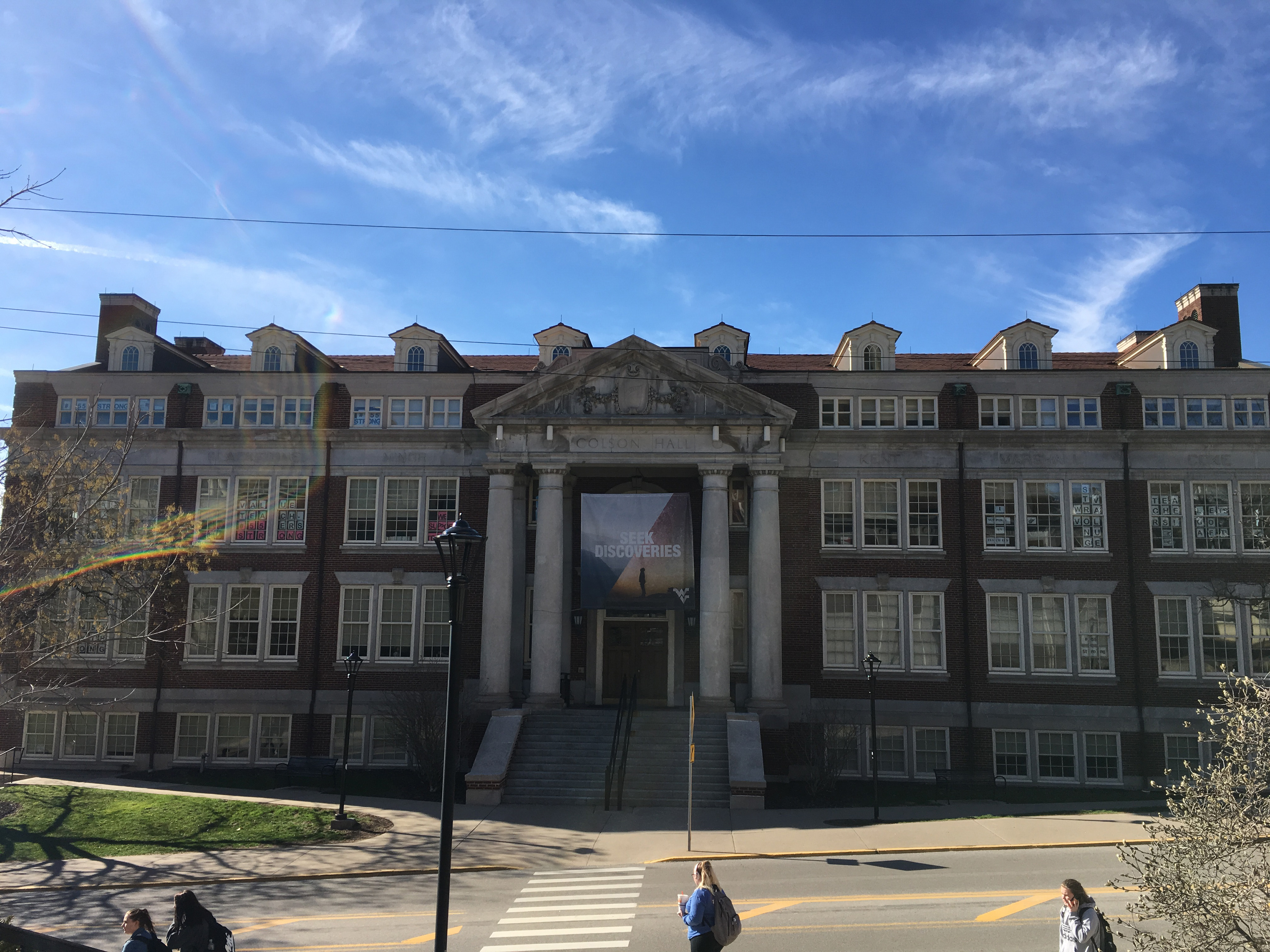 Prospective drawing of Colson Hall in 1920.
Law School lecture room in 1924, the year after Colson Hall was built.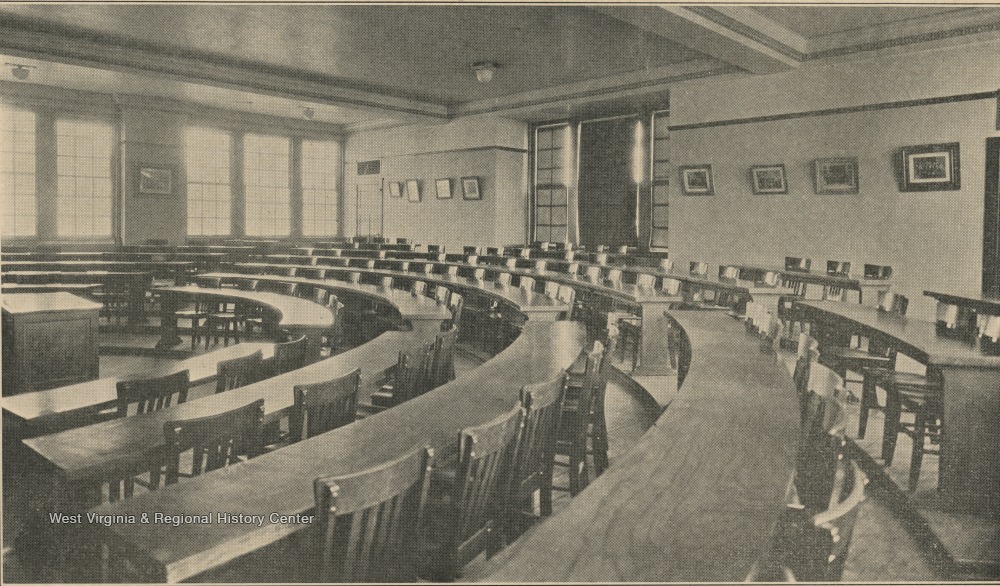 Backstory and Context
Colson Hall was one of several university structures built during a period of campus expansion following the First World War. Clark Hall, Elizabeth Moore Hall, Stansbury Hall, and the Old Mountaineer Field all rose during this period to accommodate WVU's rapidly expanding curriculum (which included the foundation of the School of Mines and College of Education) and athletics department. Prior to the 1970s, Colson Hall was known simply as the "Law Building." It was in the Law Building that law students like Charles E. Price (first African American graduate of the law school), William Marland, Wally Barron, and Arch Moore (each governors of West Virginia), and Joseph S. Farland (U.S. Ambassador to four countries) took their classes. It was not until after the law school had moved to its current location in 1974 that the building was named for law school dean and university president Clyde L. Colson, who also served as a legal advisor to West Virginia Governor Matthew M. Neely in the 1940s. By the time Colson Hall had earned its new name it had become the home of the West Virginia & Regional History Center, which remained there until the multimillion-dollar expansion to Wise Library across the street at the turn of the twenty-first century.
Colson Hall and the buildings that rose in its immediate vicinity in the post-World War I era (Clark Hall, White Hall, and Wise Library) were intended to form a quadrangle that mirrored that of Woodburn Circle a short distance to the north. Like many of the other structures on campus, Colson Hall is an eclectic mix of architectural styles popular during the era of its construction. The two most prominently featured styles in the building's design, however, are the Neoclassical Revival and Second Empire styles. Typical of Neoclassical Revival architecture are the four massive columns at the building's front and the ornamented triangular pediment that tops them, features that deliberately imitate the design of Greek and Roman buildings from the Classical period. The structure's mansard roof (flat top and sloping sides punctuated by dormers), on the other hand, is a reflection of its Second Empire influences, named for the era of the Second French Empire of Napoleon III during which such design characteristics became popular.
While its architecture makes Colson Hall a can't miss on WVU's downtown campus, however, it is its role as the site of the university law school from 1923 to 1974 that has ensured its status as a site of historical interest. During the law school's tenure at what was then known as the Law Building, it provided legal educations for several prominent graduates. Charles E. Price, the law school's first African American graduate, earned his degree in law there in 1970, twenty-nine years after Kenneth James became the first African American to earn a graduate degree from the university in 1941. Price, who was from nearby Fairmont, West Virginia in Marion County, went on to a successful law career in the state capital of Charleston and received the law school's Gavel Award (Alumnus of the Year) in 1975.
The law school graduated a number of other prominent alumni during the same period of its occupation of what is now Colson Hall. Among them are West Virginia Governors William Marland, Wally Barron, and Arch Moore, as well as U.S. Ambassador Joseph Farland. The first two, Marland and Barron, were among the final Democrats to serve as governors of West Virginia prior to the realignment of party ideologies and politics that took place nationwide in the 1960s and 70s. After graduating from WVU's law school in 1947, Marland went on to serve as the state's attorney general for two years before being tapped for his party's nomination for the gubernatorial race of 1952 as a fresh face that might wash away the organization's growing reputation statewide for corruption. Marland did much to combat that reputation, imposing a tax on companies that removed the state's natural resources and enforcing school desegregation after the 1954 U.S. Supreme Court decision in Brown v. Board of Education.
The next WVU law graduate to hold the governorship as a member of the Democratic Party, on the other hand, did much to unravel Marland's legacy. Although he worked hard to develop a statewide response to the growing mechanization of the coal mining industry (and subsequent rising unemployment in West Virginia), Wally Barron's tenure as governor of the state is remembered more for his conviction in 1971 on bribery charges. WVU law school alumnus Arch Moore, a Republican governor of West Virginia whose three terms were a reflection of state voters' rejection of Democratic corruption, fared little better. At the end of his third term Moore was charged with several federal crimes related to fraud and corruption and wound up serving a little over three months in prison after his conviction.
The three governors' fellow law school alum Joseph Farland, U.S. Ambassador to the Dominican Republic, Panama, Pakistan, and New Zealand, had a somewhat more illustrious career. It is for his service in Pakistan, however, that Farland is most remembered. During his time there, Farland arranged for U.S. Secretary of State Henry Kissinger to travel secretly to China through Pakistan for meetings with Chinese Premier Chou En-lai in 1971. These meetings set the stage for President Richard Nixon's visit to China the following year, a journey that opened relations between the United States and that country after decades of hostility following Communist leader Mao Zedong's establishment of the People's Republic of China in 1949. Not only did Joseph Farland's involvement in this process help pave the way for a loosening of trade restrictions between the United States and China that continues to this day, it also connected WVU's law school and Colson Hall itself to the broader history of the nation during the Cold War that defined the better part of the twentieth century. 
Sources
Canfield, Jack. "William Wallace Barron." The West Virginia Encyclopedia.May 16, 2016. https://www.wvencyclopedia.org/articles/366.
"Charleston Speaker Set for Tomorrow." The Morning Reporter(Morgantown, WV), November 12, 1977.
Grimes, Richard S. "Arch Moore." The West Virginia Encyclopedia.January 24, 2017. Accessed August 17, 2019. https://www.wvencyclopedia.org/articles/2032.
"History." West Virginia University College of Law. Accessed August 17, 2019. https://www.law.wvu.edu/about-us/history.
"Joseph S. Farland, 92, Envory Who Helped in Kissinger Ruse, Dies." The New York Times, February 1, 2007. Accessed August 17, 2019. https://www.nytimes.com/2007/02/01/obituaries/01farland.html.
LaBarbara, Jane Metters. "Preserving the History of WVU's First African-American Graduates." News. Accessed August 17, 2019. https://news.lib.wvu.edu/2017/11/13/preserving-the-history-of-wvus-first-african-american-graduates/.
Lutz, Paul F. "William Casey Marland." The West Virginia Encyclopedia.May 16, 2016. Accessed August 17, 2019. https://www.wvencyclopedia.org/articles/1507.
"More WVU Facilities Are Named." The Morgantown Dominion Post, July 10, 1975.
University Relations, West Virginia University. "A Lifetime Legacy of Learning Leads to Success." WVUToday Archive. May 19, 2008. Accessed August 17, 2019. http://wvutoday-archive.wvu.edu/n/2008/05/19/6827.html.
Image Sources
WVU English Department

West Virginia and Regional History Center

West Virginia and Regional History Center

Additional Information