Ditmas Coe House
Introduction
A late eighteenth-century Dutch colonial farmhouse now stands at 1128 E. 34th St. in the Flatlands neighborhood, behind a white picket fence. The house is known as the "Ditmas Coe House" or the "Joost Van Nuyse House." Van Nuyse was born in 1716 and died in 1792; he is thought to be the builder of the house. Coe rented the house from a Van Nuyse heir in 1852. The original part of the Ditmas Coe House is wood frame, 1.5 stories tall, and nearly square, with a covered front porch. A later wing is much larger than the original house. The Ditmas Coe House became a New York City landmark in 1969 and was listed in the National Register in 2006. The Amersfort Nursery. a local landscape company, bought the Ditmas Coe House around 1923 when it was standing at the intersection of Flatbush Ave. and Avenue J, and used the house for part of its business. The Nursery moved the structure one block away to its current location on E. 34th St. off of Flatbush Ave. around July 1925. The house is a private dwelling once again.
Images
Original part of the Ditmas Coe House in 2013 photo (Smallbones)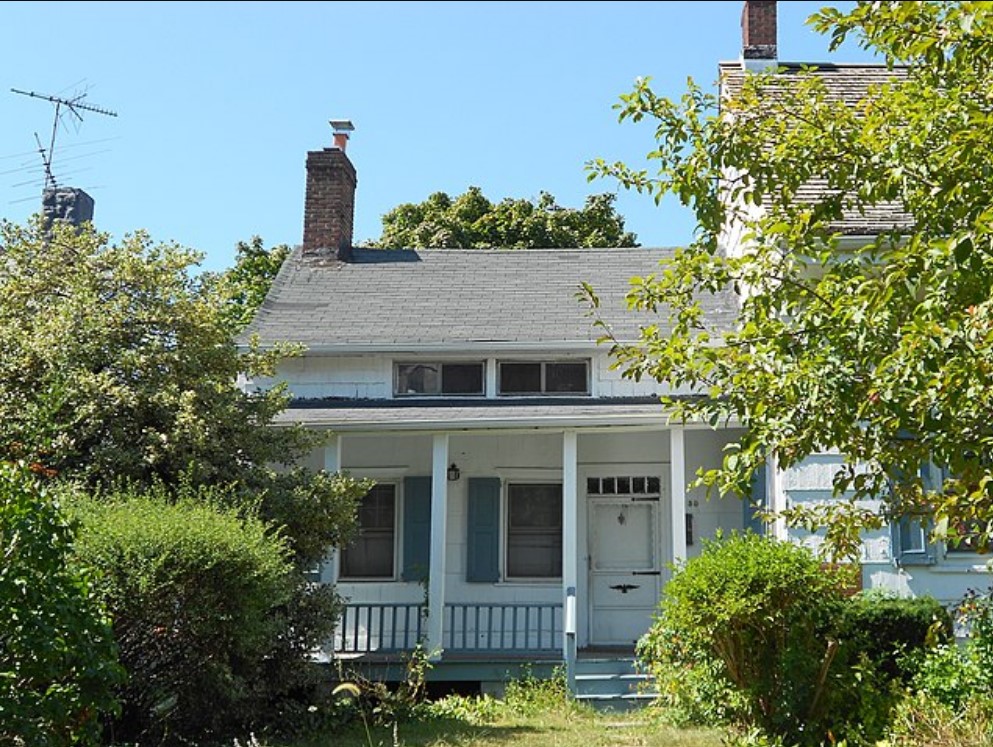 Later wing of the Ditmas Coe House in 2013 photo (Smallbones)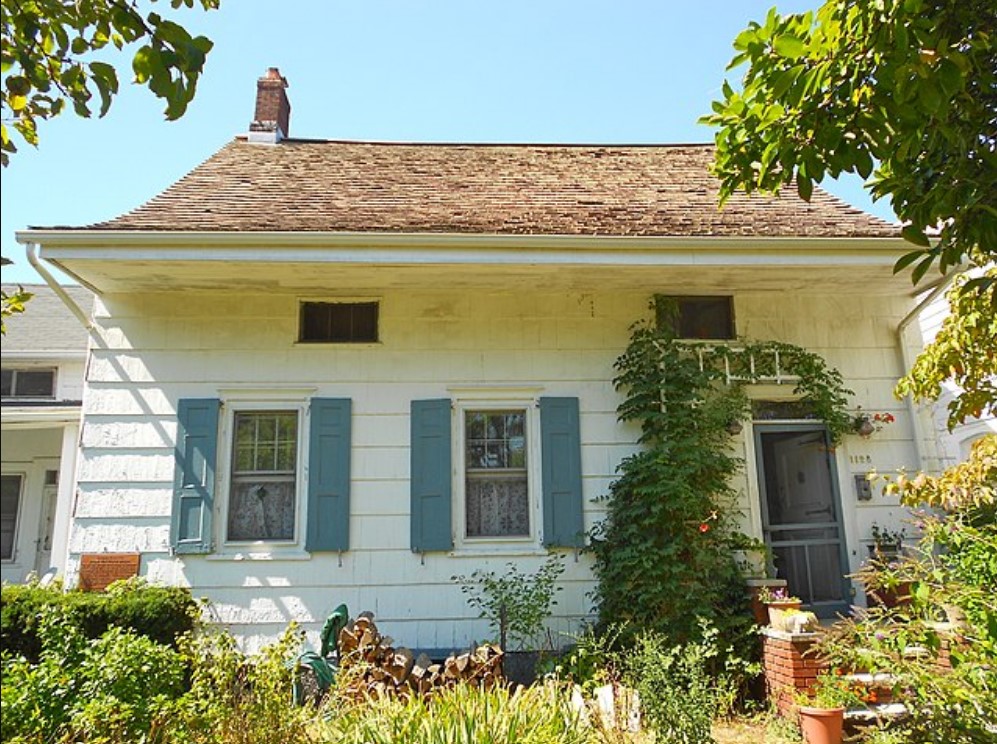 Ditmas Coe House (green arrow) in original location of 1754 Flatbush Ave. on 1907 Sanborn map (V. 14. p. 116)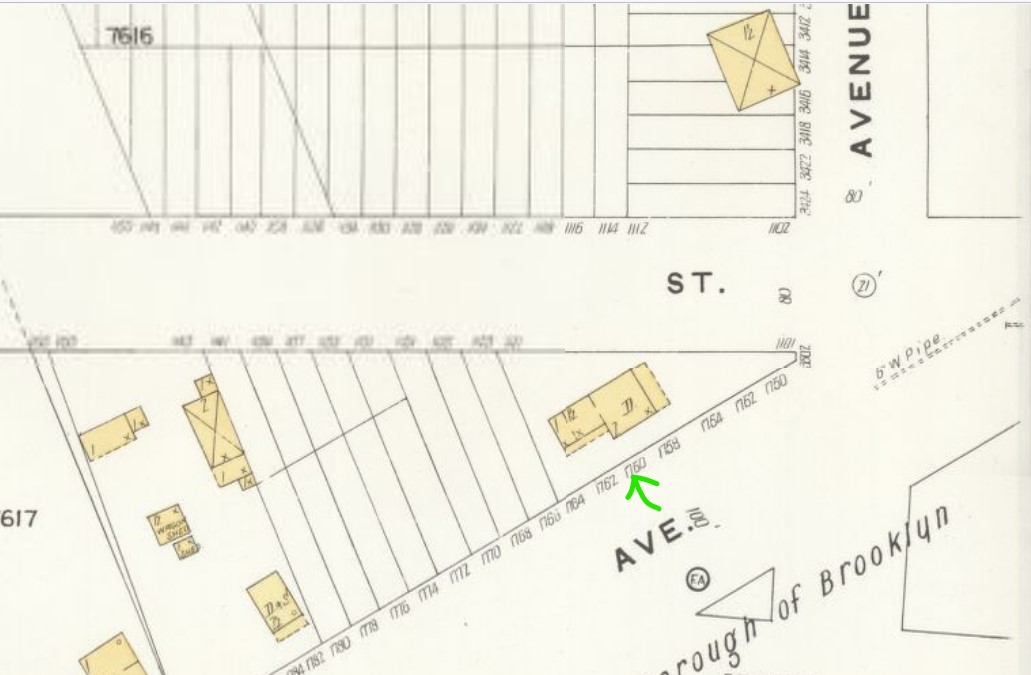 Backstory and Context
The Dutch town of Flatlands was originally called New Amersfort and was settled in 1636. Some residents still spoke the Dutch language into the mid-nineteenth century. The Ditmas Coe House originally stood on the 85-acre farm of Joost Van Nuyse, on property his father (William Van Nuyse of New Utrecht) had purchased in 1725. Part of the farm's flat land was laid out as a racecourse for horse racing named Ascot Heath. It is likely that the house was built for Joost (sometimes called "George"), who was baptized in 1716 and married Elizabeth Emmans in 1744.
The Joost Van Nuyse household was not found in the 1790 census. Joost and Elizabeth had many children: Margaret; Sarah; Wilhelmus; Joost (Jr.); Elizabeth; Johannes; Jacobus; Maria; and Helen or Magdalena. The need for a larger house to accommodate this family explains the addition of the larger wing around the end of the eighteenth century. Joost reportedly died in the house around 1792.
Joost's son Johannes reportedly resided in his late father's homestead in Flatlands. Johannes was born in 1763 and married Nelly Lott (born in 1771); their children were: George (b. 1802); Jeromus (b. 1805); Eliza (b. 1807); Lemma (b. 1809); Maria (b. 1810); Eleanor (b. 1813); and Magdalen (b. 1816). A 1930 local newspaper article attributes the house to Johannes and says it took three days to build, around 1800; perhaps Johannes was the one who added the larger wing onto his father's house. Johannes died in 1826 and his widow passed away in 1832. Both George and Jeromus lived in Flatbush as adults. George reportedly built himself a home at 150 Amersfort Place in 1827 after marrying Margaret Ditmars, four years before his death at age 29; the George Van Nuyse House was on land acquired by the City of New York in 1935 to build Brooklyn College, It is reported that Van Nuyse heirs rented the Joost Van Nuyse house to Ditmas Coe in 1852. Since Jeromus died in 1852, perhaps Jeromus resided in and/ or owned his grandfather's house; Jeromus married Ann Eliza Brinkerhoff (b. 1813) in 1838 and had no children.
Before leasing the Van Nuyse farm, Ditmas Coe was a farmer living in the Newtown area of Queens, according to the 1850 census. The 29-year-old farmer lived with his wife Sarah (age 25), children George (4) and Julia (1); several servants; and a farmer named Isaac Coe (20, probably a brother). Ditmas Coe owned real estate worth $12,000 in 1850. Ditmas Coe did not appear in the 1860 federal census, but he was a resident of the Town of Flatbush in 1870 (Flatlands was part of Flatbush by then). The 49-year-old retired farmer lived with his wife Sarah (41); son George (23); and daughter Henrietta (19). The Coes were all born in New York. Mr. Coe estimated his personal estate at a value of $25,000; no value was entered in the census for real estate, so he may have still been leasing the house.
When the Amersfort Nurseries and Florists used the house for part of its business in the mid-1920s, their addresses were 1754 and 1772A Flatbush Ave; the house (at 1754 Flatbush, south of Avenue J) was still a dwelling on the 1907 Sanborn map, with a front porch on the older portion and a side porch on the newer wing. The nursery announced plans in June 1923 to move the house in the next few weeks from its location where it had "stood for at least 200 years" to E. 34th St. The nursery planned to continue its occupancy of the house after the move. The steeply-pitched roof of the added wing of the wood frame house has an overhanging eave with an out-sweeping curve on the front and rear, one of the hallmarks of Dutch colonial farmhouses; the entrance door is in the third (right) bay. The original portion of the wood-frame house has a side-gable roof with the out-sweeping curve on the front only; the front entrance door is under a shed-roofed porch, with the door in the third (right) bay.
Sources
Anonymous. "Flatlands." The Chat (Brooklyn) July 11th 1925. Flat sec, 3-3.
Anonymous. "Old Brooklyn Families: Van Nuyse Structure Sturdy Relic of 1800." Brooklyn Daily Eagle (Brooklyn) May 16th 1930. 21-21.
Anonymous. "Old Van Nuyse House Saved for Museum." Brooklyn Daily Eagle (Brooklyn) October 29th 1935. 30-30.
Bailey, J. T. An Historical Sketch of the City of Brooklyn and the Surrounding Neighborhood. Brooklyn, NY. J.T. Bailey, 1840.
Bergen, Teunis G. The Bergen Family, or the Descendants of Hans Hansen Bergen, One of the Early Settlers of New York and Brooklyn, L. I.. Albany, NY. Joel Munsell, 1876.
Ditmas, Charles Andrew. Historic Homesteads of Kings County. Brooklyn, NY. Charles Andrew Ditmas, 1909.
NYC Landmarks Preservation Commission. Landmark Designation Report, Coe House, Brooklyn, LP-0176. NYC landmarks. New York, NY. NYC Government, 1969.
Salazar, Daniela. The 11 Oldest Buildings in Brooklyn, untapped new york. January 1st 2021. Accessed April 29th 2022. https://untappedcities.com/2019/04/05/the-top-11-oldest-buildings-in-brooklyn-nyc/9/.
U.S. Census. Household of Ditmas Coe in Newtown, Queens County, N.Y., dwelling 935, family 1045. Washington, DC. U.S. Government, 1850.
U.S. Census. Household of Ditmus Coe in Town of Flatbush, Kings County, N.Y., dwelling 388, family 436. Washington, DC. U.S. Government, 1870.
Amersfort Nurseries and Florists. "Amersfort Nurseries and Florists. advertisement." The Chat (Brooklyn) July 11th 1925. , Flat sec, 5-5.
Anonymous. "Old Dutch Farm House, Flatlands Landmark, to be Moved from Site." Times Union (Brooklyn) June 26th 1925. , 1-1.
Image Sources
https://en.wikipedia.org/wiki/Joost_Van_Nuyse_House#/media/File:Van_Nuyse_House_Brooklyn_2.JPG

https://en.wikipedia.org/wiki/Joost_Van_Nuyse_House#/media/File:Van_Nuyse_House_Brooklyn_1.JPG

Library of Congress (LOC): https://www.loc.gov/item/sanborn05791_026/

Additional Information