East Midwood Jewish Center
Introduction
The East Midwood Jewish Center is a Conservative synagogue and community center on Ocean Avenue between Avenue K and Avenue L. The Renaissance Revival style building took three years to build and was finished in 1929 at a cost of $1 million. Future Supreme Court Justice Ruth Bader Ginsberg was confirmed at East Midwood at age 13. The East Midwood Jewish Center was added to the National Register of Historic Places in 2006 for its architecture as an example of early twentieth century synagogue design, and for its significance in the history of the New York Jewish community. While it is not the only example of the combination synagogue/ community center from its era in Brooklyn, it is one of the least altered buildings and still serves its original purpose (many others have been converted into Jewish or non-Jewish schools).
Images
East Midwood Jewish Center viewed across Ocean Ave. in 2008 (David Shankbone)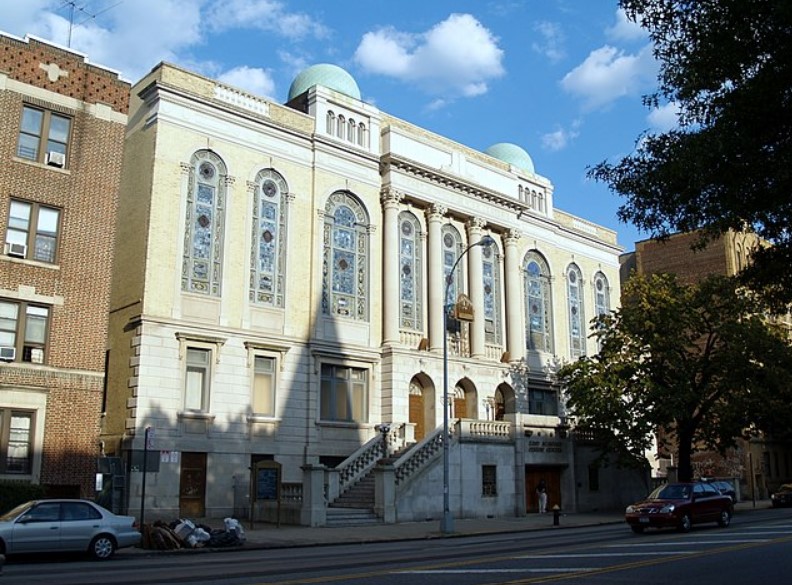 Detail of second floor doorways into E. Midwood Jewish Center in 2008 (Shankbone)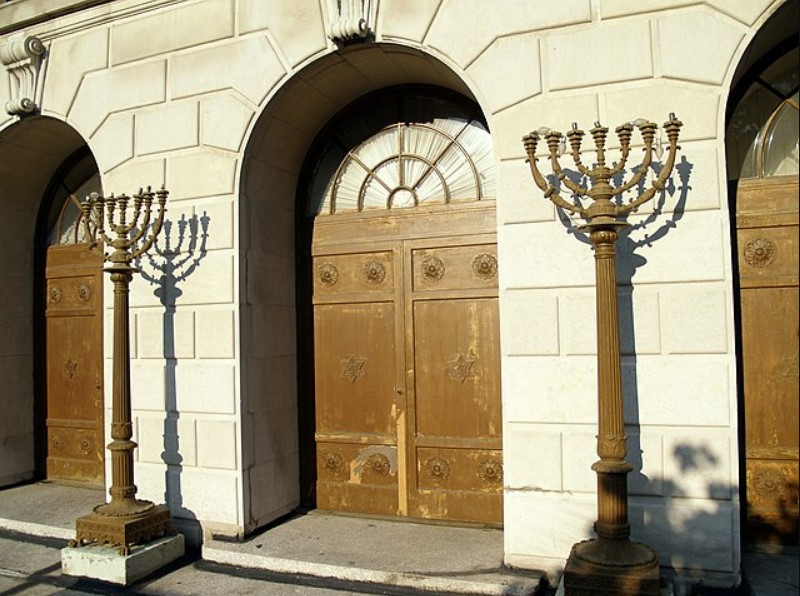 Backstory and Context
The Jewish population in Brooklyn grew rapidly between World Wars I and II. By 1923, Brooklyn's Jewish population (740,000) outnumbered Manhattan's (706,000). By the early 1940s, there were nearly 1 million Jews living in Brooklyn. Since Brooklyn was so fragmented with dozens of neighborhoods, each neighborhood tended to set up their own synagogue in combination with a community center. A dentist in Midwood, Dr. Jacob R. Schwartz, was concerned that there was no local Hebrew school near his home for his sons to attend. He was the guiding force behind establishing the East Midwood Jewish Center (EMJC). He and a few other local men he contacted met at the Jewish Communal Center of Flatbush on November 18th 1924. The Flatbush organization offered their facilities to the new group while it was being established. Like earlier synagogue-community centers in Manhattan and Brooklyn, the complex was planned to be on a major thoroughfare, Ocean Ave. Construction of the EMJC cost over 1 million dollars; another $11 million was spent on synagogue-community center building in New York City between 1924 and 1927. In 1929, twelve new centers were under construction in New York City.
Louis Abramson drew up the plans for the EMJC, as well as the Brooklyn Jewish Center and the Jewish Communal Center of Flatbush. A fundraising competition gave some groups special privileges at the ceremony to lay the cornerstone for the EMJC. Louis Katz, the Finance Committee Chairman, won the right to lay the cornerstone for his gift of $2,600. The Chairman of the center's Talmud Torah Society, Robert Gabbe, donated $2,000 and spread the cement for the cornerstone. Another $2,000 was donated by Louis Greenfield, the center's Second Vice-President, who got to mix the mortar. The welcoming speaker and Counsel of the center, Albert D. Schanzer, stated that the center would be "a magnificent monument dedicated to life, to progress and to God."
A 13-year-old student in the Sunday morning religious school at EMJC wrote two articles for the school's graduation bulletin in 1946. One was a tribute to Rabbi Stephen S. Wise as he turned 72; the student praised Rabbi Wide for his work fighting for women suffrage. The other was a reflection on the recent world war, urging people to never forget the horrors of the Nazi concentration camps, but reminding that "for righteous people hate and prejudice are neither good occupations nor fit companions." That wise eighth grader was the class valedictorian, Ruth Bader, the future Supreme Court Justice Ruth Bader Ginsberg. She was confirmed at EMJC by Rabbi Harry Halpern, who had performed the marriage ceremony for Ruth's parents.
The stained-glass dome in the synagogue's roof was renovated recently by CTA Architects P.C. of Manhattan. The dome was fully disassembled, new stiffening bars were installed, and the glass sections were cleaned, restored and re-leaded. One tall stained-glass window was damaged beyond repair in a hurricane; a new frame was created in wood and the original stained glass was salvaged, restored, and re-leaded into the new frame and sash.
Sources
Anonymous. Cornerstone Laid for East Midwood, Brooklyn, Jewish Center. The American Hebrew, vol. 119, no. No. 6. 191 - 191. Published June 18th 1926.
CTA Architects P.C.. East Midwood Jewish Center, Brooklyn, NY, CTA Architects P.C.. Accessed April 11th 2022. https://www.ctaarchitects.com/east-midwood-jewish-center-page.
East Midwood Jewish Center. Mission & History, East Midwood Jewish Center: About. Accessed April 11th 2022. http://www.emjc.org/about/mission-history/.
East Midwood Jewish Center. Events and Programs, East Midwood Jewish Center. January 1st 2022. Accessed April 11th 2022. https://emjc-832180.square.site/.
Ginsberg, Ruth Bader. Hartnett, Mary. Williams, Wendy W. My Own Words. New York, NY. Simon & Schuster, 2016.
Kaufman, David. Shul with a Pool: The "synagogue-center" in American Jewish history. Hanover, NH. Brandeis University Press, 1999.
Moore, Deborah Dash. At Home in America: Second Generation New York Jews. The Columbia History of Urban Life. New York, NY. Columbia U. Press, 1981.
Sanchez, Toby Carliner. NRHP Nomination of East Midwood Jewish Center. National Register. Washington, DC. National Park Service, 2006.
Image Sources
https://en.wikipedia.org/wiki/East_Midwood_Jewish_Center#/media/File:East_Midwood_Jewish_Center_building_1.JPG

https://en.wikipedia.org/wiki/East_Midwood_Jewish_Center#/media/File:East_Midwood_Jewish_Center_menorah.JPG

Additional Information