Dr. Richard Harris House
Introduction
Dr. Richard H. Harris Jr. was born on August 22, 1918, in Montgomery, Alabama to Richard Henry Harris, Sr., and Evelyn Jones Harris, Richard Henry Harris Jr. was a prominent businessman and civil rights activist. He lived in this home with his wife Vera McGill Harris and his four children: Adrian, Valda, Richard III, and John. The home was originally built at the turn of the century as a one-story frame building street with a raised covered front porch. The home was remodeled around 1959, which added a second story and a half room on the third floor as well as other additions. Harris played a critical role in coordinating the transportation system used by activists in the 1955 Montgomery bus boycott. He owned and operated Dean Drug Store, Montgomery's oldest Black drug store. In 1961, the Harris house sheltered a group of Freedom Riders when they were attacked in town.
Images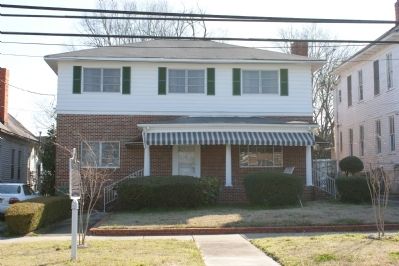 Harris House historical marker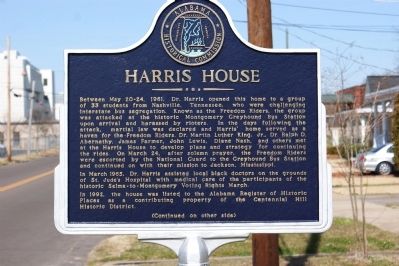 Richard Henry Harris, Jr. home address report during World War II.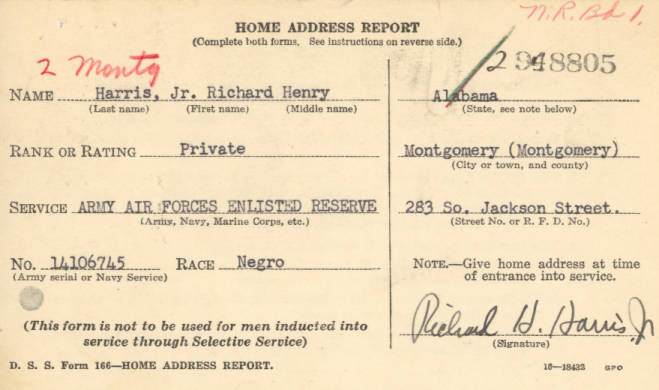 Valda Montgomery, the daughter of Richard and Vera Harris, wrote a memoir in 2010.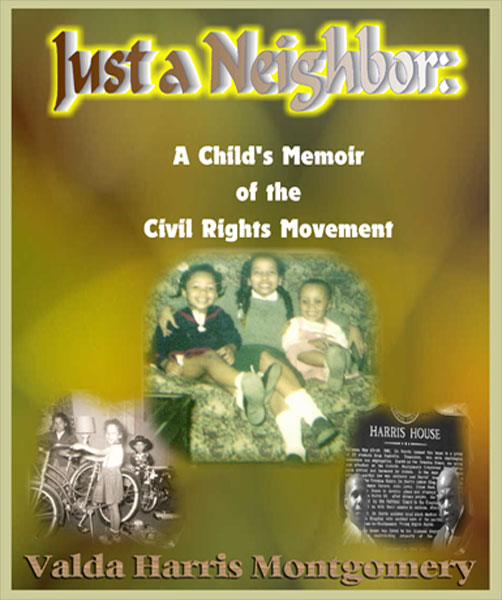 Obituary for Richard Harris Jr.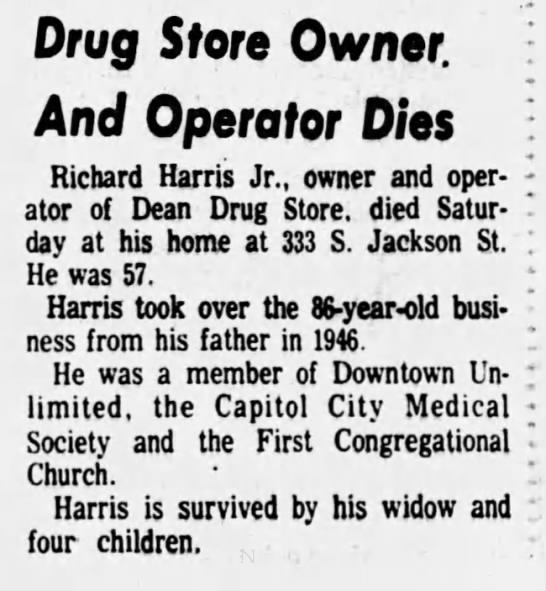 Dean's Drug Store \ Monroe Street Rememberance

Emanon Club Planning Group, 1963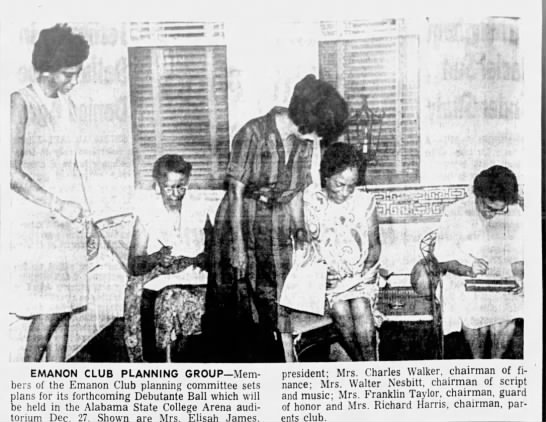 "History on Stage," an article about the Emanon Club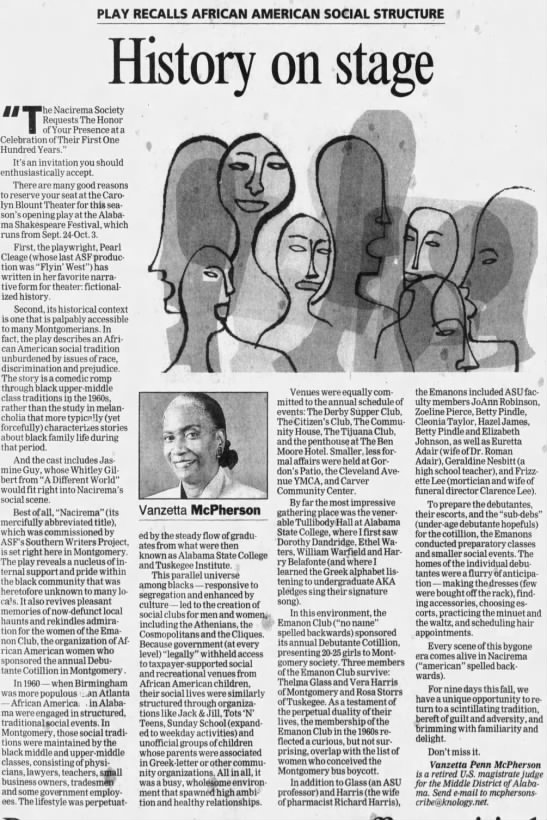 Backstory and Context
Author-Uploaded Audio
Richard Henry Harris, Jr. attended Alabama State College Laboratory High School in Montgomery. He graduated from Tuskegee Military Academy for Boys and the Williston Academy for Boys in East Hampton, Massachusetts. Harris then entered Fisk University, where he graduated with a degree in mathematics in 1941. When the United States entered World War II, Harris enrolled in the Tuskegee Airmen Pilot Training Program in 1942. He became a pilot with the 99th Fighter Squadron of the 332nd Fighter Group and was one of the famed Tuskegee Airmen. While in Charleston, South Carolina, Harris met Vera McGill, and the pair were married in 1945. Richard Harris moved his young family back to Montgomery when the war ended. He worked at Dean Drug Store, a family store owned by his mother, Evelyn Jones Harris. Dean Drug Store was Montgomery's oldest Black drug store, established by his father Richard H. Harris Sr. in 1907. It was located at 147 Monroe Street before being demolished in the 1980s. Harris Jr. became a registered pharmacist in May 1953, and he became the owner of his family's drug store.
The Harris family lived in the same block as the Dexter parsonage and witnessed the transition of the pastorship from Vernon Johns to Martin Luther King Jr. When the King family settled in Dexter parsonage in 1954, the Harris children spent time with the new growing family. Mr. Valda Montgomery remembers riding to Marion, Alabama on the weekends with Mrs. Coretta Scott King. "In those days," she said, "They were just like neighbors…they were just friends of the family."[1]
During the bus boycott in 1955, Richard Harris Jr played an instrumental role as a dispatcher for the carpool system. The carpool system was something devised by the Montgomery Improvement Association (MIA) to provide transportation to protestors during the boycott of Montgomery city buses. A committee led by Rufus Lewis and Dr. Benjamin Simms created routes that extended across the west and east sides of Montgomery. The organization also organized volunteer drivers and dispatchers. The carpool system helped maintain the boycott as it extended from a one-day protest to a protest that lasted for 382 days. These dispatch stations were designated areas, where workers could get a ride to and from work.
Dean Drug Store served as a command center for carpool transportation. Dr. King described Harris in his memoir, Stride Toward Freedom; the Montgomery Story. In 1955 a customer would have walked into Dean Drug Store to see a "young energetic businessman [Richard Harris] standing with a telephone at his ear, dispatching cars and filling a prescription simultaneously."[2] The use of Black-owned businesses like Dean's Drugstore and properties as pickup locations minimized the ability of authorities to harass African American riders.[3]
A group of Black and white students, known as the Freedom Riders, arrived at the Greyhound bus station in Montgomery on May 20, 1961. These activists took bus trips across the South to protest segregated bus terminals. When they stepped on the bus, a violent mob attacked them.
Richard Harris Jr. was one of several locals that opened his home to the injured Freedom Riders. Thirty-three students stayed at the Harris home and received the generous hospitality of Richard and Vera Harris. The couple housed and fed the students and distributed hygiene products and medications from Dean Drug Store. Mrs. Harris ensured that each person had enough food to eat and a space to rest. This was not the first time Vera Harris participated in civil rights activism. During the 1950s, she participated in the Emanon Club ("no name" spelled backward), a social club for African American women. The list of club members included those that helped launch the Montgomery bus boycott like Jo Ann Robinson, president of the Women's Political Council. Mrs. Harris her fingers purple mimeographing hundreds of flyers announcing the protest in December 1955. She also helped with the distribution of the leaflets across Montgomery. She has played an important role in preserving the history of the home and its place in the Civil Rights Movement.[4]
Richard Harris died in 1976. The house is currently owned by Valda Harris Montgomery, his daughter, who conducts tours of the historic home by appointment.
Sources
 [1] La-Kisha Emmanuel interview with Valda Montgomery. 25 June 2018.
[1] Just a Neighbor: A Child's Memoir of the Civil Rights Movement (Montgomery, AL: McQuick Printing Company, 2010).
[2] Martin Luther King, Stride Toward Freedom: The Montgomery Story (Beacon Press, 2010), 65.
[3] Jo Ann Robinson and David J. Garrow. The Montgomery Bus Boycott and the Women Who Started It: The Memoir of Jo Ann Gibson Robinson (Knoxville: University of Tennessee Press, 1987), 93.
[4] Valda Montgomery. Interview by Sylvia Marshall. 21 February 2022
[4] Just a Neighbor: A Child's Memoir of the Civil Rights Movement (Montgomery, AL: McQuick Printing Company, 2010), 25.
Image Sources
Image via Anita Curry, 2010

Image via Anita Curry, 2010

Alabama Department of Archives and History

Image via Just a Neighbor website

Alabama Journal (Montgomery, AL). 28 July 1976

The Montgomery Advertiser (Montgomery, AL). 8 February 1998

Alabama Journal (Montgomery, AL). 7 December 1963.

The Montgomery Advertiser (Montgomery, AL). 16 September 2010.

Additional Information