Mt. Zion AME Zion Church
Introduction
This one-and-a-half-story brick was home to the congregation of Mt. Zion AME Zion Church during the 1955 Montgomery bus boycott. The Montgomery Improvement Association, the organization that led the bus boycott, was formed in the basement of this church in December 1955. The foundation of the building dates to 1899, and the current church edifice was completed in 1921 after extensive renovations. The Classical Revival style church has a central bell tower and steeple with two front towers on either side. During the renovation in 1921, the original wooden structure of the 1899 church was covered by a brick veneer.
Images
Selma to Montgomery March marker in front of church, 2015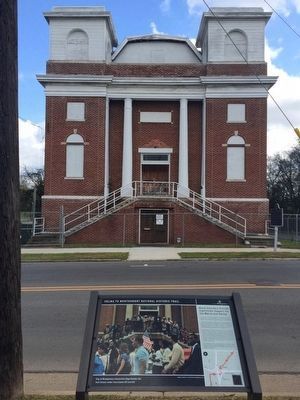 Mt. Zion historical marker, 2011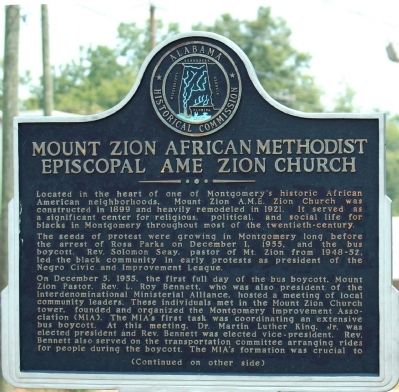 Program for a mass meeting of the Montgomery Improvement Association at the Mount Zion A.M.E. Zion Church, 1956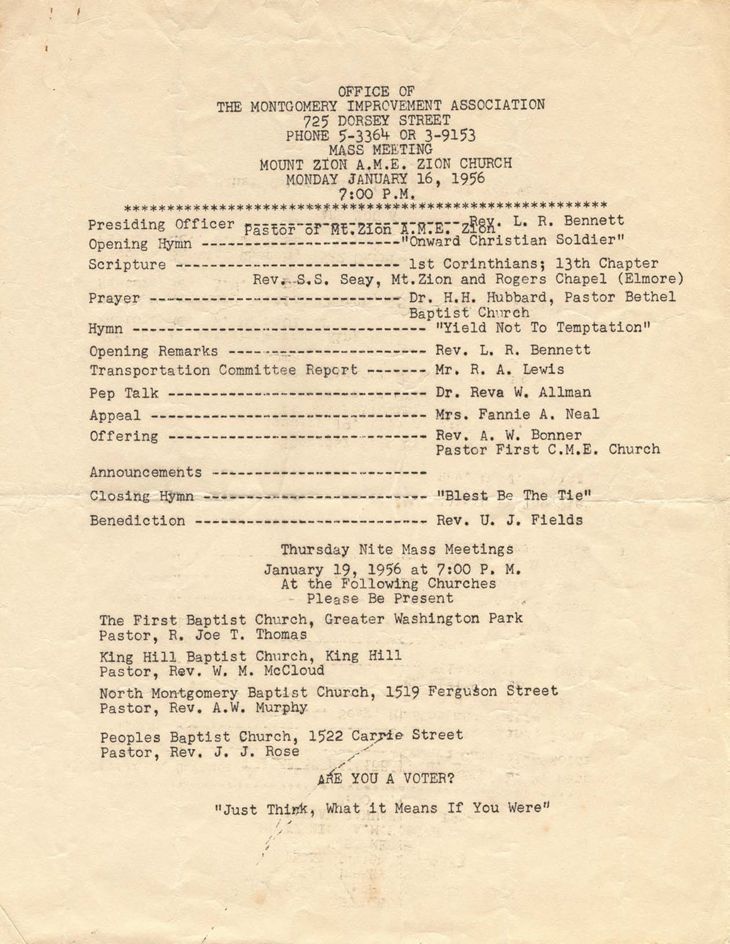 "Church Aims to Retake Streets."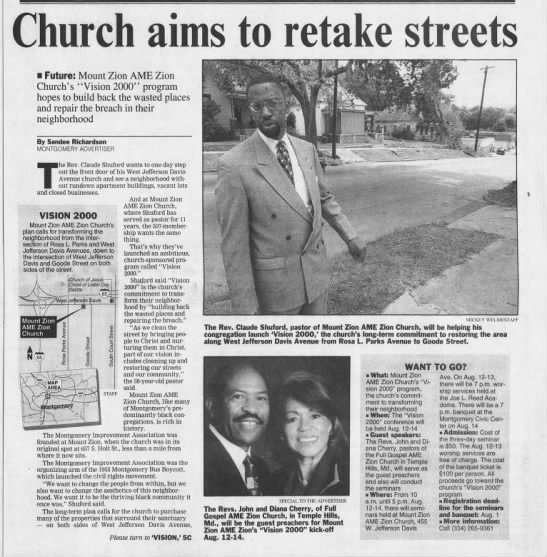 Backstory and Context
The Mt. Zion AME Zion congregation was first organized in 1866 by Abram Peacock, Abram McGee, and Kitt Pollard. Congregants held services at a log cab formerly located on Grady Street until the late-1860s. In 1869, Reverend Stephen Hilliard and the congregation moved to their newly built church on lot 2, block 3 of Peacock Tract. The church officially renamed itself Mount Zion Methodist Episcopal Zion Church in 1886. Another frame church was built in 1888 along with a parsonage under the pastorate of Reverend T.A. Weathington, a fire destroyed the church ten years later. By 1899, the congregation erected a brick veneer building with stained glass windows. The church renovated that building in 1921.[1]
On December 1, 1955, Montgomery police arrested Rosa Parks after she refused to vacate her seat for a white male passenger. Her decision led the Women's Political Council to call for a one-day protest on December 5, 1955, in which Black residents would not ride city buses. The Montgomery Improvement Association (MIA) began in response to interest in continuing to protest the unfair treatment Black bus riders faced. On the day of the boycott, African American ministers and local community leaders met at Mt. Zion AME Zion Church, under the pastorship of Rev. Roy Bennett, to establish an association to oversee the boycott. Rev. Ralph Abernathy, the pastor of First Baptist Church, suggested that the proposed organization be named the Montgomery Improvement Association (MIA).
Rufus Lewis was among the first to nominate Rev. Martin Luther King, the pastor of Dexter Avenue Baptist Church, for president. Other elected MIA officers were Rev. L. Roy Bennett as Vice President, Rev. U. J. Fields as recording secretary, Rev. E.N. French as corresponding secretary, Erna A. Dungee as financial secretary, and E.D. Nixon as treasurer. Rev. Abernathy and a committee drafted resolutions that listed demands they felt needed to be met and would give the protest purpose.[2]
In 1965, the church played a pivotal role as a resting station where participants in the Selma to Montgomery Voter Rights March received refreshments and used the restrooms.
Many may recognize the church from scenes in the 1990 movie, "The Long Walk Home." That same year, the Mt. Zion AME church moved to a new sanctuary on West Jeff Davis Avenue. In 2002, this building was listed on the National Register of Historic Places.[3]
Sources
[1] Charles P. Everett, IV. "Our History." Mountzionamezion.org. https://www.mountzionamezion.org/who-we-are/.
[1] George M. Norman, "Mt. Zion AME Zion Church." Written Historical and Descriptive Data, Historic American Buildings Survey, National Park Service, U.S. Department of the Interior, 2009. HABS No. AL-1010; https://storymaps.arcgis.com/stories/538fdaaf3d0f4cb69d835cd78ab5515e).
[2] Martin Luther King, Stride Toward Freedom: The Montgomery Story (Boston: Beacon Press, 2010), 44-47.
[3] Dodson M. Curry. "Mount Zion African Methodist Episcopal AME Zion Church". HMdb.org. The Historical Marker Database. 16 June 2016. https://www.hmdb.org/m.asp?m=86411.
Image Sources
Image via Mark Hilton, 2015

Image via Anita C. Nyambo, 2011

Alabama Department of Archives and History

The Montgomery Advertiser (Montgomery, AL). 25 July 1998.

Additional Information