Jesse Lee Reno Historical Marker
Introduction
Born in Wheeling in 1823, Major General Jesse Reno enjoyed a successful military career in the United States Army before his untimely death at the Battle of South Mountain in September 1862. He graduated from the U.S. Military Academy at West Point in the Class of 1846 (alongside fellow western Virginian Thomas J. Jackson). He served with distinction in the Mexican War, twice promoted and wounded once. In command of the Mount Vernon Arsenal near Mobile, Alabama in 1861, he was forced to surrender the facility to Southern militia. He fought both in North Carolina and with the Army of the Potomac in 1862, developing a reputation as a well-liked "soldier's soldier." He was mortally wounded while commanding the 9th Corps at the Battle of South Mountain. A number of towns are named for him, most notably Reno, Nevada. Buried in Washington, D.C., a monument stands at the site of his wounding and a historical marker in Wheeling acknowledges his connection to West Virginia.
Images
Jesse Lee Reno Historical Marker, with the Madonna of the Trailer monument nearby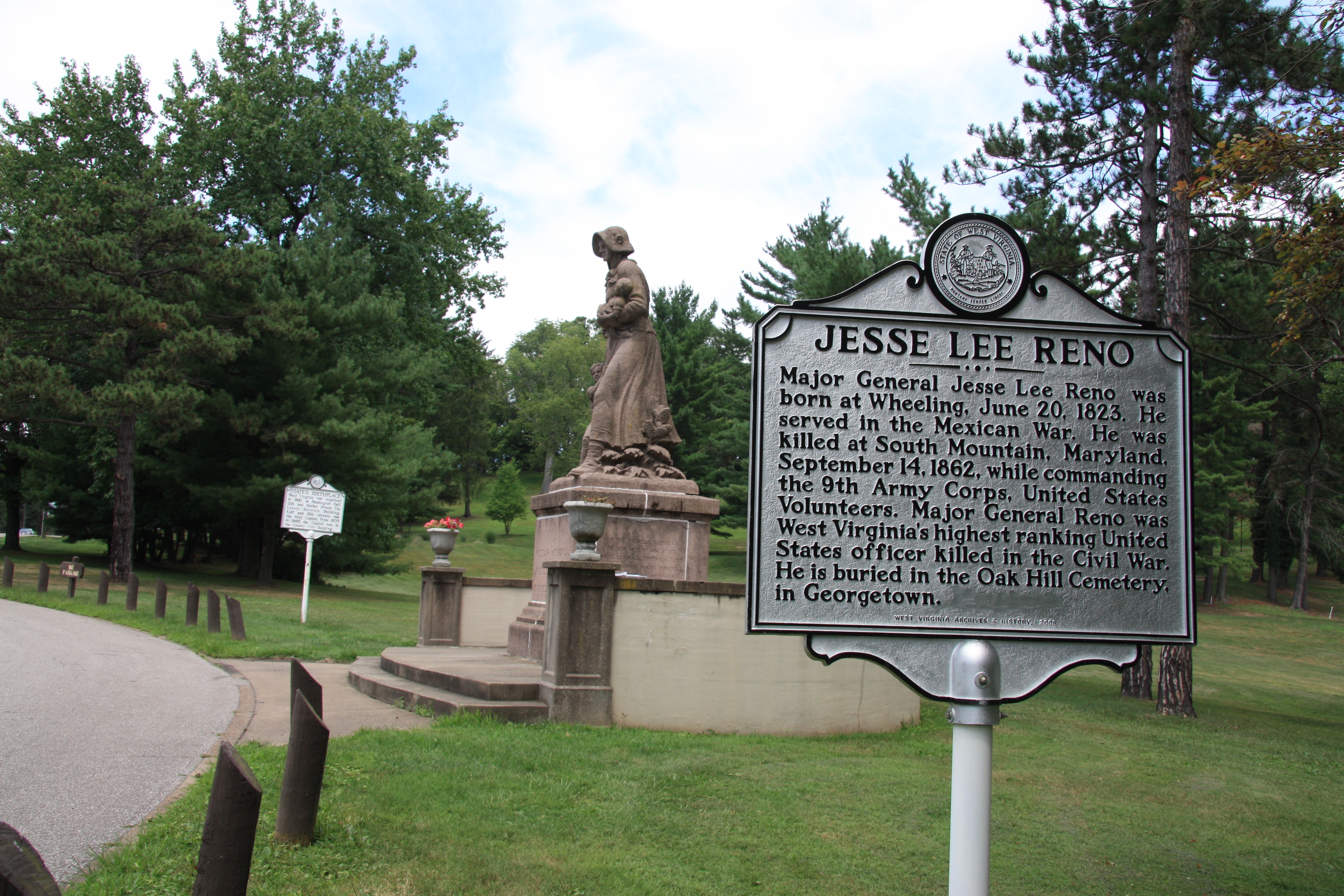 Jesse Lee Reno, pictured here during the Civil War in 1861-1862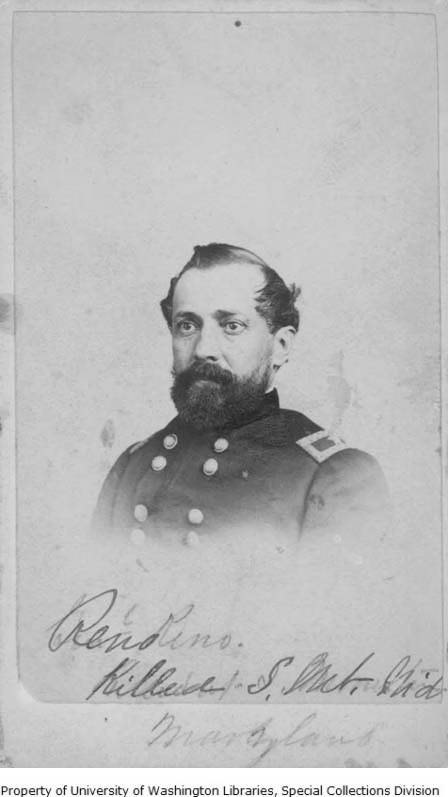 Mount Vernon Arsenal near Mobile, AL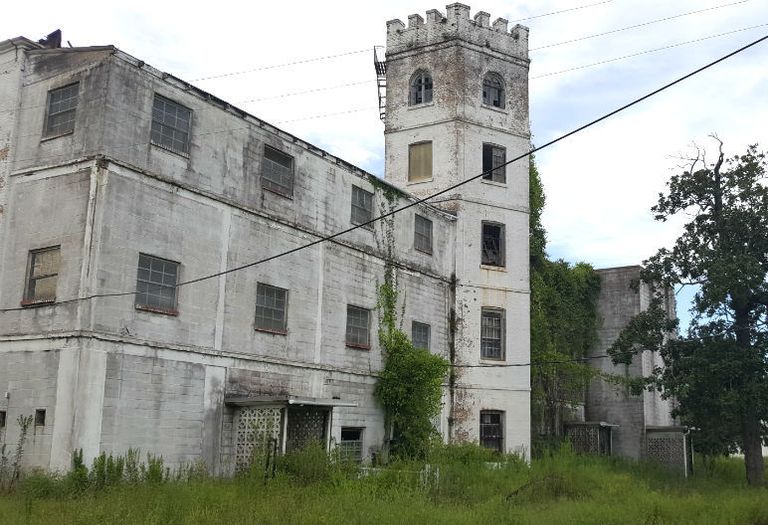 Jesse Reno Monument at South Mountain, near the site of his wounding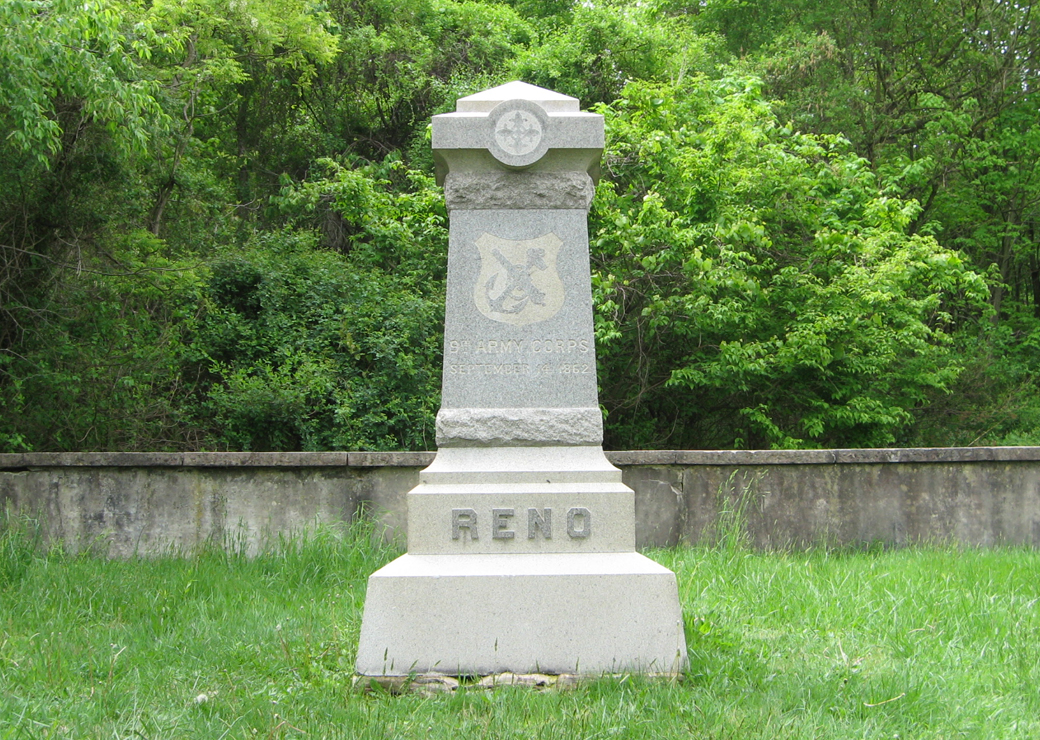 Backstory and Context
Jesse Lee Reno was born on April 20, 1823 in Wheeling, Virginia. In 1830, the family moved to Franklin in northwest Pennsylvania. Reno secured a spot at the United States Military Academy at West Point, and he graduated a lieutenant in the Class of 1846 alongside many future Civil War generals, including George B. McClellan and another western Virginian, Thomas J. Jackson.
Lieutenant Reno fought in the Mexican-American War as an artillery officer. He was promoted to first lieutenant following the Battle of Cerro Gordo. He was wounded at the Battle of Chapultepec in 1847 and was subsequently promoted to captain. Following the war, he married Mary Cross Reno in 1853, and the pair had five children. (Their son, Jesse W. Reno, invented the first working escalator in 1891.)
As the secession crisis gripped the nation in the winter of 1861, Captain Reno commanded the Mount Vernon Arsenal just north of Mobile, Alabama. The arsenal held 20,000 firearms, 150,000 pounds of gunpowder, artillery, and other valuable stores. Unbeknownst to Reno, Alabama's Governor Andrew B. Moore coveted these military stores, and though Alabama had yet to officially secede, Gov. Moore knew the importance of securing the Federal supplies at Mount Vernon. On the morning of January 4, 1861, select members of local Mobile militia quietly scaled the 14-foot walls of the arsenal and quickly overwhelmed Captain Reno, the 17-man garrison, and their families. Similar attacks were carried out across the South throughout the winter and spring, and these captured military stores helped equip the first Confederate volunteers at the start of the Civil War.
Briefly stationed in Kansas as the war erupted, Jesse Reno was promoted to brigadier general and commanded a brigade during Ambrose Burnside's successful coastal expedition into North Carolina in 1862. In the autumn of 1862, Reno commanded a division in the Army of the Potomac and earned another promotion to major general. His division fought in the ill-fated Second Manassas campaign. Throughout these campaigns, Reno developed a reputation as a "soldier's soldier," well-liked by his soldiers and peers alike. As his good friend and fellow General Alpheus Williams wrote of Reno, "Of all the major generals he was my beau ideal of a soldier...His frankness, absence of pomp and parade, his cheerfulness under all circumstances--that indescribable something in manner, had made me love him at first sight."[6]
Major General Jesse Reno's final battle came on September 14, 1862, in the opening phases of the Antietam campaign. Commanding the 9th Corps of the Army of the Potomac, Reno was tasked with pushing the enemy from their strong defensive position along Fox's Gap and thereby allow the army to pursue Robert E. Lee's forces. Hoping to personally lead a final, decisive push around dusk, Reno reconnoitered ahead of his own lines. When a firefight broke out among the skirmish lines, Reno was shot in the chest. (There's some debate as to whether Reno was a victim of friendly fire).
Taken to the rear on a stretcher, he passed fellow General Samuel Sturgis. Reno cried out, "Hallo, Sam, I'm dead!" Sturgis, taking Reno's statement as a jovial sign, replied, "Oh, no, General, not so bad as that, I hope." Reno simply returned, "Yes, Yes, I'm dead--good by!"[5] He died shortly thereafter, the killing bullet reportedly piercing a small picture of Reno's wife Mary he kept around his neck. He is buried in Oak Hill Cemetery in Georgetown, Washington, D.C.
Reno's legacy is remembered in a variety of ways and in a variety of places. A number of towns are named for him, most notably Reno, Nevada. A memorial to Reno stands near the site of his wounding at South Mountain State Battlefield in Maryland. Reno was the highest ranking officer killed from West Virginia, and a state historical marker near Wheeling acknowledges Reno's connection to the Mountain State.
Sources
1. Mark A. Snell. "Jesse L. Reno." December 8, 2015. e-WV: West Virginia Encyclopedia. Web. Accessed September 30, 2020. https://www.wvencyclopedia.org/articles/60
2. Adam Goodheart. "Caught Sleeping." January 3, 2011. Opinionator. New York Times. Web. Accessed September 30, 2020. https://opinionator.blogs.nytimes.com/2011/01/03/caught-sleeping/
3. "Of arsenals built for nation's earliest defense, Alabama's Mount Vernon is rare example." January 13, 2019. AL.com. Web. Accessed September 30, 2020. https://www.al.com/living/2016/09/of_14_arsenals_built_for_natio.html
4. "Jesse L Reno." Manassas National Battlefield Park. National Park Service. Web. Accessed September 30, 2020. https://www.nps.gov/people/jesse-l-reno.htm
5. Stephen W. Sears. Lincoln's Lieutenants: The High Command of the Army of the Potomac. Boston: Houghton Mifflin Harcourt, 2017.
6. Alpheus S. Williams. From the Cannon's Mouth: The Civil War Letters of General Alpheus S. Williams. Edited by Milo M. Quaife. Lincoln: University of Nebraska Press, 1995.
Image Sources
Dale K. Benington, Historical Marker Database, https://www.hmdb.org/m.asp?m=33915

University of Washington Library, https://digitalcollections.lib.washington.edu/digital/collection/portraits/id/844/

Kelly Kazek, AL.com, https://www.al.com/living/2016/09/of_14_arsenals_built_for_natio.html

Steve A. Hawks, Stone Sentinels [blog], https://stonesentinels.com/less-known/south-mountain/general-jesse-reno/

Additional Information