Charles Pratt Mansion
Introduction
This brick house was built in 1874 for Charles Pratt, a wealthy businessman in the oil industry. Architect Ebenezer L. Roberts designed the building in a style transitional between Italianate and Neo-Grec. The Charles Pratt Mansion is part of the Clinton Hill Historic District, listed in the New York and National Registers of Historic Places in 1985 and containing significant buildings from the 1840s to 1930. Clinton Hill was largely rural until the 1840s and became the home of affluent Brooklynites like the Pratts, coffee merchant John Arbuckle, and lace manufacturer A.G. Jennings. The Pratt family sold the house to St. Joseph's College in the 1930s and it became the convent for the nuns who taught in the women's college, founded in 1916. It now serves as Founders Hall in the coeducational college.
Images
Charles Pratt Mansion in 2013 photo (Beyond My Ken)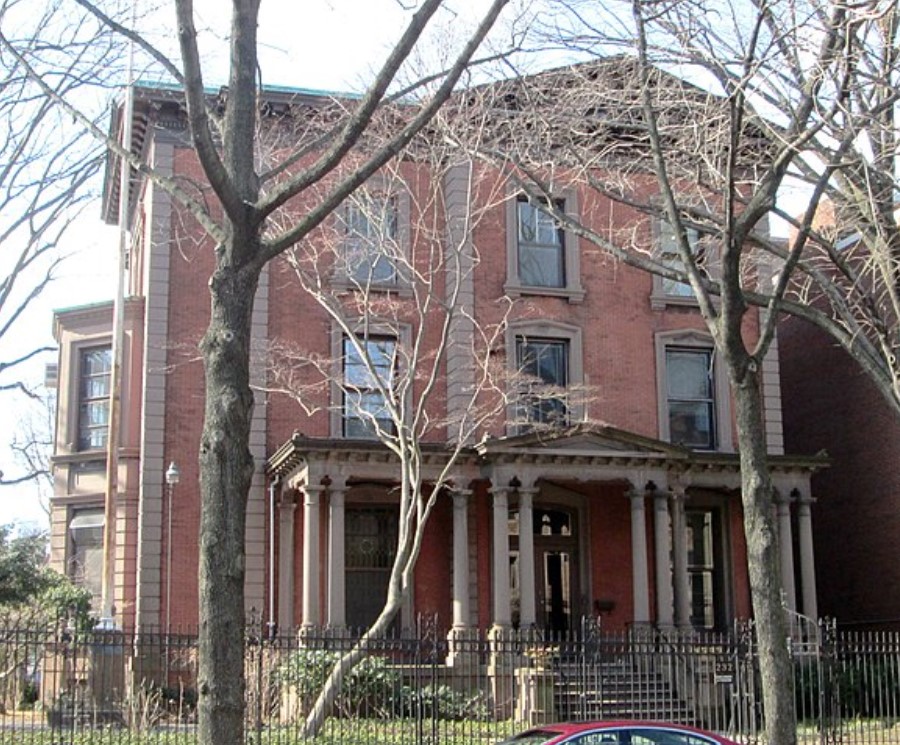 Photo of Charles Pratt from 1918 book, after p. 192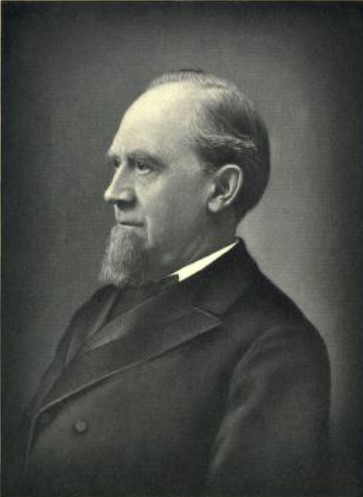 Charles Pratt Mansion (green arrow) & lot (purple brackets) on 1904 Sanborn map (Vol. 2, p. 56)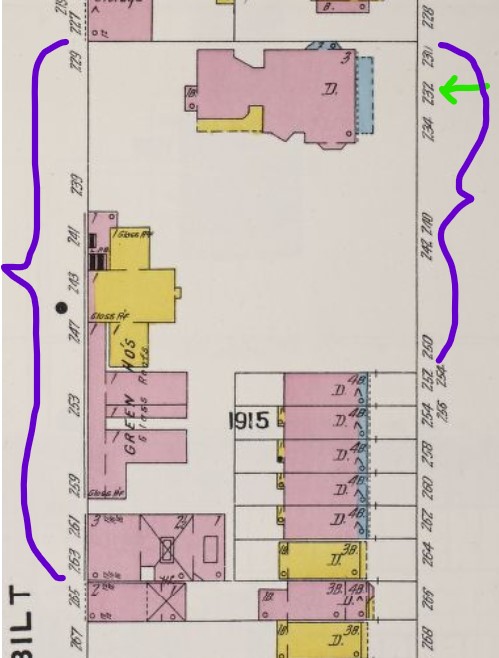 Backstory and Context
After Charles Pratt (1830-1891) moved to New York City in 1851 from his native Massachusetts, he spent a few years working for a dealer in oils, paint, and glass and then formed a 13-year-long partnership with C.T. Reynolds and F.W. Devoe. The firm was split up by type of product, with Pratt taking the oils portion. Pratt formed Charles Pratt and Company with Henry H. Rogers; they refined crude oil in a large factory in the Greenpoint neighborhood of Brooklyn. One of the firm's most successful products was "Astral Oil." He formed a partnership with the Rockerfellers in what became the Standard Oil Company.
Philanthropy was an important part of Charles Pratt's life, especially in the area of local educational institutions. He donated tens of thousands to Adelphi Academy after fire damaged one of its buildings in 1889. He founded the Pratt Institute nearby on Ryerson Street to train students in the technical trades at nominal cost; over 3,200 students studied there in 1890 (the Pratt Institute has its own Clio entry).
Charles Pratt spent the last day of his life, May 4th 1891, doing his usual routine: he left his Clinton Avenue home in the morning, stopping first at the Pratt Institute to meet for about an hour to discuss possible improvements to the institution. He then went to his office at the Standard Oil Company at 26 Broadway in Manhattan. His last meeting was mid-afternoon when he wrote a check to donate to the Brooklyn Bureau of Charities. He soon complained of chest pains and rested on the sofa in his private office. He tried to get up and walk but fainted and was caught by his secretary and one of his sons. Physicians and his family were called to the office, but Charles died several hours later. His remains were transferred that evening to his Brooklyn mansion, described in his obituary as the finest private residence in Brooklyn. The adjacent conservatory where Charles loved to spend free time with his flowers was the largest in the city. The city's flags flew at half-staff on the day of his memorial service.
A huge crowd attended Charles Pratt's memorial service in May 1891 at Emmanuel Baptist Church. Speakers mentioned some quotes that Charles Pratt told them or wrote down; one is "I feel that life is so short that I am not satisfied unless I do each day the best I can." Another is "The greatest humbug in the world is the idea that the mere possession of money can make anyone happy. I never got any real satisfaction out of mine until I began to do good with it." A local newspaper article from 1892 described the late Charles Pratt as the richest man in Brooklyn at the time of his death, with his earnings from oil refining and the transportation industry. His widow and second wife, Mary H., was listed among the city's millionaires, along with other heirs of Charles Pratt, his eight children: Charles M., Frederick B., George D., Herbert L., John S., Harold I., and Miss Helen F. Pratt; and Mrs. Lydia R. Babbitt. Charles bequeathed his home plus an annual endowment of $50,000 per year to his widow for life, unless she remarried. Pratt Institute received millions in cash and real estate, including the lots and buildings on campus. Mary H. Pratt died in 1907. The youngest son, Harold I., lived in the house until 1916.
Sources
Anonymous. "Charles Pratt, Death of the Millionaire and Philanthropist." Brooklyn Daily Eagle (Brooklyn) May 5th 1891. 6-6.
Anonymous. "Charles Pratt, Memorial Services at the Emmanuel Church." Brooklyn Daily Eagle (Brooklyn) May 18th 1891. 1-1.
Anonymous. "Filed for Probate, The Will of the Millionaire, Charles Pratt." Brooklyn Citizen (Brooklyn) May 20th 1891. 6-6.
Anonymous. "Millionaires. A List of Very Rich Brooklyn Residents." Brooklyn Daily Eagle (Brooklyn) May 16th 1892. 1-1.
Gray, Christopher. "Streetscapes: When the Pratts Decamped for Manhattan." New York Times (New York) November 18th 2010.
Hobans, James E., ed. The Cyclopaedia of American Biography. Edition enlarged & revised. Volume VIII. New York, NY. The Press Association Compilers, Inc., 1918.
Kurshan, Virginia. Dolkart, Andrew S. NRHP Nomination of Clinton Hill Historic District, Brooklyn, N.Y. National Register. Washington, DC. National Park Service, 1984.
Spellen, Suzanne. Building of the Day: 232 Clinton Avenue, Brownstoner. November 1st 2013. Accessed January 18th 2022. https://www.brownstoner.com/architecture/building-of-the-day-232-clinton-avenue/.
St. Joseph's College. About St. Joseph's College, Brooklyn, St. Joseph's College. January 1st 2022. Accessed January 18th 2022. https://www.sjcny.edu/brooklyn/about.
Image Sources
https://en.wikipedia.org/wiki/File:232_Clinton_Avenue_Charles_Pratt_House_Founders_Hall_St._Joseph%27s_College.jpg

Homans, James E., ed. The Cyclopaedia of American Biography, Vol VIII (Press Association Compilers, NYC), revised & enlarged ed., 1918

Additional Information