James W. & Lucy S. Elwell House
Introduction
This wood-framed Italianate villa was built circa 1854 and is the former home of prominent shipping merchant, James W. Elwell. The property was later acquired by the African American religious leader known as Father Divine and was one of several properties where Divine and his followers lived communally. The house is now part of the Clinton Hill South Historic District and listed in the National Register of Historic Places. The Elwell House also is a New York City Landmark as of 2006 and was saved from demolition. The structure now serves as a multi-family private residence.
Images
Front of James W. and Lucy S. Elwell House in 2006 (Horak for NYC LPC)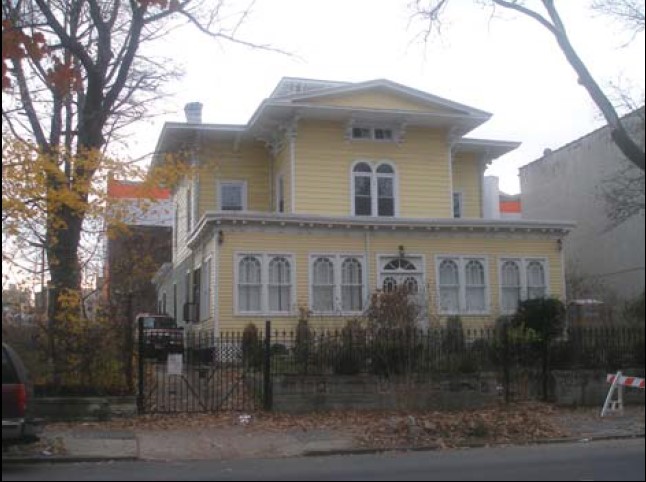 Sketch of James W. Elwell from his newspaper obituary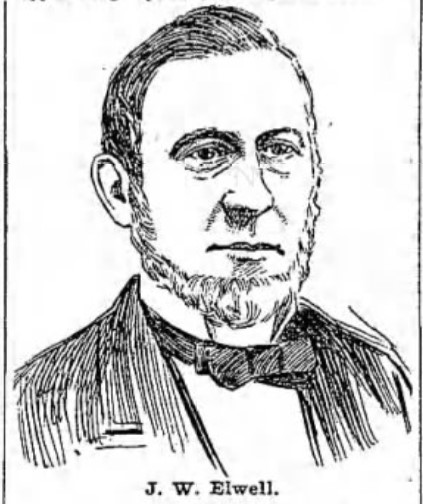 Cupola and eaves brackets detail in 2006 photo of Elwell House (Horak for NYC LPC)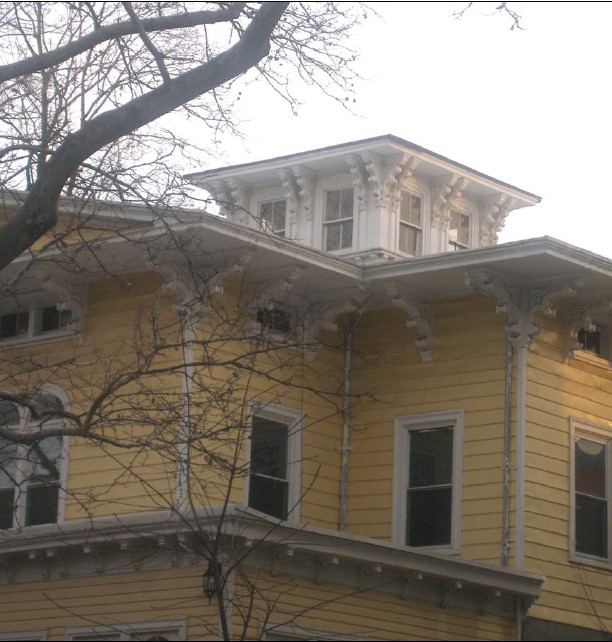 This property became one many owned by Father Divine and his followers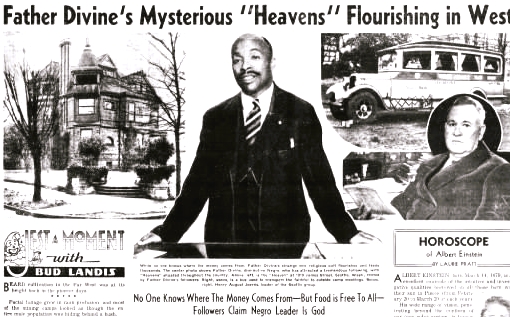 Backstory and Context
James W. Elwell was born in Maine in 1820. His father, John ran an importing business and James W. joined the business at age 18. John opened a branch of the business, named John Elwell & Co., on South St. in Manhattan in 1832. The company expanded into offering shipping services to the East and West Indies, South America, and Europe. After John died in a work accident in 1847, James W. became the company president. James W. and his younger brother, Charles, renamed the firm James W. Elwell & Co. in 1852. The business remained at 57 South St. until it moved around 1889 to 47 South St.
James W. married twice; after the death of his first wife, he married Lucy Stinson in 1853 in Maine. The couple had their new home on Lefferts Place constructed in the fashionable Italianate style, with a projecting front bay, a prominent pediment, paired rounded windows on the second story, and a rooftop cupola on the flat roof. The wraparound porch was added in the 1930s. Not many freestanding houses remain in this part of Brooklyn, where blocks of rowhouses were constructed from the 1840s to early twentieth century. The Elwell House is the second oldest house remaining on Lefferts Place; the older house (96 Lefferts Place) was built in 1853 and is not as well preserved as the Elwell mansion.
In 1860, the 37-year-old merchant shared his home with 35-year-old Lucy and three children: Olivia (12, the daughter of his late wife), Lucy S. (7), and Jane (2). A son, James Jr., died as a toddler in 1857. Two servants resided with the family: Margaret Farley (20) and Margaret McLoughlin (24). James W. estimated that he owned $20,000 in real estate and $5,000 in personal property. Ten years later, the couple and their three children still lived in the home; the oldest daughter was nicknamed "Effie" and the youngest "Jennie." A servant, Annie Moffat (25) and a man with no occupation listed, Frank Stimeson (23), also lived in the house. Estimated real estate value was $35,000 and personal property $3,000.
James W. was interested in flower gardening and had a large conservatory built on his home lot; the property used to extend south to Atlantic Avenue. He had the habit of gathering fresh flowers from his garden or conservatory each morning to pin to the lapel of his coat; fellow riders on the Wall Street Ferry recalled seeing Mr. Elwell's flowers year-round. After wearing the flowers all day, he would give them to a poor woman or child. James W. enjoyed cutting fresh flowers from his garden and delivering the bouquets to local charities, including the Brooklyn Orphans Asylum; this led to his nickname of "Bouquet Elwell."
Over his lifetime, James W. was a director or officer of many institutions, including the Niagara Fire Insurance Company and the Marine Bank. James W. was widowed and later died of pneumonia at his home in September 1899 at age 79. He was then the fourth oldest member of the New York Chamber of Commerce. He was heralded as a philanthropist who gave about $3 million to charitable causes. The house then passed to his daughter, Jane, and her husband, George Palmer, who moved to the property with their son, Elwell, and Jane's unmarried sister, Lucy. The family sold the western portion of the lot to a developer in 1902 and the rest of the property in 1939.
The Elwell House spent several decades (1939-1981) as the home and place of worship of an African American religious leader, Father Divine, who claimed to be God incarnate. Divine was a complicated historical figure, leading progressive campaigns for racial equality and working for an anti-lynching bill, but his insistence that he was God and numerous run-ins with the law alienated many. The owner of the house by 2006 planned to have the building demolished before a local effort to recognize the house as historic and preserve it was successful. The Elwell House is now a three-family residence containing 15 bedrooms and over 5 bathrooms in nearly 3,000 square feet.
Sources
Anonymous. "Death of James W. Elwell." Brooklyn Daily Eagle (Brooklyn) September 4th 1899. 12-12.
Horak, Kathryn E. NYC Landmarks Designation Report, James W. and Lucy S. Elwell House, LP-2215, NYC Government, Landmarks Preservation Council. December 12th 2006. Accessed January 14th 2022. http://s-media.nyc.gov/agencies/lpc/lp/2215.pdf.
New York Law School. Demolition threatened Father Divine Bklyn House, CityLand. February 15th 2007. Accessed January 16th 2022. https://www.citylandnyc.org/demolition-threatened-father-divine%e2%80%99s-bklyn-house/#more-7902.
Street Easy. House: James W. and Lucy S. Elwell House, StreetEasy. January 1st 2022. Accessed January 15th 2022. https://streeteasy.com/building/james-w-and-lucy-s-elwell-house#tab_building_detail=1.
U.S. Census. Household of James W. Elwell, Brooklyn Ward 7 District 2, N.Y., dwelling 1009, family 1261. Washington, DC. U.S. Government, 1860.
U.S. Census. Household of James W. Elwell, Brooklyn Ward 7, N.Y., dwelling 764, family 889. Washington, DC. U.S. Government, 1870.
Image Sources
2006 Designation report: http://s-media.nyc.gov/agencies/lpc/lp/2215.pdf

Brooklyn Daily Eagle (Brooklyn), September 4th 1899, p. 12

2006 Designation report: http://s-media.nyc.gov/agencies/lpc/lp/2215.pdf

Additional Information