Arbuckle Warehouse
Introduction
The 11-story building at 20 Jay Street in DUMBO (Down Under the Manhattan bridge Overpass) was a warehouse for the Arbuckle firm, a coffee roaster and sugar refiner that began operating a coffee factory in Brooklyn in 1871. Arbuckle Bros. was founded in 1865 by brothers Charles and John Arbuckle. The reinforced concrete warehouse was built from 1910 to 1911. The surviving brother, John, was a multimillionaire by the time of his death at his Brooklyn home in 1912. The Arbuckle Warehouse is part of the DUMBO Historic District (NYC Landmarks Preservation Commission), also known as the DUMBO Industrial District (National Register). Current tenants in the office building are Mustache Agency, Red Antler, and Freelancers Union. There is a public parking garage in part of the structure.
Images
20 Jay St. in photo by Christopher D. Brazee for NYC Landmarks Preservation Commission (LPC)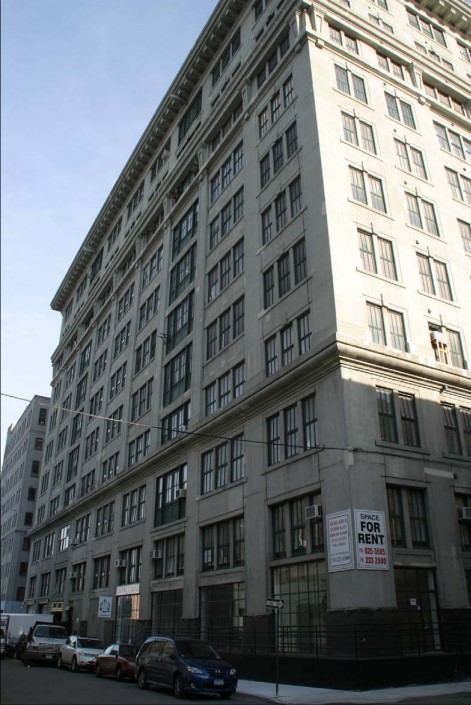 1911 photo of John Arbuckle from obituary in trade journal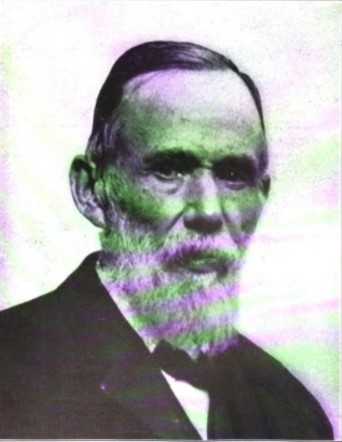 Photo of Arbuckle Warehouse in Brooklyn from cement association book in 1911
Photo of interior of Arbuckle Warehouse from cement association book, 1911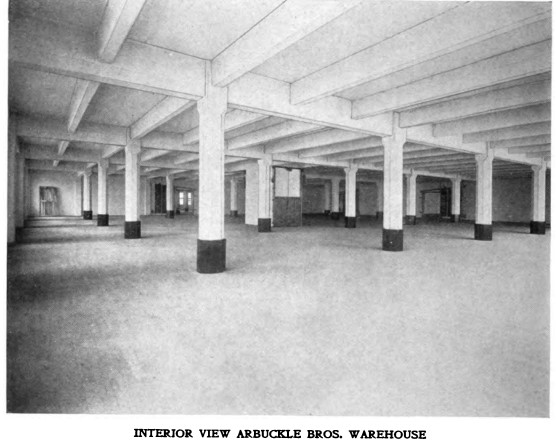 Johnston Bros. newspaper ad for Arbuckle's Ariosa Coffee (Brooklyn Daily Eagle 1898)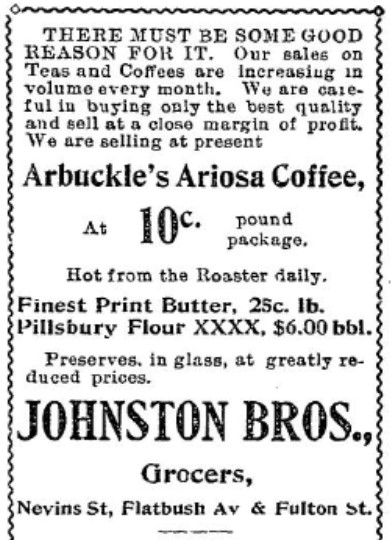 Construction specifications on the Arbuckle warehouse from cement association 1911 book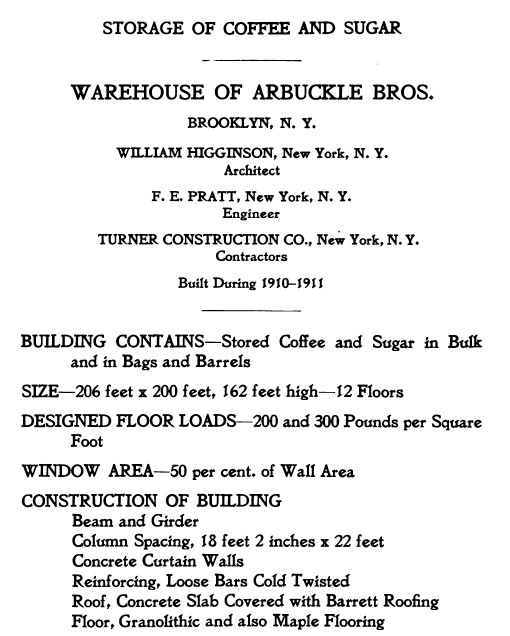 Backstory and Context
The Civil War's rations for soldiers included coffee for the first time. The soldiers returned home with a taste for the caffeinated brew. Jabez Burns invented an improved coffee roaster that made it simpler for companies to sell roasted coffee at retail and wholesale. Brothers Charles and John Arbuckle founded a coffee business in 1865 near Pittsburgh, Pennsylvania. They moved to Brooklyn and established a coffee roasting factory called Arbuckle Bros. there in 1871. The Arbuckles imported coffee beans from Brazil and roasted and ground them in Brooklyn. Charles was raised in Allegheny City, Pennsylvania in 1833 and personally supervised much of the work in the factory. Charles never married and died in Brooklyn in 1891. John was born in Scotland and raised in Pennsylvania. He married Alice Kerr in Pittsburgh in 1868. John was the head of Arbuckle Bros. by the mid-1890s and also a director of The Importers and Traders' Bank. John lived in a house at 315 Clinton Avenue that was designed by Montrose W. Morris in the late 1880s; the Romanesque Revival house is faced in brownstone and red brick. John lived until 1912; the 74-year-old multi-millionaire had no children and his wife had died in 1907. One of John's sisters, Christine Arbuckle, managed his estate. John was eulogized as the largest and most successful coffee merchant in the world. One of John's nephews, William A. Jamison, was the only surviving partner in the business. By 1912, the Arbuckle Bros. business occupied the whole block in Brooklyn bounded by Jay, John, Pearl, and Plymouth Streets. Their main office was at 71 Water Street.
The specialty of the Arbuckles Bros. was a patented process for preserving roasted coffee beans. They may have been the first company to sell the coffee beans in individual packages; their Ariosa brand coffee was packaged in sealed brown paper bags. Arbuckles Bros. took advantage of the intercontinental railroad to ship their one-pound bags of coffee across the country, and were especially popular in the American West, where their product was nicknamed "cowboy coffee." Their advertising ridiculed housewives' attempts at roasting coffee. The brothers also sold sugar, tea, canned fruits, canned vegetables, spices, and laundry soap. After starting out reselling sugar, John Arbuckle built a large sugar refinery in Brooklyn in 1898 and went into a price war with his old supplier, cutting prices drastically. Johnston Brothers, a Brooklyn groceery store, advertised Arbuckle Ariosa Coffee brand for 16 cents per pound in 1897; in 1898, the price was only 10 cents a pound. Their suppliers, the Havemeyers, then went into the coffee business and lowered prices, but gave up selling coffee after a "truce" in 1901.
By 1910, over 700 million pounds of green coffee was being imported into New York City and New Orleans by all firms in those towns combined. The New York Times reported in 1923 that New Yorkers (in the midst of Prohibition) drank about 25 percent more coffee than the national average. Arbuckle Coffee is still marketed today on a limited basis as "Everything the Cowboy came to trust...the full-bodied, aromatic coffee that won the West."
William Higginson was the architect of the warehouse at 20 Jay Street, which was built by Turner Construction Company. The warehouse was constructed on made (fill) land with a fairly new technology of reinforced concrete. The building's footprint was 206 by 200 feet, with a height of 162 feet. Flooring was either "granolithic" or maple wood. Windows took up 50 percent of the outer wall space. The floor was designed to hold loads of 200 to 300 feet per square foot; coffee and sugar bags were stored in the building.
ABC Carpet & Home opened a warehouse outlet store at 20 Jay Street by 2004, where you could find bargains, compared to their Manhattan store on Broadway. In converting the former warehouse to office space, elements of the historic interior have been preserved - hardwood floors and exposed mechanicals. High ceilings reach 12 to 14 feet; oversized windows are operable. Four passenger elevators service the building, and it is topped by a roof deck with seating. A local company, Two Trees, manages the building. The parking garage company Park Kwik occupies part of the structure, with spaces for up 179 vehicles.
Sources
Anonymous. Passing of a Great Merchant. The Spice Mill, vol. 35, no. 4, 294 - 296. Published April 1st 1912. Google Books.
Anonymous. Arbuckle Wrecking Fleet Sold. The Spice Mill, vol. 35, no. 8, 294 - 296. Published August 1st 1912. Google Books.
Assn. of American Portland Cement Manufacturers (AAPCM). Factories and Warehouses of Concrete. Philadelphia, PA. AAPCM, 1911.
Dolkart, Andrew S. Brazee, Christopher D. Caratzas, Michael D. Designation Report, DUMBO Historic District. NYC Landmarks Preservation Commission. New York, NY. NYC Government, 2007.
Dunn, Brad. Hood, Daniel. New York: The Unknown City. Vancouver, BC, Canada. Arsenal Pulp Press, 2004.
Halevy, Alon Y. The Infinite Emotions of Coffee. ---, CA. Macchiatone Communications, LLC, 2011.
Hall, Henry , ed. America's Successful Men of Affairs: An Encyclopedia of Contemporaneous Biography. Volume I. New York, NY. The New York Tribune, 1895.
Johnston Bros. "Johnston Bros., Grocers." Brooklyn Daily Eagle (Brooklyn) February 19th 1897. Special Advertisements sec, 14-14.
Johnston Bros. "There must be some good reason for it. Advertisement." Brooklyn Daily Eagle (Brooklyn) January 23rd 1898. Special Advertisements sec, 32-32.
Meister, Erin. New York City Coffee: A Caffeinated History. Charleston, SC. American Palate, 2017.
Morrone, Francis. An Architectural Guidebook to Brooklyn. Salt Lake City, UT. Gibbs-Smith, 2001.
Image Sources
2007 NYC LPC designation report, DUMBO Historic District: http://s-media.nyc.gov/agencies/lpc/lp/2279.pdf

The Spice Mill, April 1912, vol. 35, no. 4, p. 294

Assn. of American Portland Cement Manufacturers (AAPCM) 1911, p. 90

AAPCM 1911, p. 92

Brooklyn Daily Eagle (Brooklyn), January 23rd 1898, p. 32

AAPCM 1911, p. 91

Additional Information