Building at 26-38 Washington Street
Introduction
The huge, red-orange brick building at 26-38 Washington Street (north side of Water St./ west side of Washington St.) once served as a factory for Robert Gair and was constructed in 1887 to 1888. Gair, a Scottish merchant who went into paper manufacturing, essentially invented a better way to make a cardboard box. Gair built so many buildings in the area that it came to be known as "Gairville." The building is part of the DUMBO (Down Under the Manhattan Bridge Overpass) Historic District, designated a New York City Landmark in 2007. The view looking north along Washington St. in front of this building provides an iconic look at two major architectural landmarks: the nearby Manhattan Bridge piers framing the Empire State Building in the distance.
Images
26-38 Washington St. in 2007 photo by Christopher D. Brazee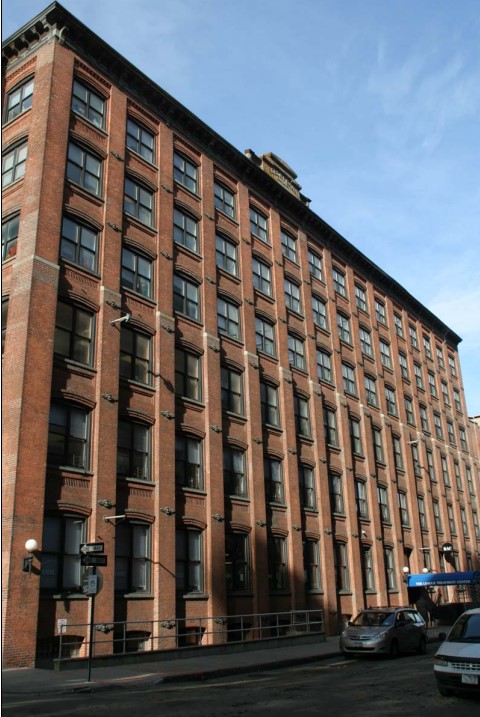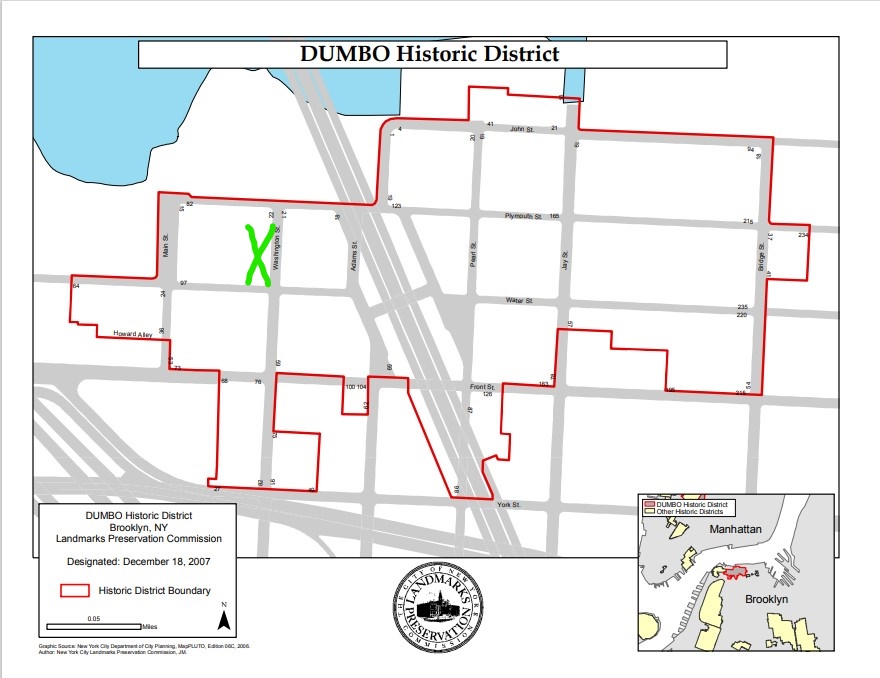 Backstory and Context
Robert Gair (1839-1927) patented a machine in 1879 that created folding boxes. He combined this with his 1870 machine for creating corrugated paper to produce cardboard boxes. Pliable metal rules formed the box outline and would cut and crease the cardboard. The folding box became the standard packaging for many types of food, replacing cloth and paper bags. Gair's earlier factory was in the Tribeca neighborhood of Manhattan. He moved to DUMBO in 1888 after the new factory building was finished.
The factory building at 26-38 Washington St. was built in two phases; this is the earliest paper factory built in DUMBO by Gair. Benjamin Finkenseiper designed the structure. In 1887 to 1888, the building at 26-38 Washington was constructed; an alternate address is 113-119 Water St. The brick structure is six stories tall plus a basement and now spans 15 bays along Washington and eight bays along Water. Wide windows feature segmental arches and stone sills. Cast iron, ornate tie rods have been preserved on the building's main facade. The central pediment above the pressed metal bracket reads "ROBERT GAIR BUILDING;" the dates 1864 and 1888 are displayed below.
The factory building was an example of slow-burning mill construction, typical of the second half of the nineteenth century. The massive internal wooden beams and columns were slow to burn and afforded some protection from fire. The outside of this type of construction typically had simple brick facades with a regular spacing of windows and larger openings for vehicles to enter the structure. Vertical piers and accordion brickwork are part of the details in this American Round Arch style building.
In 1891, an addition was built onto the north end, extending 75 feet up to Plymouth Street, also in six stories. Most of the addition (its northern end) is now 22-24 Washington; two of the upper stories were removed later to convert the addition into a boiler. The south end of the addition remains six stories tall and is part of 26-38 Washington St. Directly across Washington St. is another of Gair's buildings (25 Washington St.). The firm grew to be the largest manufacturer of paper boxes in the U.S. By 1913, over 1,700 employees worked in the "Gairville" complex in DUMBO.
Gair and his two sons, George and Robert Jr., moved his Brooklyn operations to Piermont, New York in the 1920s and the Brooklyn buildings were leased out. Gair was a multimillionaire when he died in 1927 at age 88. In the 1920s, the former factory at 26-38 Washington St. held the Charles Williams Stores, a mail order business begun by another local business titan and "king of coffee," John Arbuckle (see the Clio entry for the Arbuckle Warehouse nearby). Books, musical instruments, shoes, and sporting goods were housed here and in the adjacent building to the north at 22-24 Washington St. Charles Williams Stores was bought out by another mail order company, National Bellas Hess, in 1928.
The building at 26-38 Washington Street is owned by DUMBO Partners B LLC. The windows are no longer original, and part of the basement has been expanded and made accessible from the sidewalk. A playground was added to the roof. The seven-story building with elevators was last renovated in 2012 and contains 94 residential units covering about 95,000 square feet; the lone commercial unit is about 2,000 square feet. A store selling antiques and specializing in Japanese imports operated until recently in the building's basement level.
Sources
Dolkart, Andrew S. Brazee, Christopher D. Catatzas, Michael D. DUMBO Historic District, Designation Report, for NYC Landmarks Preservation Commission. New York, NY. NYC Government, 2007.
Gannon, Devin. How the cardboard box was accidentally invented in a NYC factory, 6sqft. June 7th 2018. Accessed January 11th 2022. https://www.6sqft.com/how-the-cardboard-box-was-accidentally-invented-in-a-nyc-factory/.
NYC Real Estate Appraisals. 26 Washington Street, Brooklyn, NY 11201, NYC Real Estate Appraisals. January 1st 2022. Accessed January 11th 2022. http://54.236.145.68/property/26-Washington-Street-Brooklyn-NY-11201.
NYHISTORYWALKS. Gairville, Brooklyn, New York History Walks. January 9th 2012. Accessed January 11th 2022. https://nyhistorywalks.wordpress.com/2012/01/09/gairville-brooklyn/.
Image Sources
Dolkart et al. 2007 designation report on DUMBO Historic District for NYC LPC, p. 214

Additional Information