Love Endures mural
Introduction
Head to the parking lot to see this old mural with quite a back story. This mural was originally in a different location and what a great idea to use it to cover the trash enclosure.
Title:  "Love Endures"
Location: 923 Belmont Ave at Sweet Lew's Barbeque Trash Enclosure
Artists: Curtis King, BDZ, DJ, ricky J
Date: 2017
Media: Acrylic paint
Artist Info: @piecesofceekay
Images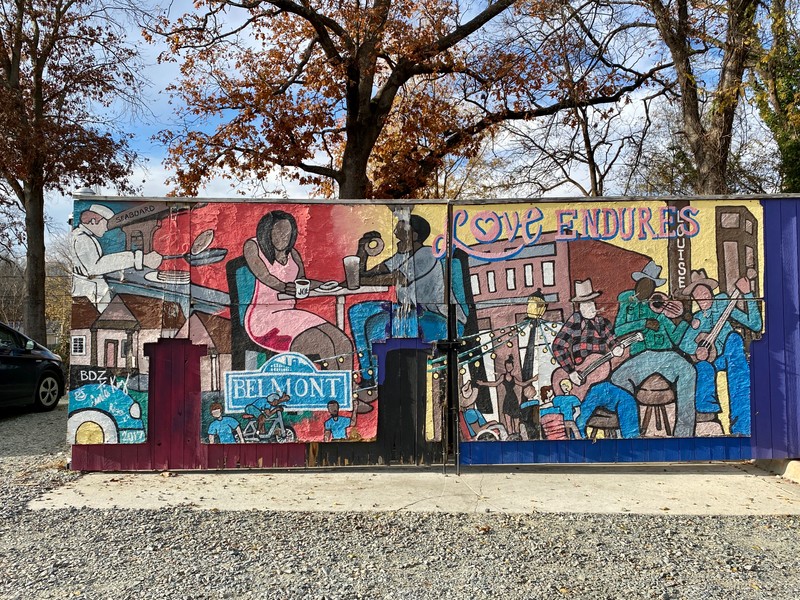 Backstory and Context
Story: This one was a mural mystery. Not much information was available about these murals painted on plywood panels other than the names of the artists. But through a conversation with artist and muralist Curtis King, a little bit of history made things clearer. These panels were originally painted by King and others for a community meeting space in Belmont. The panels were removed and re-installed as the trash enclosures for Sweet Lew's Barbeque. King is an educator and muralist with murals in Uptown and the West Side.
Key Formal Elements:
·     Heavy use of outline around figures and shapes
Make the Connection: The artists highlight area businesses, icons, and heritage. Look for the old Charlotte trolley, hornet's recalling the reputation of Charlotte during the American Revolution, the historic railroad supports, and other items that celebrate community.