Hispanic Society of America Museum and Library at Audubon Terrace
Introduction
The building on the northwest corner of W. 155th Street and Broadway, across the street from Trinity Cemetery, is the Hispanic Society of America Museum and Library. The Beaux Arts style building was constructed in 1908 with five-bay wings added to the east and west later. The building is part of the Audubon Terrace National Register Historic District, encompassing the entire block west of Broadway between W. 155th and 156th Streets. The block features eight buildings facing a central courtyard with statuary. The Hispanic Society of America complex was designated a National Historic Landmark in 2012. The Society closed for major renovations in 2017 but the East Building Gallery reopened in 2021.
Images
Main Building of Hispanic Society of America in 2006 photo (Asaavedra32)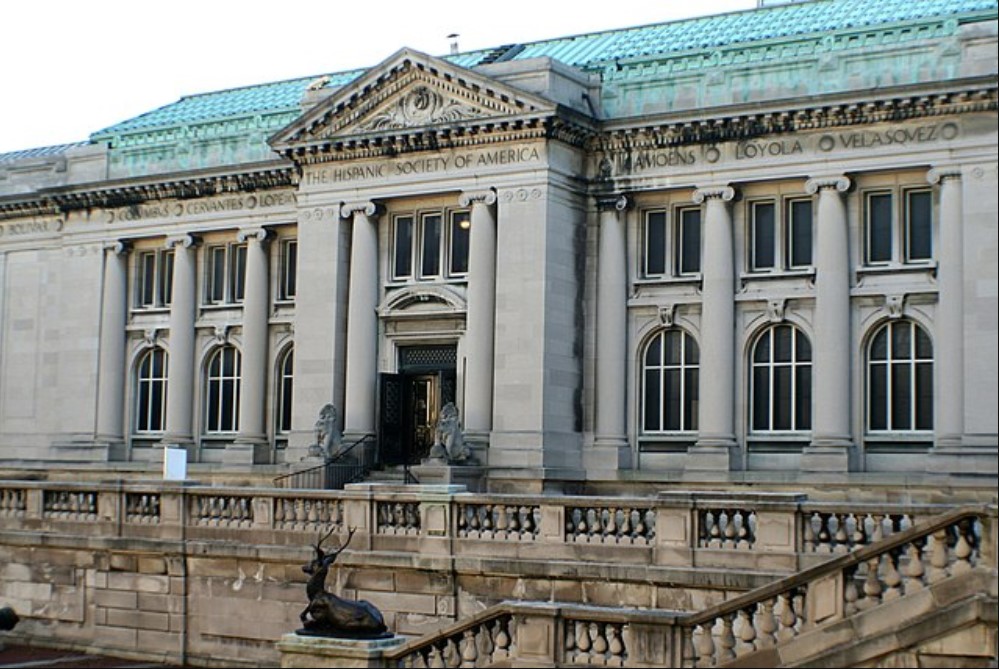 Photo postcard of front (courtyard side) of Hispanic Society of America building ca. 1911-1916 (H. Hagemeister Co.)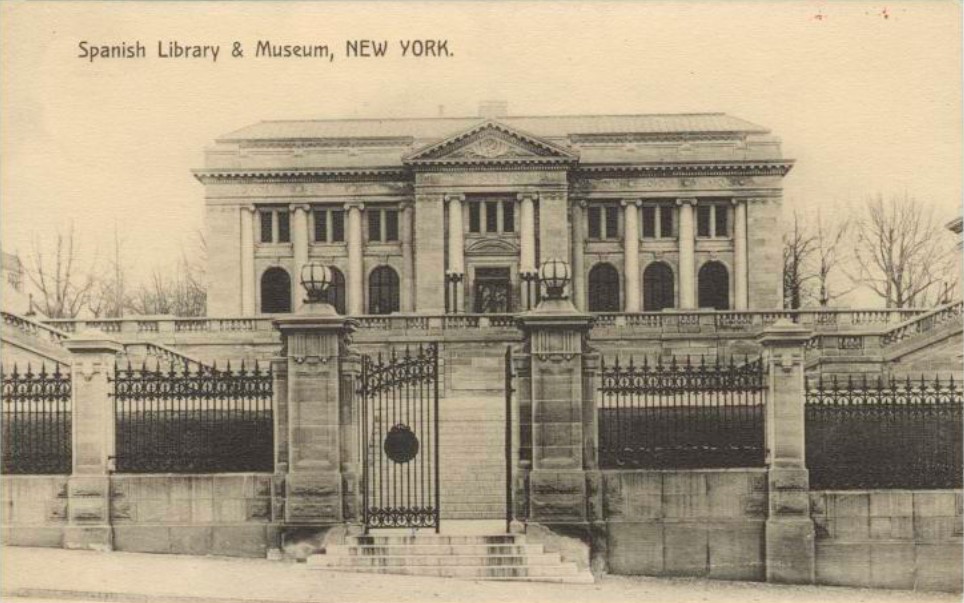 Hispanic Society Main Building (green arrow) & former Morrisania Library (red arrow) on 1976 Sanborn map (Framberger 1979)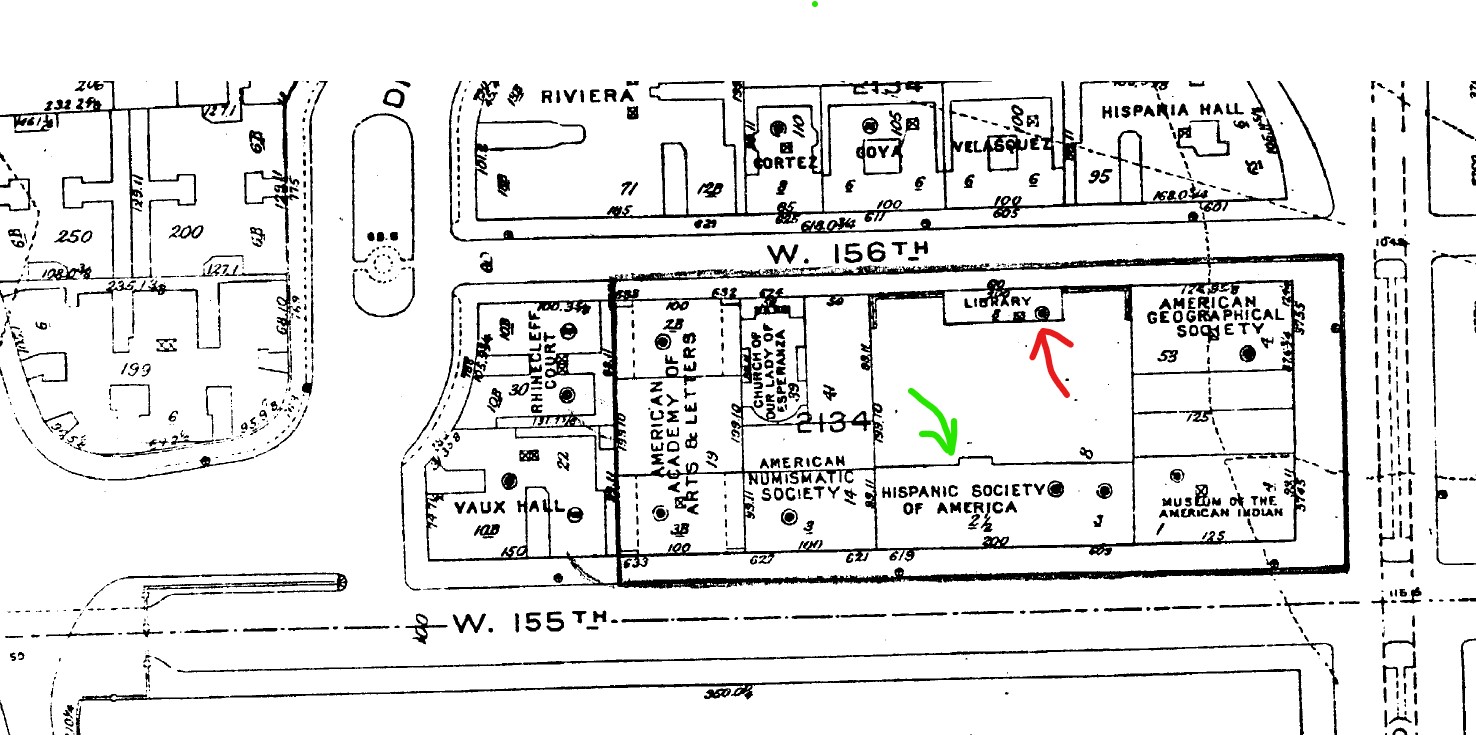 Audubon Terrace courtyard and sculptures in 2008 photo (NewYorkDolls)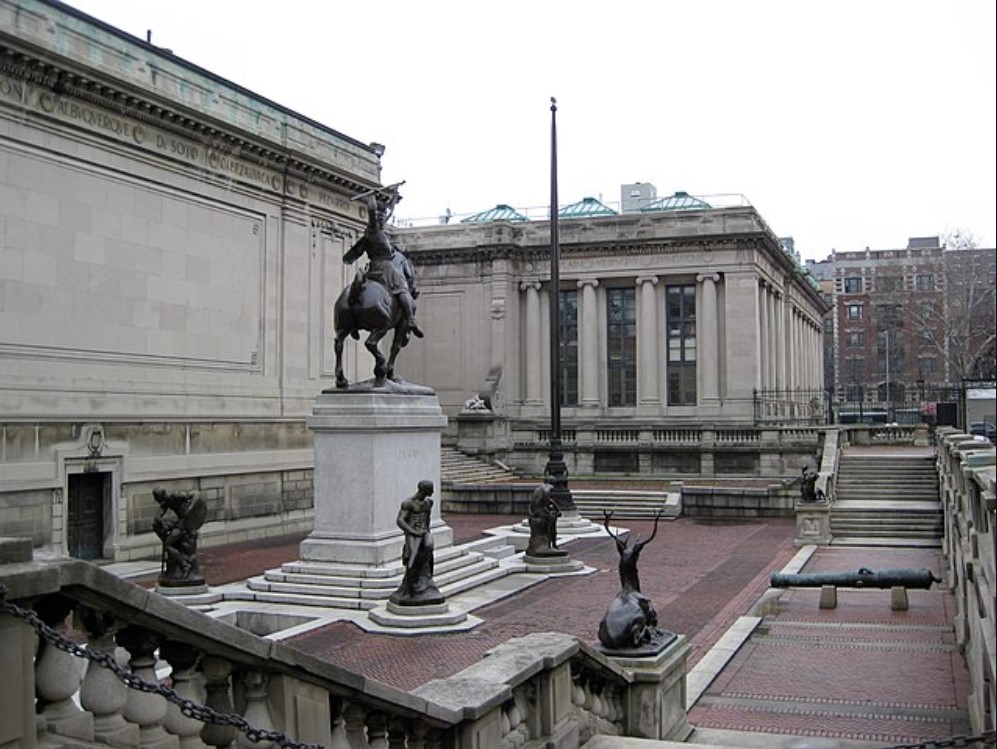 El Cid statue in courtyard in front of Hispanic Society of America building in 1979 photo (Senigo for NRHP)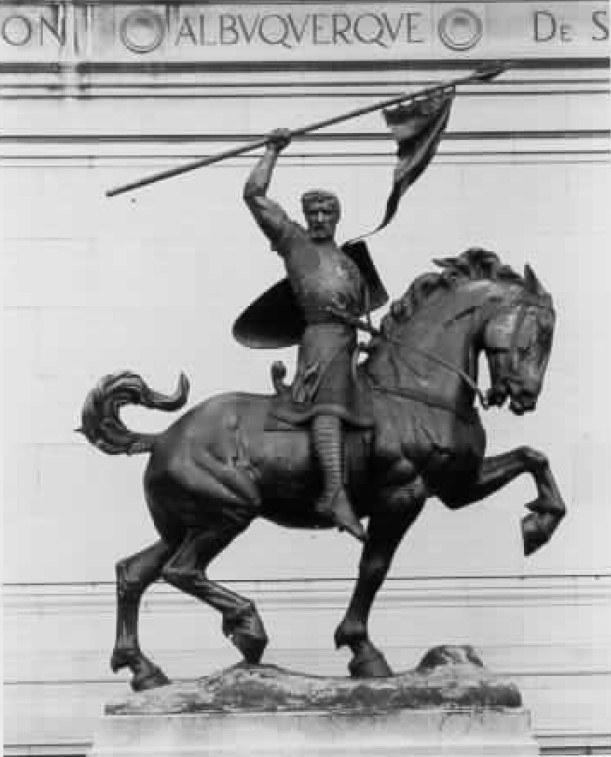 Future location of Audubon Terrace (white) on 1866 map, N. of Trinity Cemetery (Driggs, for Valentine's Manual)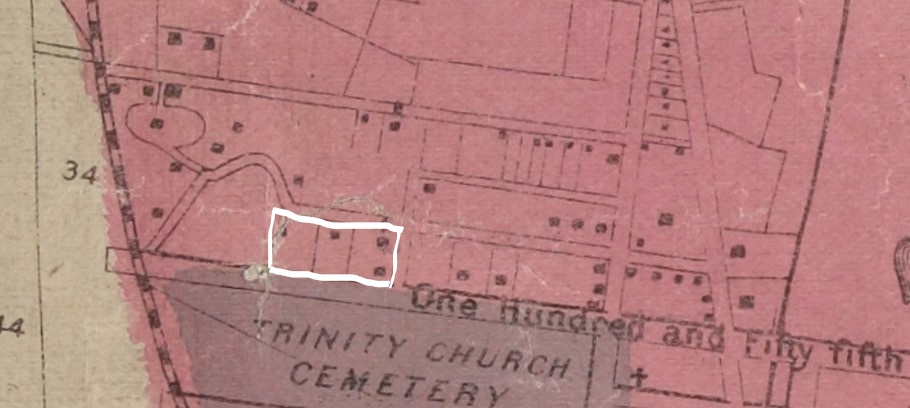 Backstory and Context
Audubon Terrace was the brainchild of multimillionaire Archer M. Huntington (1870-1955), who had a particular interest in Spanish and Portuguese culture and studied at Yale, Harvard, Columbia, and the University of Madrid. Archer wrote poetry books, edited works on Hispanic culture, and conducted archaeological excavations in Spain; he founded the Hispanic Society of America in 1904 and owned one of the largest collections of books outside of Spain on Spanish culture and history. Archer set up a program at the Library of Congress to reproduce rare Spanish books.
The land where Audubon Terrace was built had been owned by Archer's mother, but was part of the farmland that the American author and ornithologist John James Audubon purchased in 1841. Audubon's two sons later built homes for themselves on the Audubon Terrace land. After Audubon's death in 1851, his widow began selling parts of the farm. By the 1870s, the terrace had become part of a residential area called Audubon Park.
Archer's cousin, Charles Pratt Huntington (1871-1919), designed the building to house the Society on Audubon Terrace. Charles was a Harvard grad who studied architecture at the Ecole Nationale Superior des Beaux Arts in Paris. The neo-Italian Renaissance style building was joined by the others in similar styles between 1907 and 1930, facing a common courtyard; the exception is the church, which faces W. 156th St. The two buildings at the western end of the terrace, the American Academy and the National Institute of Arts and Letters, were designed after Charles' death, by William Mitchell Kendall of McKim, Mead, & White.
The neighboring buildings in the Audubon Terrace Historic District include: (former) American Geographical Society (3755 Broadway), Museum of the American Indian (3745 Broadway), American Academy and Institute of Arts and Letters, (633 W. 155th St. and 632-638 W. 156th St.), American Numismatic Society (621-627 W. 155th St.), (former) Morrisania Branch of New York Public Library (610 W. 156th St.), and Church of Our Lady of Esperanza (624 W. 156th St., the second Spanish Roman Catholic church to be built in the city). The American Geographical Society moved into the Audubon Terrace building in 1911 and has moved to 121 Sixth Avenue; it was founded in New York City in 1851 and spent several decades after World War I creating maps of Hispanic America. The Manhattan location of Baricua College is now at 3755 Broadway; the school also has Bronx and Brooklyn locales. Baricua is a private college founded in 1974 that was designed to serve Puerto Rican and other Hispanic students. The Morrisania Branch of NYPL has moved to the Bronx.
The massing of educational and cultural institutions together at Audubon Terrace was unique; most similar groupings were within universities. The courtyard is paved in red brick and decorated with a grouping of statues, including one named El Cid on a pedestal. The statue depicts a Spanish warrior, El Cid Campeador (1043-1099) on horseback and was sculpted in 1927 by artist Anna Vaughn Hyatt Huntington (1876-1973). Anna married Archer in 1923.
Admission to the Hispanic Society of America's museum is free. The East Building Gallery has reopened but the Main Building was still closed for renovations as of November 2021. Weekly guided tours of the Gilded Figures Exhibition were being offered in the fall and winter of 2021-2022 on Saturdays at 1pm.
Sources
Boricua College. About, Boricua College. November 1st 2021. Accessed November 12th 2021. http://boricuacollege.edu/.
Framberger, David J. NRHP Nomination of Audubon Terrace Historic District. National Register. Washington, DC. National Park Service, 1979.
NYC Landmarks Preservation Commission. Audubon Terrace Historic District, Borough of Manhattan, Designation List 122, LP-1001. New York, NY. City of New York, 1979.
Tilburg, Kees Van. El Cid, Equestrian Statues. Accessed November 12th 2021. https://equestrianstatue.org/el-cid/.
Image Sources
https://en.wikipedia.org/wiki/Hispanic_Society_of_America#/media/File:HispanicSocietyofAmerica.jpg

New York Public Library (NYPL) Digital Collections: https://digitalcollections.nypl.org/items/510d47e2-8d69-a3d9-e040-e00a18064a99

New York State Cultural Resource Information System (NYS CRIS): https://cris.parks.ny.gov/

https://en.wikipedia.org/wiki/Hispanic_Society_of_America#/media/File:WTM_NewYorkDolls_010.jpg

NYS CRIS: https://cris.parks.ny.gov/

NYPL Digital Collections: https://digitalcollections.nypl.org/items/f6924cb0-f3a1-0130-fce9-58d385a7b928

Additional Information