Dr. Alice Berry Graham Cornerstone, Mercy Hospital (1917-1970)
Introduction
Dr. Alice Berry Graham, together with her sister Dr. Katherine Berry Richardson, devoted their lives to providing access to medical care for children of all backgrounds in Kansas City and founded the institution that grew into Children's Mercy Hospital. Dr. Alice Berry Graham was the eldest of the two founders, and in recognition of her expertise and effort that led to the development, growth, and success of Children's Mercy until her death at the age of 63 in 1913, her sister insisted that this building, which was home to the hospital from 1917 to 1970, include this cornerstone which recognized the work of her later sister. With a background in multiple areas of the country, and with her sister by her side, Dr. Graham brought a necessary practice to Kansas City in a time where medical care for children had not been a top priority. The care she bestowed upon others, as well as her diligent spirit, lives on in the Children's Mercy Hospital to this day.
Images
Dr. Katherine Berry Richardson insisted that the hospital include this cornerstone in honor of her later sister.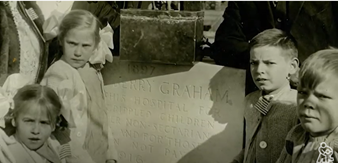 Portrait of Dr. Alice Berry Graham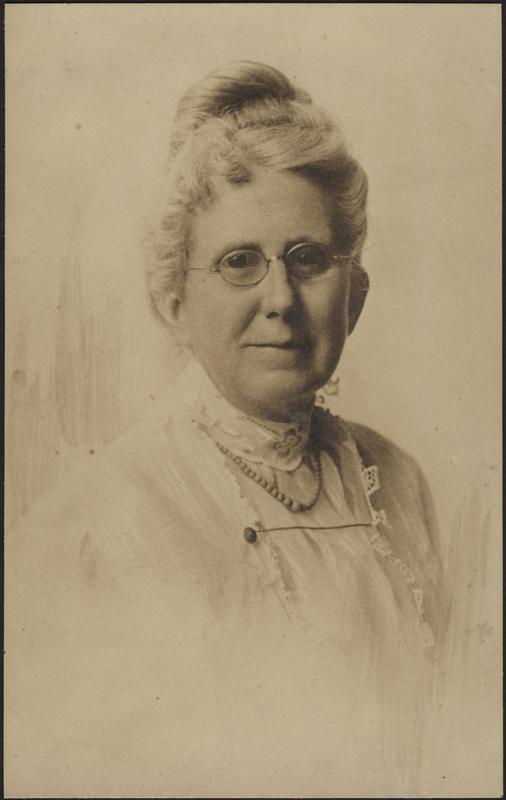 Backstory and Context
Dr. Alice Berry Graham was born on March 3, 1850, to Stephen and Harriet Berry. Although an advocate against slavery, Stephen moved his family to Kentucky prior to the beginning of the Civil War, where he and his wife refused to condone the actions of the Confederacy. Such beliefs in morality and equal opportunities for all were inherited by both Dr. Graham and Dr. Katharine Berry Richardson, her younger sister. Dr. Graham was only 13 years old when her mother passed away, leaving her as a role model for her two younger sisters. After the death of Harriet Barry in 1863, the family moved to Pennsylvania, Stephen's home state, where he remarried. As his daughters grew older, Stephen encouraged them to pursue an education in order to help others and boost their communities. 
Dr. Graham thus entered into an agreement with her sister, Katharine, so they could both pursue an education: one would work while the other would study until they both received their degrees. Alice entered the workforce first so that Katharine could pursue her education, thus showing her selfless nature. In order to put food on the table and pay the bills, Dr. Graham served as a teacher. After her sister received her degree, Alice began a dental program in Philadelphia. Although struggling financially herself, many community members reported that Dr. Graham would give anything she had left to children in need. In 1890, she was the only woman in a class of over 50 men to graduate from the Philadelphia Dental College and Hospital of Oral Surgery. After graduation, Alice joined her sister in Wisconsin, where she operated a dental practice by 1893.  
Wisconsin life was not long-lived for the sisters, however, as they decided to move to Kansas City in the latter half of 1893. While the reason for their move is unclear, some speculate that it could be due to the poor conditions that the city provided for children. Both sisters began operating their practices out of their home in Kansas City, with Dr. Graham focusing on dental practice and Dr. Richardson focusing on medical house calls. Although they had already broken barriers for women in education and medical practice, they struggled to gain solid footing within the medical community in the city, which was filled with male professionals who would not refer patients to female physicians. This did not deter the Berry sisters from helping those in need, however, as they provided care without always charging for their services. With their past budgeting experience while attending school, the Berry sisters were able to keep their respective practices afloat.  
Dr. Alice Graham, while already providing necessary services to the community around her, would develop a vision in the late 1890s for a larger mission. While details of the story vary, it is said that in 1897, Dr. Graham came across a young child who was suffering from illness and took her into her and her sister's care. While caring for this child, Dr. Graham suggested to her sister that caring for children in need could be their contribution to the community. Thus, the Children's Mercy Hospital was born. It began as the Free Bed Fund, housing only one bed, and the sisters worked tirelessly to gain support from the community. It was their plan to only serve children who could not pay for the services they received. By 1901, the Free Bed Fund was incorporated as an official association, and the sisters opened a nursing school. While Dr. Graham was the mastermind behind the hospital's founding, as noted by Dr. Katharine Richardson herself, she also used her abilities to organize support from the community, as well as execute fundraisers to keep the hospital afloat. This was highly beneficial for the purchase of the hospital's first building, which began use in 1903, and was the first time that "Mercy Hospital" had a space all its own.  
Dr. Graham started the Messenger newsletter, which was sent out to prominent members of Kansas City as well as newspapers, to gain the monetary support necessary for the hospital's success. While Dr. Graham diligently worked for the betterment of the hospital, she was diagnosed with cancer in 1904. Rather than remove herself from the operation and rest, she continued to work as a fundraiser and community contact. Unfortunately, Dr. Graham's health began to decline even more by 1911, causing her to give many of her managerial and leadership roles to other dedicated members of the hospital. While she reduced her leadership roles due to her illness, she continued to write the Messenger, answer questions and give suggestions, and contact community members for potential donations. On May 3, 1913, Dr. Alice Berry Graham passed away after dedicating her life to the service of others. Her efforts, up until her death, paved the way for Children's Mercy Hospital to serve as a place of healing and comfort for children in need. Her sister, Dr. Katharine Richardson, continued to work tirelessly after the death of Dr. Graham, further propelling their shared dream forward. Upon her insistence, this hospital building, which served the community from 1917 to 1970, included a cornerstone with the following inscription: "In 1897 Dr. Alice Berry Graham founded this hospital for sick and crippled children – to be forever non-sectarian, non-local, and for those who cannot pay."
Sources
Hall of Fame: Dr. Alice Berry Graham, Starr Women's Hall of Fame. Accessed October 14th 2021. https://www.umkc.edu/starrhalloffame/hall.asp.
In Loving Memory of Dr. Alice A. Graham: Being records of the remarks made at services held in her memory, 4 May 1913, Box 1, Folder 7, Children's Mercy Hospital Collection, LaBudde Special Collections, University of Missouri-Kansas City Miller Nichols Library.
McCormally, Thomas. For all Children everywhere: Children's Mercy Kansas City, 1897-2017. Edition 1. Traverse City, MI. Chandler Lake Books, 2017.
Our History, Children's Mercy Kansas City. Accessed October 14th 2021. https://www.childrensmercy.org/about-us/our-history/.
Image Sources
Photograph of the cornerstone with children as found within the video "For All Children Everywhere - The History of Children's Mercy Kansas City"

LaBudde Special Collections, UMKC University Libraries, Children's Mercy Hospital Collection

Additional Information