Chamber of Commerce Building
Introduction
Standing prominently in Court Square in downtown Greenville, the Chamber of Commerce Building was one of the city's first skyscrapers. Constructed in 1925, it was built in the midst of a prosperous period for Greenville, whose economy was driven by the thriving textile industry. The building's Neoclassical design reflects this period and the optimism the city had for the future. The ten-story building features a Flemish brick bond exterior, classical stone detailing, tall arched windows on the tenth floor, and a prominent metal cornice at the top. In 1982, the building was added to the National Register of Historic Places. It appears to be an office building today.
Images
Built in 1925, the Chamber of Commerce Building was one of the first skyscrapers in Greenville.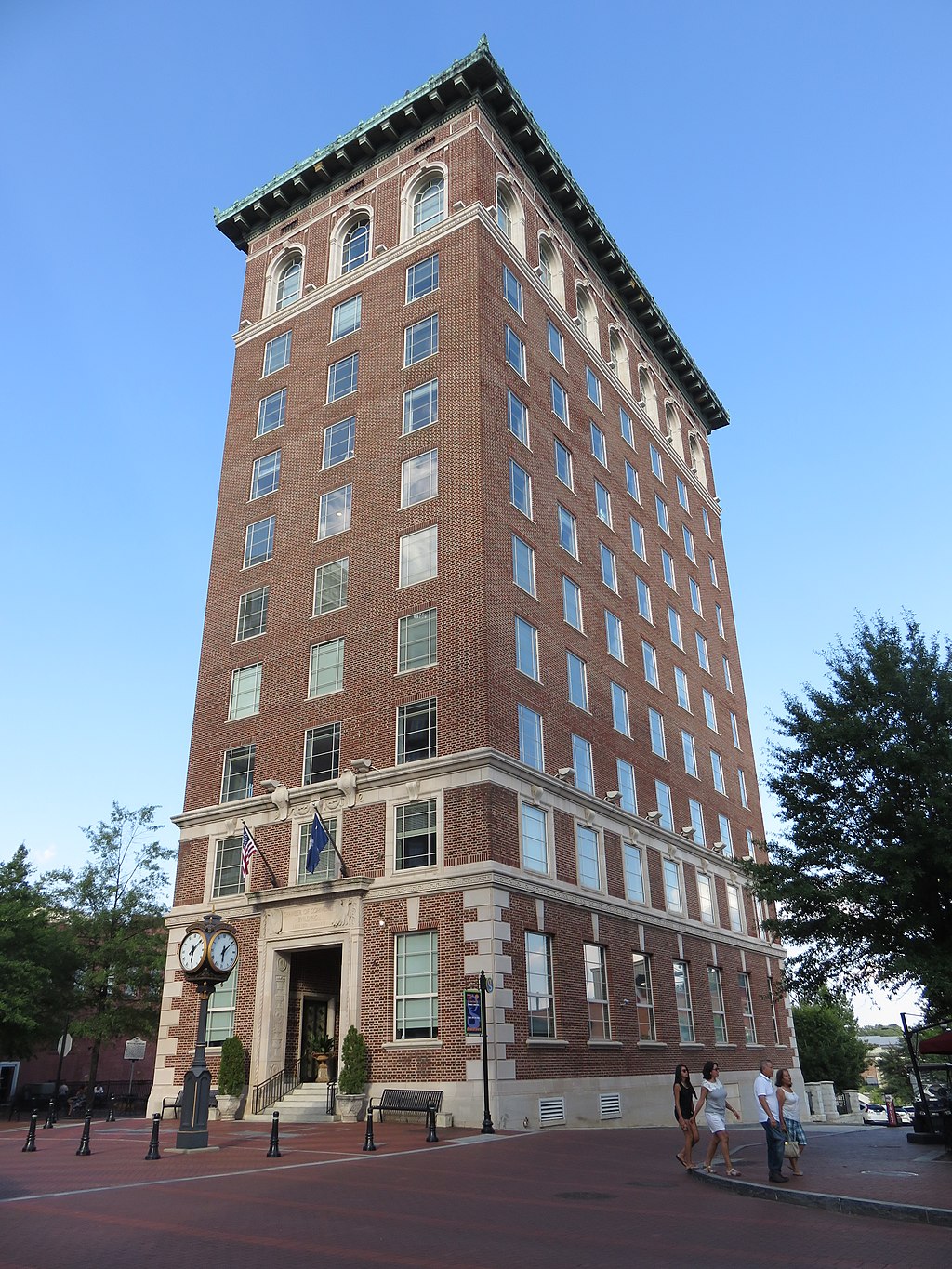 Backstory and Context
Architecture firm Beacham and LeGrand designed the building. It was supposed to be completed in 1924 but there were issues with the contractor that delayed the construction work. In the 1910s and 1920s, several other buildings were erected in the city including the Greenville County Courthouse (1918) and the Poinsett Hotel (1925), both of which located across from the Chamber of Commerce Building.
The construction of these and other buildings reflected Greenville's growing economy during the early 20th century. This growth began in 1873 when three investors from Boston leased a mill on the Reedy River called the Vardry Mill. It was later renamed Camperdown Mill #1. The men built another, larger mill on the other side of the river called Camperdown Mill #2. In the coming years, many other mills opened the area, including the Woodside Mill, which was the world's largest mill under one roof. Eight cotton mills were operating in the Greenville area by 1903 and they employed thousands of people.
The Greenville Chamber of Commerce hoped to guide the city's booming economy in the future but the Great Depression ended that goal. In 1931, a local insurance company called Liberty Life Insurance Co., which was doing well at the time, acquired the Chamber of Commerce Building. Liberty eventually became one of the leading insurance companies in the country. As a result of its success, the building became known as the Liberty Building. Liberty moved to another location and leased the building until 1977. The building has been used for a number of purposes since then, including classroom space for North Greenville College and Clemson University. It was added to the National Register of Historic Places in 1982.
Sources
"Building an Empire: The Textile Center of the World." GVL Today. November 12, 2019. https://gvltoday.6amcity.com/textile-documentary-greenville-sc.
"Chamber of Commerce Building." National Park Service - National Register of Historic Places Nomination Form. July 1, 1982. https://npgallery.nps.gov/GetAsset/0c3c9f56-4371-40b5-b0e0-3008382b78c6.
"History." Greenville Textile Heritage Society. Accessed May 3, 2021. http://greenville-textile-heritage-society.org/mills/camperdown/history.
Nolan, John M. A Guide to Historic Greenville, South Carolina. Charleston, SC: The History Press, 2008.
Image Sources
Wikimedia Commons: https://commons.wikimedia.org/wiki/File:Greenville_Chamber_of_Commerce_2017.jpg

Additional Information