Sisters of Mercy Historical Marker
Introduction
This historical marker shares the story of the Sisters of Mercy who arrived in Pittsburgh from Ireland in the antebellum period. In 1843, Sister Frances Warde and six others arrived in the United States from Carlow, Ireland and made their way over the Allegheny Mountains on a train and stagecoach. They arrived in Pittsburgh on December 21, 1843 to open the first Mercy convent in the United States. On their way, the sisters ministered to the passengers, and tended to their physical needs, and taught them the tenants of their faith. As soon as they arrived, they began work assisting the poor and afflicted. This historic marker was dedicated in 1993 by the Pennsylvania Historical and Museum Commission.
Images
This historical marker was dedicated in 1993.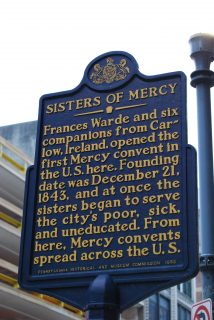 Original Mercy Hospital of Pittsburgh
Mercy Hospital Infographic

Backstory and Context
When the sisters arrived in Allegheny County, they began administering to the poor and afflicted. Mercy Hospital opened on January 1, 1847 and served an important need in Pittsburgh. Five years after their arrival, Pittsburgh was suffering a typhus epidemic and the sisters were among the few to accept patients at their Mercy Hospital. Due to their tireless service, some of the sisters died of typhus as well. Obituaries of these sisters include phrases such as "we must not exaggerate her loss, not merely to the religious community which she edified so much, but to all who came within the wide sphere of her usefulness".
The Sisters of Mercy and the dedicated physicians and nurses at the hospital served the region through World War I, the Spanish Influenza, the Great Depression, and World War II. In the 1960's, Mercy decided to rebuild in uptown Pittsburgh. Over the next 40 years, the hospital expanded their buildings and facilities, and developed specialized programs and advanced technology. Today, Mercy Hospital remains Pittsburgh's only Catholic hospital with specials services that include neurosciences, Level I trauma and burn services, women's health, and physical medicine and rehabilitation.
Sources
Ross, Linda. At once the sisters began, Pittsburgh Mercy. March 13th 2019. Accessed November 21st 2020. https://www.pittsburghmercy.org/news/stories-of-hope/at-once-the-sisters-began/.
N/A, N/A. History of UPMA Mercy , UPMC. Accessed November 21st 2020. https://www.upmc.com/locations/hospitals/mercy/about/history.
Carney, Sheila. Sisters of Mercy Mark 90 Years, Carlow University. 2020. Accessed November 21st 2020. https://www.carlow.edu/Su19_Sisters_Of_Mercy_Mark_90_Years.aspx.
Image Sources
https://www.hmdb.org/m.asp?m=40904

http://www.brooklineconnection.com/history/Facts/Mercy.html

https://www.upmc.com/locations/hospitals/mercy/about/history

Additional Information