Tuthill-Lapham House
Introduction
The Tuthill-Lapham House, also known as Friendly Hall, was built for Bartley Fanning Tuthill. The original portion of the Wading River home dates to around 1820 and includes the three-story, Federal-style section with a gambrel roof. The home also includes additions that were built in 1838 and 1869, as well as a kitchen wing added in the 1920s. Part of the house was briefly used as a school for local children and the large Tuthill family in the nineteenth century, taught by Mrs. Tuthill. During the late nineteenth century, the house became a boarding house, catering to summer tourists. The Tuthill-Lapham House was listed in the National Register of Historic Places in 2009 as an example of early settlement patterns and early vernacular Long Island residences.
Images
Tuthill-Lapham House in 2013 photo; 1869 addition in center; 1820 original on right (Team jib)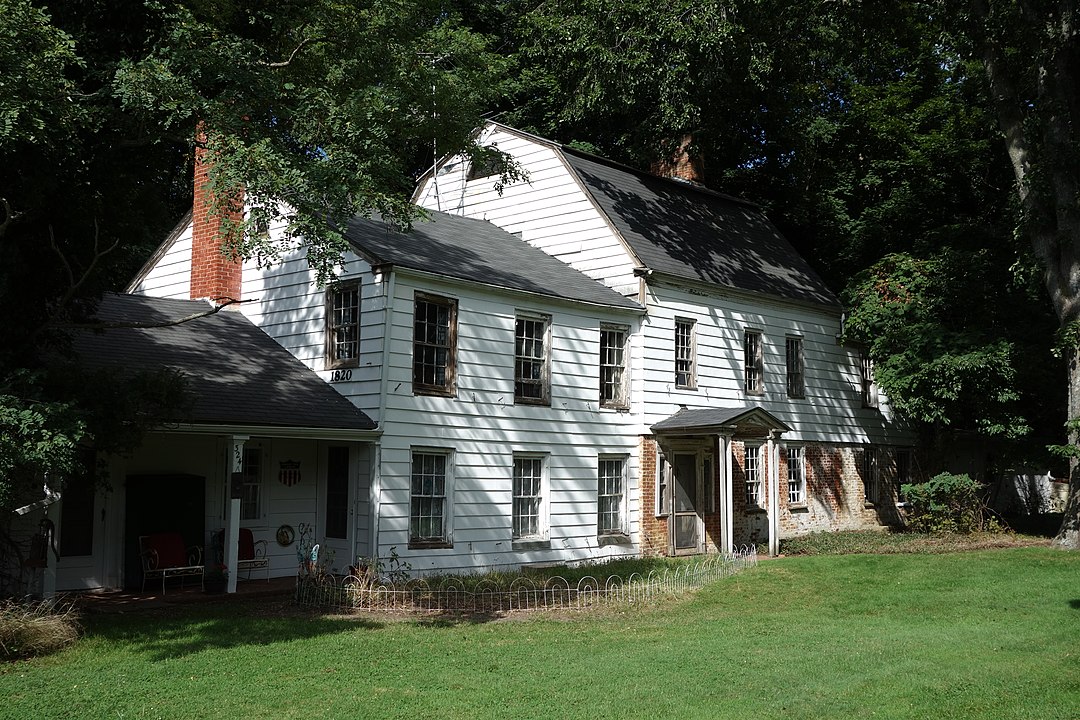 Tuthill-Lapham House (blue arrow) on 1858 map of Wading River area (Smith)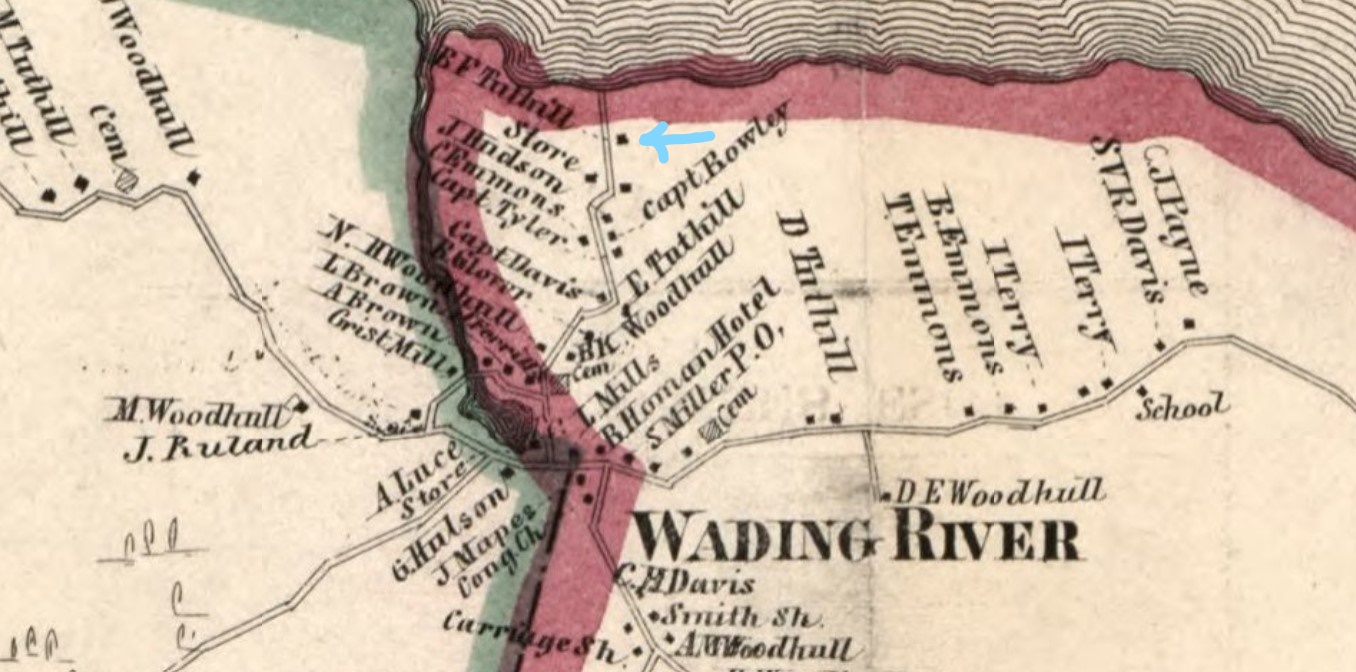 South elevation of west end of Tuthill-Lapham House in 2008, ca. 1925 kitchen wing on left (Bartos)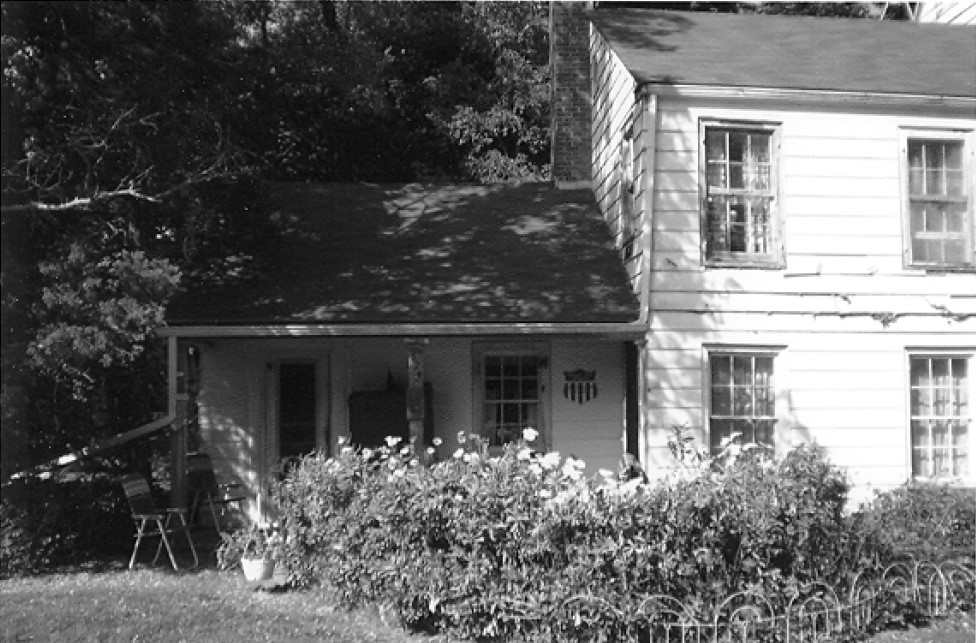 Fireplace in Tuthill-Lapham House 2nd story parlor in 2008, view through hall to 1869 bedroom (Bartos)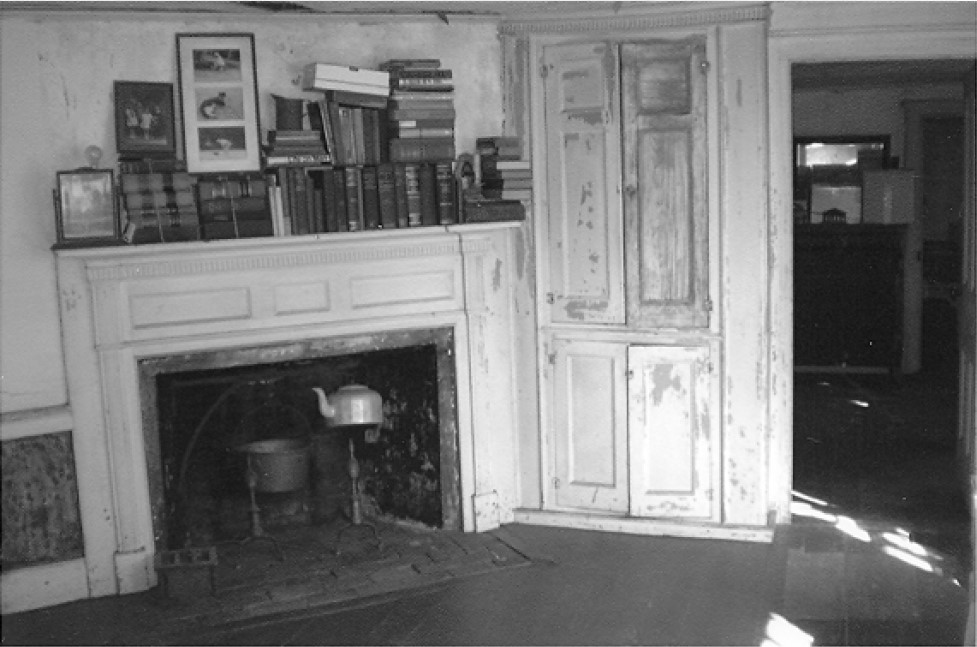 Peg and beam framing in unfinished attic in 1820 section of Tuthill-Lapham House in 2008 (Bartos)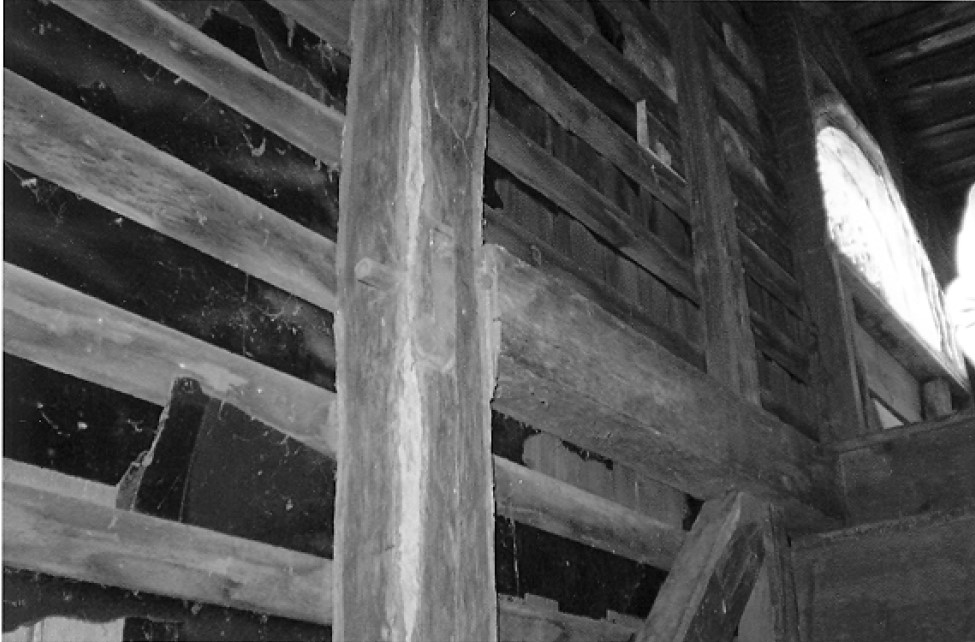 Backstory and Context
Bartley Fanning Tuthill, the first owner of the Tuthill-Lapham House, was born in 1786 and was one of ten children of Nathaniel Tuthill, a native of Wading River. Nathaniel's father, John, was a Revolutionary War soldier who was born in Cutchogue around 1730. Bartley acquired around 100 acres and had his house built around 1820. Bartley married Fanny Miller and had five children before Fanny died in 1825. Bartley married a second time but was widowed again in 1828. He had six children with his third wife, Ann Miller Woodhull, a widow with a daughter. With that many children, the reason for the 1838 addition to the east seems to be more space for the large family on the first floor; the new space on the second floor became a private school taught by Ann Tuthill for about ten years. When Bartley's son Edmund married Amelia Hulse, the west wing was built in 1869. Edmund and Amelia raised three children in the house, all of whom had moved out by the 1900 census; the 60-year-old farmer shared the home in 1900 with his 58-year-old wife.
The house became a boarding house for tourists from the 1890s to early 1900s. Some of the boarders were cousins of the Tuthills, the Hawkins family. Another boarder was Daniel Wade Lapham Jr., who courted and wed Ruth Hawkins. "Wade" Lapham and Ruth loved the house so much that they bought it from Ruth's cousins in 1925. Wade was a veteran of the Spanish-American War and worked in New York City as a ship's chandler. The Laphams summered at the Wading River House before making it their year-round home in 1930. Wade Lapham named the house "Friendly Hall" after the name of the house in Brownsville, Maryland where his mother was born. Their children inherited the house after the deaths of Wade (1937) and Ruth (1942). Their son, Edwin Lapham, moved into the house with his wife, Elisabeth Beale Schafer ("Betty"). During World War II, Edwin fought in Europe while Elisabeth was a Red Cross nurse in New York City. The couple had three children: Margaret, Barbara, and Jennifer who grew up in the house. Edwin was an attorney in Riverhead and erved as the first president of the Wading River Historical Society. Elisabeth was the village historian for Wading River and wrote a column called "Echoes of the Past" which has been published in booklet form. Edwin died in 2003; Margaret (Quinn) and Barbara (Lapham) purchased the house from their mother in 2006, granting Elisabeth a life tenancy. Elisabeth passed away in 2011 at age 95. Margaret and Barbara sometimes gave tours of the house, complete with exhibits on local and family history.
The four different sections of the Tuthill-Lapham House are easy to distinguish by roof height. The oldest section is the tallest with a side gambrel roof and large central chimney. The house is partially built into a hill on the north side of the property, providing some protection from weather. The house was entirely clad in asbestos shingles in 1960, covering over the wooden shingles. When the house was documented in 2008 for National Register significance, it contained fourteen rooms, two bathrooms, a modern kitchen, and one unfinished cellar section. The original kitchen hearth and oven are in the northeast corner of the kitchen in the 1820 section of the house.
Sources
Bartos, Virginia L. Lapham, Barbara. Quinn, Margaret Lapham. NRHP Nomination of Tuthill-Lapham House, Wading River, N.Y.. National Register. Washington, DC. National Park Service, 2008.
Newsday. Elisabeth S. Lapham. Obituary, Legacy.com. May 7th 2011. Accessed July 20th 2021. https://www.legacy.com/us/obituaries/newsday/name/elisabeth-lapham-obituary?id=5168610.
U.S. Census. Household of Edmund Tuthill in Riverhead Township district 772, Suffolk County, N.Y., dwelling 7, family 7. Washington, DC. U.S. Government, 1900.
Weybright, Martin. Elisabeth Beale "Betty" Schafer Lapham, Memorial 113733340, Find A Grave. July 12th 2013. Accessed July 20th 2021. https://www.findagrave.com/memorial/113733340/elisabeth-beale-lapham.
Image Sources
https://en.wikipedia.org/wiki/Tuthill-Lapham_House#/media/File:Tuthill-Lapham_House.JPG

Library of Congress: https://www.loc.gov/item/2013593235/

New York State Cultural Resource Information System (NYS CRIS): https://cris.parks.ny.gov/

NYS CRIS: https://cris.parks.ny.gov/

NYS CRIS: https://cris.parks.ny.gov/