Damon Runyon House
Introduction
This historic Manhattan home was the birthplace of famed playwright, screenplay writer, author, and journalist, Damon Runyon in 1880. Runyon's short stories became the basis for the famed Broadway play, Guys and Dolls, along with sixteen Hollywood films that were adapted from his screenplays. Runyon's father not only built this home, but he also founded The Mercury newspaper which was published in Manhattan for more than a century. Damon's grandfather was among the town founders as he helped determine the layout of the original townsite during the Bleeding Kansas period before the Civil War.
Images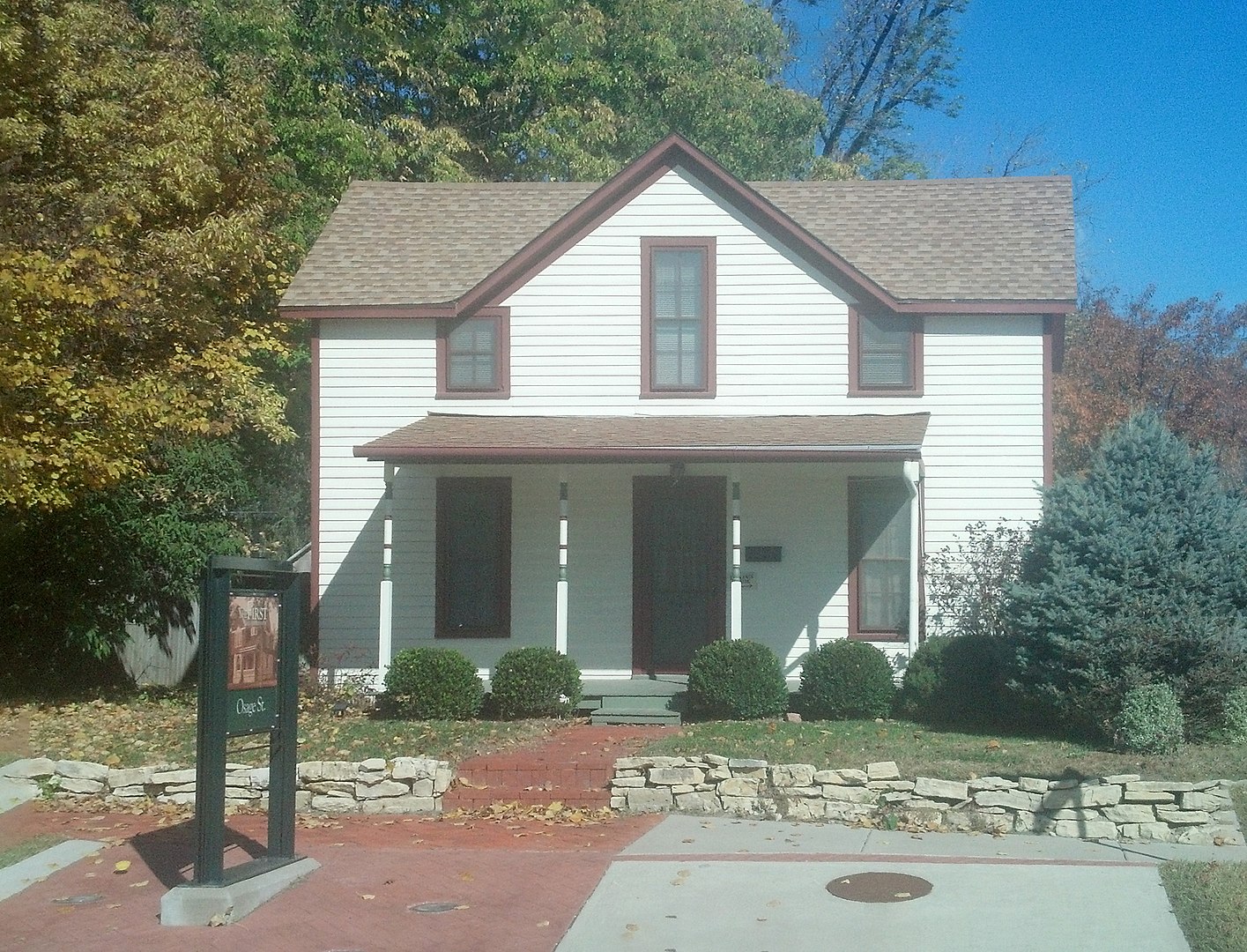 Backstory and Context
Damon Runyon gained fame as a newspaper columnist, sportswriter, novelist, playwright, and screenwriter during the first half of the twentieth century. Runyon's father founded The Mercury, a newspaper that remains in operation today. Meanwhile, Runyan's grandfather, William, helped found and name the town. Still, the home enjoys fame for its attachment to Damon, whose short stories served as the basis for the musical Guys and Dolls. Runyan also wrote numerous screenplays, sixteen of which turned into major movie releases. Well after Runyon's death, from 1955—1956, the Damon Runyon Theatre aired on CBS-TV. Runyon's parents, Alfred Lee Runyan and his wife Libbie Damon Runyon had the home built in 1880, which served as Demon's birthplace. 
The Runyon family — first spelled "Renoyan," and then "Runyan" — arrived in Manhattan, Kansas, in 1855. William Renoyan came with his son, Alfred, along with an immigration party. They had planned to head to Junction City; however, after some negotiation with members of the recently formed Boston Town Association, including a change of name for the new city to Manhattan, the immigrant group decided to forgo their plans and stay. They constructed prefabricated buildings and platted out town lots, thus developing the foundation for what became today's downtown Manhattan, Kansas. William Renoyan had visions of eventually moving to California to join in the Gold Rush. Instead, Renoyan remained in Manhattan, the town he helped found. While in Manhattan, he simplified the family name to Runyan. Alfred lived with his father on their small farm, and then he took up the printing trade. In 1868, he went to work for the Manhattan Independent and later worked in the offices of the Manhattan Standard. 
On November 7, 1868, Alfred became one of the first volunteers for the 19th Kansas Regiment. He reported daily on the actions of the army's campaigns against Native Americans in Kansas and Oklahoma. Native Americans located west of the Missouri River were deemed by white Americans as a barrier to westward expansionism whereas Native Americans viewed the expansion as a continued pattern of seizing their lands. (A snowstorm kept the 19th Regiment from reaching western Oklahoma Territory in time to join General Custer in his infamous attack on peaceful Cheyennes, resulting in more than 100 deaths, including the friendly chief, Black Kettle and several women and children.) Roughly sixteen months later, The Kansas Historical Quarterly published Runyan's letters in full, serving today as a high-quality primary source of the 1868 campaigns.  
Alfred returned to Kansas and his career in journalism in 1869. He met and married Libbie Damon in 1876 and, shortly thereafter, partnered with C.M. Patee in forming the Manhattan Enterprise, a paper that today goes by the name The Mercury. During his time as owner and editor of the Enterprise, in 1880, Alfred and Libbie purchased the land where the now-historic Damon Runyon home sits (and where Damon Runyan — later, Runyon — was born in 1880). The remaining years for Alfred and Libbie proved to be challenging. They moved several times after 1884, finally landing in Pueblo, Colorado, in 1891. During that span, the family experienced financial hardship, and Libbie's health failed. Alfred turned to alcohol. Libbie separated from Alfred and moved to Abilene, Kansas, with Damon and his sisters before she died in the early 1890s. After her death, Damon returned to Pueblo while his sisters remained in Abiline; he would not see them again for thirty years. Alfred Runyan was a city promoter who caught the fever of western expansion and passed it on to his son.
Damon worked at newspapers, attended school periodically, and lived in boarding houses with his father, Alfred. When a teenage reporter misspelled his last name, spelling it "Runyon," he liked it and kept it. At fourteen, Damon moved alone to Denver to work as a cub reporter. When he turned eighteen, the same age his father was when he joined the 19th Kansas, Damon joined the Colorado Volunteers to fight in the Spanish American War and, also like his father, wrote a first-hand account of the Battle of Manila. However, unlike his father, Damon was not in the battle as it concluded three weeks before his arrival. Runyon also falsely claimed to be the youngest enlisted man in the U.S. Army (14 years old) by changing his birth year to 1884, thus cutting four years off his actual age. Runyon maintained this fabrication for the rest of his life. 
In addition to lying about his age, Runyon was a notorious gambler and a heavy smoker (which led to the throat cancer that killed him). In his early years, he was also a heavy drinker, much like his father. While drinking nearly ruined Alfred, Damon reportedly controlled his drinking after meeting his eventual wife. Moreover, Damon associated with the mob, even befriending a hitman who eventually died during a mob-to-mob shooting; the hitman served as the subject for some of Runyon's future stories.
Shortly after returning from the war, Runyon took a job with the New York Sporting News and then began to compose short stories, most of which took inspiration from his father's life in the West, including the time Alfred spent in Manhattan and Pueblo. By the 1920s and 1930s, Runyon gamed fame for his work as a writer and playwright, although it wasn't until after he died of throat cancer in 1946 that most of his screenplays hit the top of the box office charts. In 1949, Paramount Pictures placed an engraved marble slab on the corner of the subject property to commemorate his life and celebrate the release of a film based on one of Runyon's short stories. 
The house that Alfrid and Libbie built was not remarkable when erected, but Manhattan celebrates the home because of its association with Damon Runyon. The lauded playwright reportedly returned to Manhattan twice to visit his family's house, but his time spent in the Kansas town pale in comparison to his father and grandfather. Indeed, although Damon's grandfather ostensibly founded the town, and Damon's father established the town's principal newspaper — one still in publication today, the home enjoys fame because of Damon's attachment to Broadway and Hollywood. Nonetheless, the historical home survives as a monument to several aspects of history: the Renoyan/Runyan/Runyon family, western expansionism, the strained relationship between Native Americans and encroaching American natives, the Spanish - American war, Manhattan's growth, and Damon Runyon's impact on the theatre and in Hollywood. 
Sources
Breslin, Jimmy. Damon Runyon. A Life. New York: Ticknor & Fields, 1991.
Hietala, Thomas R. Manifest Design: American Exceptionalism & Empire. Revised Edition. Ithaca: Cornell University Press, 2003.
Lynn-Sherow, Bonnie. "Nomination Form: Runyon, Damon, House." National Register of Historic Places. nps.gov. 2004. https://npgallery.nps.gov/GetAsset/6e8fc038-e87d-4d01-9d7c-f5a3c8cd7631/. 
Severance, Ryan. "Runyon left a lasting legacy in Pueblo." The Pueblo Chieftain (Pueblo) April 12, 2020. https://www.chieftain.com/news/20200412/runyon-left-lasting-legacy-in-pueblo.
Image Sources
By spacini - Own workThis photo was uploaded with Wiki Loves Monuments mobile 1.2.5 (Android)., CC BY-SA 3.0, https://commons.wikimedia.org/w/index.php?curid=22115981

Additional Information