Grand Forks City Hall
Introduction
Grand Forks' City Hall is a prominent and historic building that is part of the Grand Forks downtown historic district. Originally built in 1911, this building has always been dedicated to being a service for the public. Throughout its history, this building has served as a meeting place for the public as well as the central hub for local government and politics. Additionally, it gains its historical significance from its architectural styles—Classical Revival, Modernist, and Beaux-Arts—that many of the buildings in downtown Grand Forks were originally styled after as a part of the "City Beautiful" movement. Because of this, the city hall has become a central part of the historic architecture within Grand Forks.
Images
Grand Forks City Hall, Present Day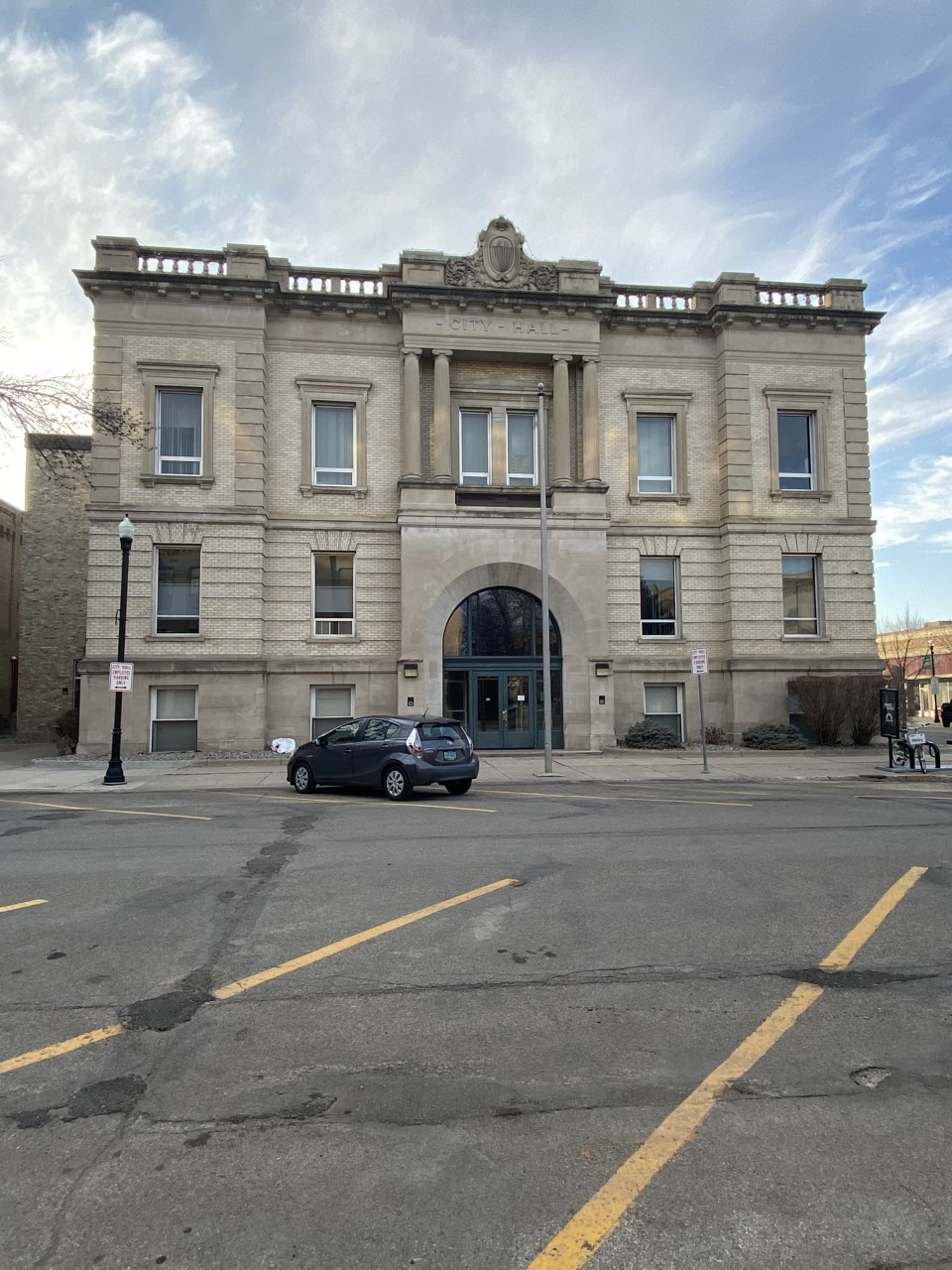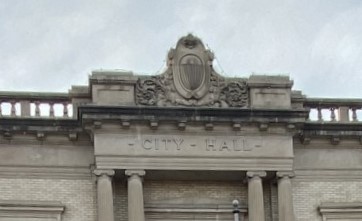 Backstory and Context
The first city hall in Grand Forks was built in 1885 at the intersection of Third Street and Selkirk Avenue, which is now University. It was replaced by the present building at the intersection of Fourth Street and Second Avenue North in 1911. While the city hall has stood at this location since this time, it has been renovated and remodeled numerous times, most recently in 1999. The justification for the 1999 major renovations was to better enable city hall to continue to serve the public. Throughout history, the Grand Forks City Hall may have undergone cosmetic changes, but its purpose to serve the public has stayed consistent.
The current city hall building, built in 1911, was designed by the architect John W. Ross, the first licensed architect in North Dakota, and contracted by Northern Construction and Engineering Company. Ross styled this building according to the prominent Classical Revival architectural movement with influence from Modernist and Beaux-Arts styles. While this style of building would not likely be built today, the style of the current city hall was typical of the majority of buildings when it was being built in the first decade of the twentieth century. Notably, this style was characteristic of many buildings built between the Spanish-American War (1898) and the start of World War I (1917). It was designed to fit in the same architectural style of the Federal Building (built in 1906) and the Grand Forks Public Library (built in 1903). 
As stated previously, the architecture of this building is a vital part of its historical significance. The Modernist and Beaux-Arts styles are shown by ionic columns that flank the second-story balcony along with a large, scrolled cartouche (an oblong architectural decoration). This city hall was built using limestone and yellow brick furnished by John Dinnie, part of the Dinnie Brothers construction firm. Additionally, this building features fireproof construction and reinforced concrete brick bearing walls. It is a two and ½ story building that was built to stand the test of time through the choice of building materials and architectural styles. It is one of four surviving buildings in Grand Forks that features the style of Classical Revival. Other buildings modeled to mirror city hall after it was built are Central High School (built in 1917) and the U.S. Post Office and Courthouse. Each of these buildings were part of the "City Beautiful" architectural movement that aimed to bring a visual focus to the Central Business District's public area.
Grand Forks' City Hall was nominated to be placed on the National Register of Historic Places (NRHP) in 1981. It was stated to be in excellent condition on the original site and recommended to be nominated to the NRHP as a historic resource of downtown Grand Forks. At this time–before the 1999 remodel of city hall–this building had only undergone minor alterations. These changes included replacing the double hung original windows with glass windows and anodized aluminum frames, enclosing the front entry and metal canopy in front arched entry with glass and aluminum, remodeling the basement, and modernizing the lighting and carpeting in offices and the central stairway.
The Grand Forks City Hall has always been dedicated to serving the public. Specifically, the city hall has always been vital for functions related to the local government and elections. Throughout its history, this building has hosted City Council meetings and public hearings. This city hall has also kept its commitment to serving the public through the historic use of the city hall auditorium to house public classes such as leathercraft, painting, and hook-rug making. Overall, city hall has served as a vibrant part of public history in Grand Forks since it was built. 
Sources
Grand Forks Centennial Committee. They came to stay: Grand Forks, North Dakota centennial 1874-1974. 1974.
Grand Forks city hall, SAH Archipedia. June 17th 2019. Accessed April 19th 2021. https://sah-archipedia.org/buildings/ND-01-GF9.
Grand Forks, North Dakota historical overview, Grand Forks Historic Preservation Commission. April 8th 2013. Accessed April 19th 2021. https://www.gfpreservation.com/historical-overview/.
North Dakota Cultural Resources Survey, National Archives Catalog. July 1st 1981. Accessed April 18th 2021. https://catalog.archives.gov/id/75326117.
Sanborn Map Company, "Grand Forks, 1912". Sanborn Maps of North Dakota. 1981. Accessed April 18th 2021. https://commons.und.edu/sanborn-maps/151/.
Image Sources
Personal Photo

Personal Photo

Additional Information