Governor Charles S. Morehead House
Introduction
This historic Frankfort home was constructed for the family of Charles Morehead between 1833 and 1834. Morehead was serving as the state's attorney general and went on to become the governor of Kentucky. Numerous prominent figures in Kentucky history have resided in this home. following its sale in 1847 when Morehead left Frankfort to serve in the U.S. House of Representatives. Morehead eventually returned to Kentucky and was a leader of the Know-Nothing Party, a short-lived national party that called for restrictions against non-Protestant and non-white immigration. Two religious leaders, Dr. Stuart Robinson followed by Dr. John Norton owned the home before a string of judges, politicians, poets, and military veterans resided in the historic house.
Images
Governor Charles S. Morehead House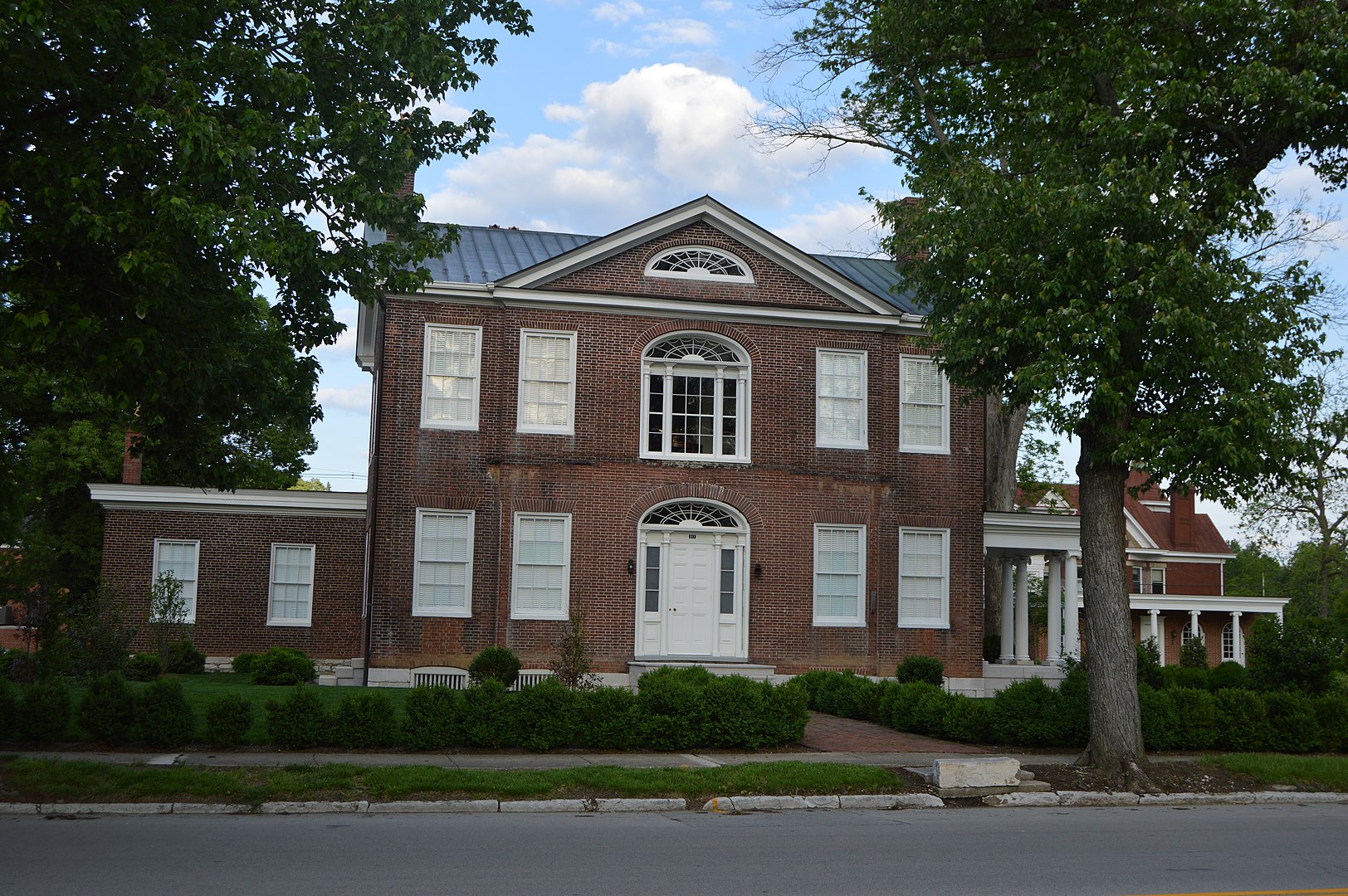 Backstory and Context
Born in Nelson County, Kentucky, on July 1, 1802, Charles S. Morehead entered law after graduated college and promptly went into politics,. He was elected first to the Kentucky General Assembly in 1827, followed by serving as Attorney General, Speaker of Kentucky's House of Representatives, and eventually Kentucky Governor governor from 1855 to 1859, as a member of the Know-Nothing Party. Moorhead sympathized with the South but preferred national unity over secession. Nevertheless, his feelings for the South ultimately resulted in his arrest; he eventually fled the country for several years before returning to Frankfort. Morehead proved to be the first of many prominent residents, ranging from religious leaders and Civil War veterans to politicians, judges, poets, and historians. 
Governor Charles S. Morehead and the Know-Nothing Party
Morehead attended Transylvania College in Lexington before moving to Christian Count in the southern part of the state and subsequently began practicing law. His law career took him to politics, having first been elected in 1827 to the Kentucky General Assembly (and re-elected in 1829). After his second term, he moved to Frankfort, where he again opened a law office. His time away from politics proved short-lived because one year later, in 1832, the Kentucky governor appointed him Attorney General; he served in the position for five years. While serving as Attorney General, in 1833, Morehead purchased land in Frankfort, south of the Kentucky River. He contracted with Harrison Blanton, a brick contractor, to erect the now-historic house.
After leaving the Attorney General's office, he again served in the Kentucky House of Representatives after winning an election in 1838. He continually won re-elections, allowing him to become Kentucky's Speaker of the House in 1844. A few years later, Morehead represented Kentucky in the U.S. Congress, serving two terms from 1847-1851. Before he left for Washington, he sold the historic house to Dr. Stuart Robinson, a prominent Presbyterian minister. 
In 1853, Morehead returned to the Kentucky House of Representatives and then (in 1855) ran for governor as a member of the Know-Nothing Party, which operated as a type of third party to the Democrats and newly-formed Republican Party. This party gained its name because of its secret-society behavior; when people questioned members of the party about their political affiliation, they would respond, "I don't know." The party arose during the 1850s when the country grew exceptionally divided, stemming from an abundance of new land added to the nation in 1848 after the U.S.-Mexican War. The question of what new territories should allow for slaves (or none at all), a discussion that had remained relatively dormant since the 1820 Missouri Compromise, led to rancorous debate and regional antagonism. The populist, nativist Know-Nothings sought to differentiate themselves from the Republicans and Democrats as a moderate, middle-ground party intent on uniting the country, which included anti-Catholic and anti-immigration ideology. The Kentucky Know-Nothing Party, mainly comprised of former members of the defunct Whig Party, formed in 1854. They held a convention in Louisville in 1855 and nominated Morehead as its candidate for governor; he won the general election and served from 1855 to 1859. During his inauguration speech, he denounced the nullification of the Fugitive Slave Act that had required people to return escaped slaves to their "rightful owner." 
After leaving office, he served as a delegate to both the Washington Peace Conference (February 1861) and "Border State Convention" (May 1861). Though a Southern sympathizer, his chief goal involved reuniting the South with the North rather than support the Confederacy as a separate nation. Nevertheless, by September 1861, Federal officials arrested Morehead for disloyalty after he openly criticized President Lincoln. He spent seven months as a prisoner of war before returning to Frankfort. But, upon his arrival, he discovered that another arrest seemed imminent because he refused to pledge an oath to the U.S. Constitution. As a result, he fled to Canada. From Canada, he traveled through Europe and then to Mexico before returning to his plantation in Mississippi after the Civil War.
In August 1868, Morehead finally returned to Frankfort but died four months later, on December 23, 1868. He was buried in the Frankfort Cemetery and the Legislature erected a monument to his memory.
Dr. Stuart Robinson and Dr. John Norton: Religious Leaders
The home's second owner, a Presbetaryian minister name Dr. Stuart Robinson, used it as a boarding home. Stuart lived in Frankfort for eight years. In addition to his duties as pastor, he served as president of a cotton manufacturing company, president of a turnpike company, director of the Farmers Bank, and established a school for girls. Stuart sold the home to the Rector of the Episcopal Church, Dr. John Norton, who lived in the house for roughly ten years. 
J. Stoddard Johnston: Writer, Politician, and Historian
Norton sold the home in 1868 to Yale graduate J. Stoddard Johnston, who served as Confederate officer during the Civil War before moving to Frnakfort in 1867. As a leader of the Kentucky Democratic Party for twenty years, he worked as editor and co-owner of Democrat-friendly Frankfort Yeoman and served as Democratic State Committee Chairman in the 1880s. Johnson moved to Louisville in 1890 and became vice president of the now-historic Filson Club, a historical, biographical, and literary association located in what is now Louisville's "Old Louisville" neighborhood. Johnson also wrote and edited several historical books and articles while in Louisville. He was a candidate for governor at the Democratic state convention in 1911. However, rather than gain the nomination, he served as Attorney General the convention's gubernatorial pick (and election winner), James B. McCreary, but Johnston died two years later in 1913.
Major Henry T. Stanton: Poet Laureate
After Johnston moved to Louisville in 1890, he rented the home to another former Confederate officer, Major Henry T. Stanton, who lived there from 1894 to 1899. Stanton worked as a lawyer, but his real claim to fame came as a poet, known as Kentucky's poet laureate. Stanton's best known and most quoted work is The Moneyless Man (published,1871). He also wrote, while living in the historic house, his celebrated poem Heroic Sleep.  The poem, which proved to be the last poem he composed, was read in Chicago in 1895 while unveiling a monument dedicated to deceased Confederate soldiers. 
Judge J. P. Hobson
Judge J. P. Hobson, Judge of the Court of Appeals, bought the house from Johnston in 1899. After graduating from the University of Washington in Virginia, former U.S. and Confederate General Robert E. Lee recommended Hobson for a teaching position in Hardin County, Kentucky; Hobson also worked as a lawyer. In 1898, he was elected to serve on the Court of Appeals, where he served until 1914. After practicing law for ten years, the Court of Appeals appointed him to be its court commissioner (1924); he served in that capacity until he passed away in 1934. 
Sources
Holt, Michael F. The Rise and Fall of the American Whig Party: Jacksonian Politics and the Onset of the Civil War. New York: Oxford University Press, 2003.
Potter, David M. The Impending Crisis. America Before The Civil War. 1848 - 1861. New York: Harper, 2011.
Robinson, Jennifer Kaye. "Nomination Form: Governor Charles S. Morehead House." National Register of Historic Places. nps.gov. 1974. https://npgallery.nps.gov/GetAsset/957b0950-a3cf-43dd-bed9-9238fb2206b1/.
Image Sources
By Nyttend - Own work, Public Domain, https://commons.wikimedia.org/w/index.php?curid=32959823

Additional Information