Walking Main....1119 Main Street, Sumner Washington
Introduction
This double brick block building was completed in 1922. Construction cost then was S12,000. That would be $181,000. today. The buildings large transom windows have been recently restored. The two original entrances were replaced by one large recessed entrance at sometime in the past. It had a hard canopy at one time that has since been removed. A street level side window was added. It has a full basement, something most Sumner Main Street buildings do not have.
Images
1119 Main Street, Northlight Interiors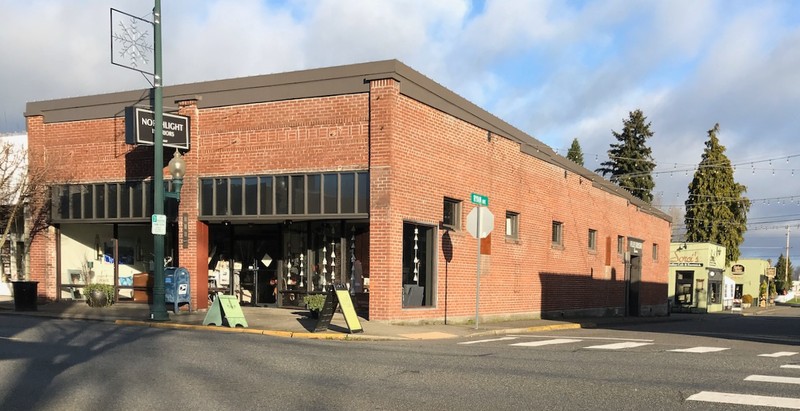 1119 Main Street, mid 1939s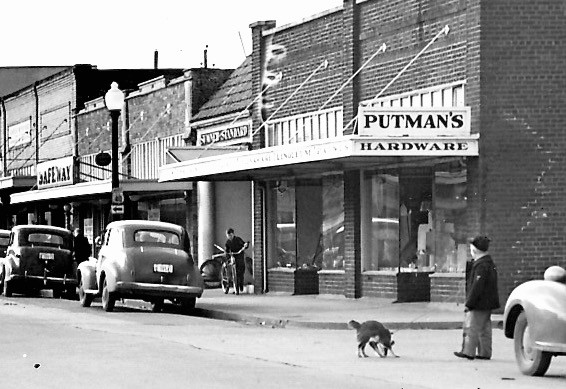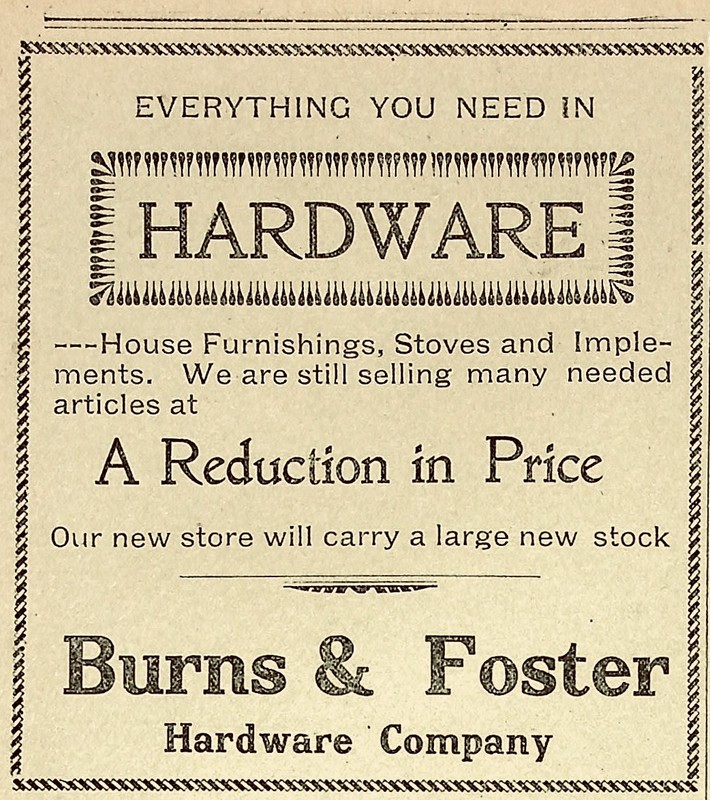 Backstory and Context
In 1906, J.M Burns started a hardware and furniture store in Sumner in a wood framed building on Main street just west of this location. 
In 1918 his brother in law, J.F. Foster, became a partner and the store moved into a two story wood frame building at 1119 Main. The new name was Burns & Foster.
In 1921 they were planning to build a new building across the street but events changed those plans. In March of 1922, their current building and one next to it were lost in a fire. With the City Council's permission, they put up a temporary structure across the street and started construction on a double brick block building at 1119 Main street. By September, they were in the new building.
The new building had extra room, so the Sumner Electric Company moved in with them. They carried electrical goods, lighting fixtures and Acme Paint.
In 1935, Burns retired and I. J. Putman of Sprague bought the Burns & Foster business and the name changed to Putman's Hardware. Putman was a golfer, a Rotarian and was quite active in sumner.
In 1945, John Roeder took over the management of Putman's Hardware.
In 1954 it became Coates Hardware. Cushing Coates had been in the hardware business in Portland. A 1960 edition of the Sumner News Index tells us that he had steadily increased his stock to the point that no Sumner person need go out of town for hardware needs or even toys, he had them.
In 1954, Coates was elected President of the Sumner Chamber of Commerce.
By 1960, Coates has purchased the building that housed his business.
By 1979, Robert Breen had opened Breen's Pharmacy in the building.
In 1984, Mark and Suzanne Sallander bought 1119 Main, remodeled the store and opened Marks Pharmacy with a full-line Hallmark department along with handcrafted items, candies and gifts. This was one of the forerunners of the boutique and collectable era that Sumner's Main street was entering. It became the "go to" place in Sumner for those types of items. 
In 2005, Marlene Grantham opened The New England Salt Box, an antique and collectables mall with a quality group of vendors and crafters offering furniture, artisan craftwork, books, candies and kitchen items. 
By 2014, 2015, the Country Barn, moved from from Orting to Sumner and were in 1119 Main. Dave and Lisa Graf, proprietors.
In 2008, Northlight Interiors, an interior design and retail showroom, opened at 1107 Main in Sumner and then move to 1119 Main in 2019. The transom windows were restored under their watch.
At that same time, Fleurish Home, a custom cabinetry, remodel and home goods business moved into the back portion of the building and a Ryan Avenue entrance was designed for their use.
Fleurish has been in business since 2005.
Sources
Sumner News Index, 
Sumner News Review, 
Puyallup-Sumner Phone Directories, 1925, 1938 
Sumner Historical Society, Sumner High School Annual Collection
Sumner Historical Society, Photograph Collection
Image Sources
Sumner Historical Society, Photograph Collection

Sumner Historical Society, Photograph Collection

Sumner News Index, 1922

Additional Information