Walking Main, ..... 1006 Main Street, Sumner WA
Introduction
There were five new buildings on Sumner's Main Street in 1921. One was a double brick building that cost seven thousand dollars to build. ($93.000 in this years dollars). Half of the building, 1008 Main, was built by L. D. Howe. The other half, 1006 Main, was built by R. G. Fyrer. They were the owners pf the Sumner Pharmacy. The buildings shares a center wall and front center pilaster. there are three capped pilasters. Both have the same upper facade, a simple cornice with a tapestry design in the upper brick.Both had transom windows and the same style of recessed entrance, bulkheads, and windows facing Main Street. On 1006 Main, the original entrance has been preserved. A metal canopy was aded at some early point.
Images
A Picket Fence, 1006 Main Street, Sumner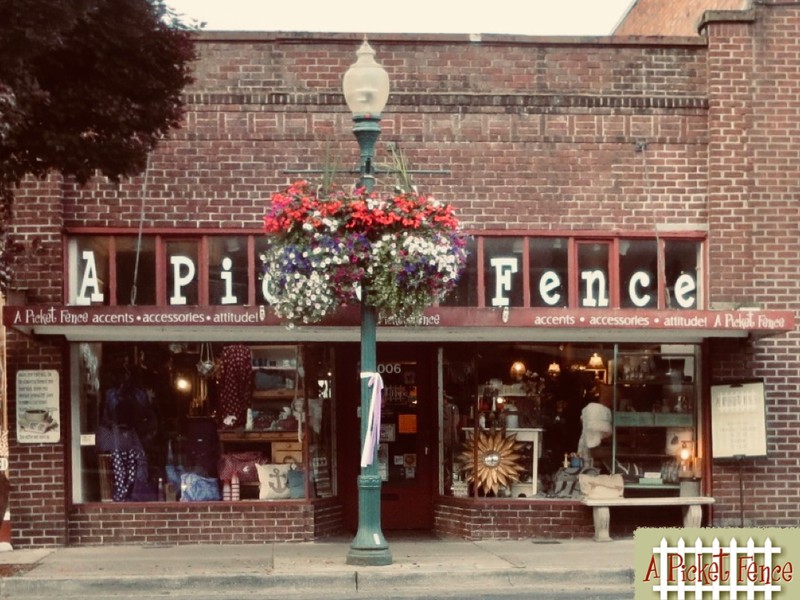 1006 Main Street, mid 1920s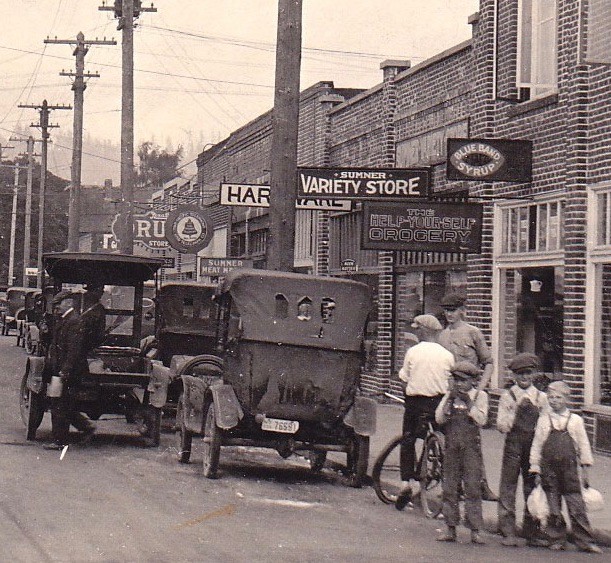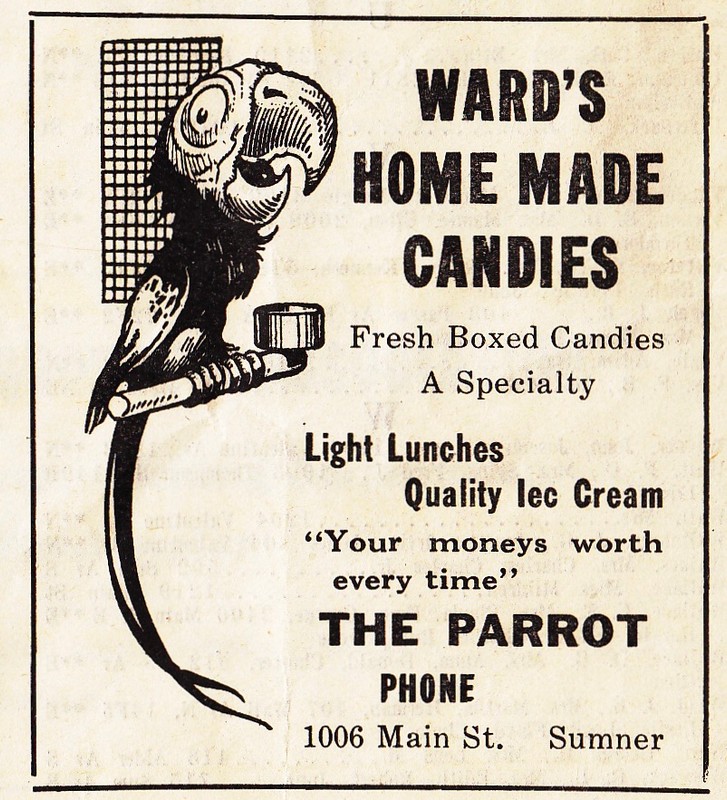 Backstory and Context
The first occupant in 1922 was the Sumner Variety Store, This business, owned by D. W. Thorps, had been serving the community for five years from an older structure downtown,. The new location allowed him to double the stock.
In 1923, O.V. Darrow bought the business from Thorps and sold books, magazines, candy and school supplies. Later that year Darrow sold to A. W. Thomas from Puyallup who named it the Mapleleaf and started a confectionary business. 
In 1925, the Parrot Confectionary was located in the building, the menu was light lunches and quality ice cream and a special line, Ward's homemade candies, fresh boxed! The Parrot's motto was "Your moneys worth every time". 
In 1926, the Parrot was bought by Mr, & Mrs, W. H. Edgerly who operated the business until 1930 when it was sold toMr. and Mrs. Glazier of Seattle. They closed it later that same year.
In 1932 N. F. Dracobly opened a clothing and sundries store, Dracobly's Dry Goods, The business lasted into the 1950's. They were Armenian and for a time, lived in the back of the store. A later phone book showed them living on Boyd Avenue, a half block from Loyalty Park. One local memoir tells us that as a girl the writer went shopping downtown with her grandmother and they always stopped in at Dracoblys because her grandmother loved visiting with Mrs. Dracobly. One the purchases were made she would have the amount put on her bill and every once in a while, grandpa would go in and settle up.
Another local remembers shopping with her mother for new overalls for her dad. Her mother would go through every pair on the counter, one by one. When the daughter asked why she was told that if there was a faint light color line at the fold of the pant leg, that told her the overalls were older stock and less desirable. She wanted only the newest for dad.
In the late 1980's Kirschenmann's Bible Nook brought religious books, records and decor to Sumner.
In 1993, LuAnn Iselin brightened Sumner's downtown by establishing the boutique, "A Picket Fence" at 1006 Main. Voted "Best Gift Shop" in South Puget sound, LuAnn's unique merchandising mix brings the best of brands to Sumner and includes items that pay homage to the building's historical past especially candy, You will find Brighton ~ HOBO ~ Toms ~ Baggalini, Crabtree and Evelyn ~Tyler Candles plus one of a kind finds fashion clothes & accessories,
Sources
Sumner News Index, 1-20-1922, 3-23-1922, 9-8-1922, 12-29-1922. 
Sumner News Review, 6-25-1981. 7-16-1981, 5-11-1985
Puyallup-Sumner Phone Directories, 1925, 1938
Sumner Historical Society, Sumner High School Annual Collection
Image Sources
Sumner Historical Society, Walkling Main

Sumner Historical Society, Photograph Collection

Sumner Historical Society, 1925 Phone Book

Additional Information