Alma Thomas and the March on Washington
Introduction
In August of 1963 Alma Thomas participated in the March on Washington for Jobs and Freedom. The purpose of this march was to demonstrate an act of civil protest against racial inequality and champion the restoration of civil rights for people of color, namely African Americans, in the United States. Thomas captured the experience in the form of two oil paintings in 1964.
Images
"March on Washington" Oil Painting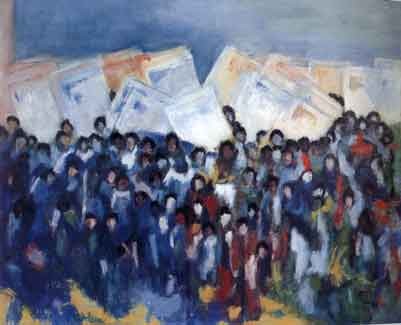 USPS Stamp adaptation of Thomas' oil painting "March on Washington"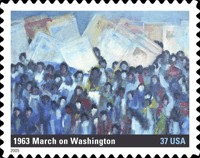 Backstory and Context
Accompanied by her friend Lillian Evans, an opera singer known as Madame Evanti, Thomas met members of St. Luke's Episcopal and St. Stephen and The Incarnation Churches at the intersection of 16th and Church Streets to start their march towards the Washington Monument. According to Thomas' sister, both ladies, well into their 70's, locked arms and marched down 16th street with historical figures, high profile celebrities, and everyday people to take a stand against racial and socioeconomic injustices happening to Black Americans on a daily basis.
Based on things that Thomas witnessed during the march, Thomas was inspired to temporarily switch her style to representational paintings and created the works "March on Washington" and "Freedom March." Swann Auction Galleries describes the piece "March on Washington" as an "incorporation of her bright palette of primary colors with a flattened, abstracted view of the crowds and their placards". In 2005, the United States Post Office selected Thomas' "March on Washington" oil painting on canvas as one the works in the stamp collection "To Form a More Perfect Union: Seeking Equal Rights for African Americans".
There is little information published about the work "Freedom March". However we do know that this piece was displayed in Atlanta University's Art Gallery in the Trevor Arnett Library art show in 1964.
Sources
Quinn, Kelly. Alma Thomas's March on Washington …with 250,000 Others, Smithsonian Archives of American Art. August 9th 2013. Accessed April 22nd 2021. https://www.aaa.si.edu/blog/2013/08/alma-thomas%E2%80%99s-march-on-washington-%E2%80%A6with-250000-others.
Goddard, Donald . Alma Thomas: Phantasmagoria - Major Paintings from the 1970s, January 1st 2015. Accessed April 22nd 2021. https://www.newyorkartworld.com/reviews/thomas.html.
Swann Auction Galleries. Alma Thomas's Journey to Abstraction, https://www.swanngalleries.com/. September 27th 2017. Accessed May 18th 2021. https://www.swanngalleries.com/news/african-american-art/2017/09/alma-thomas-journey-abstraction/.
Image Sources
https://www.newyorkartworld.com/reviews/thomas.html

https://about.usps.com/postal-bulletin/2005/html/pb22158/kitt6.html