Lois Mailou Jones House, Little Paris Group
Introduction
Founded in 1948 by Lois Mailou Jones and Céline Tabary, the Little Paris Studio Group was a cohort of prominent Black artists, including Alma Thomas, in Washington, DC. The Group met every week to create and critique artwork. As large galleries refused works by Black artists, the Group served as a way to encourage and promote their works, especially those by public school art teachers.
Images
Little Paris Group meet at Lois Mailou Jones' studio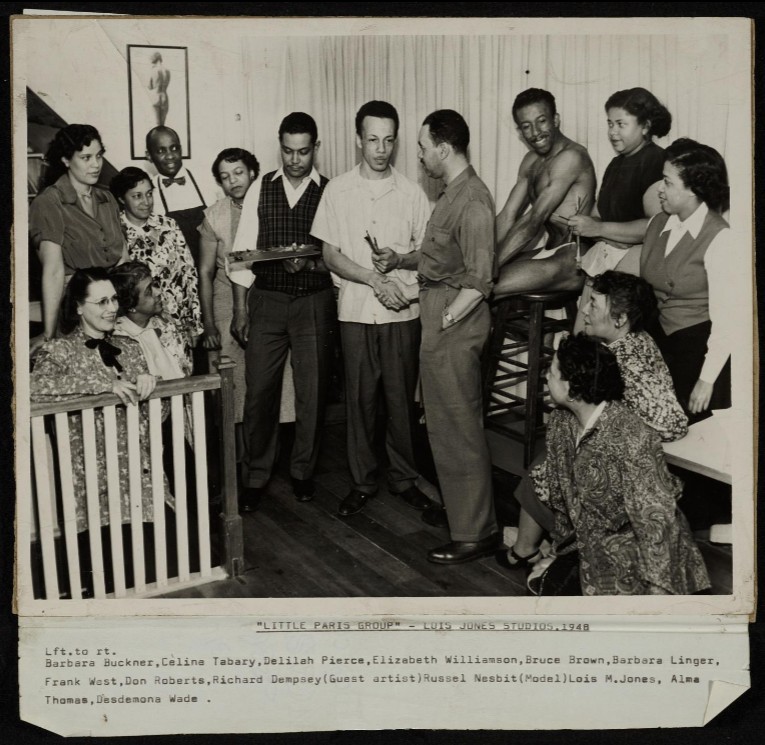 Backstory and Context
Alma Thomas was a part of the "Little Paris Group," a group of Black artists that met to practice and showcase their work, founded by Lois Mailou Jones and Céline Tabary in 1948. Jones taught art for seven years at Howard University, and went to Paris via a fellowship to the Académie Julien. In Paris, Jones escaped the racial discrimination she experienced in the US, freely exploring Impressionism and modernist styles, and gaining acclaim in the art scene. There, Jones met Tabary, a fellow artist that became a lifelong friend. During the Paris Occupation, when the two were were unable to return to France, Jones helped Tabary get a teaching position at Howard University. Jones converted the attic of her home into a studio to host a Parisian-style salon, nostalgically named the "Little Paris Studio." Thomas and Jones were in the same social circles, and Jones used the Group to encourage and promote the work of public school art teachers. The "Little Paris Group" was a unique space for Black artists to showcase their work.
Sources
Little Paris Group in Lois Jones' studio, Smithsonian. Accessed April 6th 2021. https://www.si.edu/object/AAADCD_item_7393.
Malesky, Robert. Louis Mailou Jones and the Little Paris Studio, Bygone Brookland. February 13th 2019. Accessed April 6th 2021. https://bygonebrookland.com/2019/02/13/lois-mailou-jones-and-the-little-paris-studio/ .
Rowell, Charles Henry. Two Galleries, Engaging Art, Great Talents, and Challenging Minds, Project MUSE. Accessed April 22nd 2021. https://muse.jhu.edu/article/698955.
Image Sources
https://www.si.edu/object/AAADCD_item_7393