Vest Drug Store and Market Historical Marker
Introduction
This marker notes the 1938 construction of the Vest Drug Store and Market Building, a business that continues to operate at this same location. The building was constructed to replace an earlier property, the Fish Building (1890), that was destroyed by a fire in 1936. The architect Charles H. Biggar designed the new building in the Public Works Administration Modern style. The structure features Ribbon windows and a rotating sign that reads, "Vests Market," and was restored in 2017. The historical marker at the site was dedicated by the Kern County Historical Society in 2015 and appears on one's right when traveling west on Chester Avenue.
Images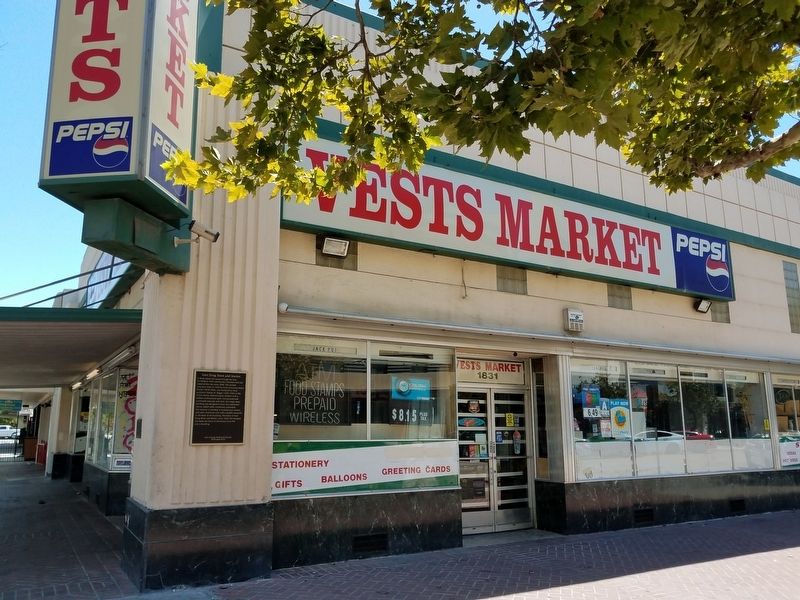 Vests Drug Store and Market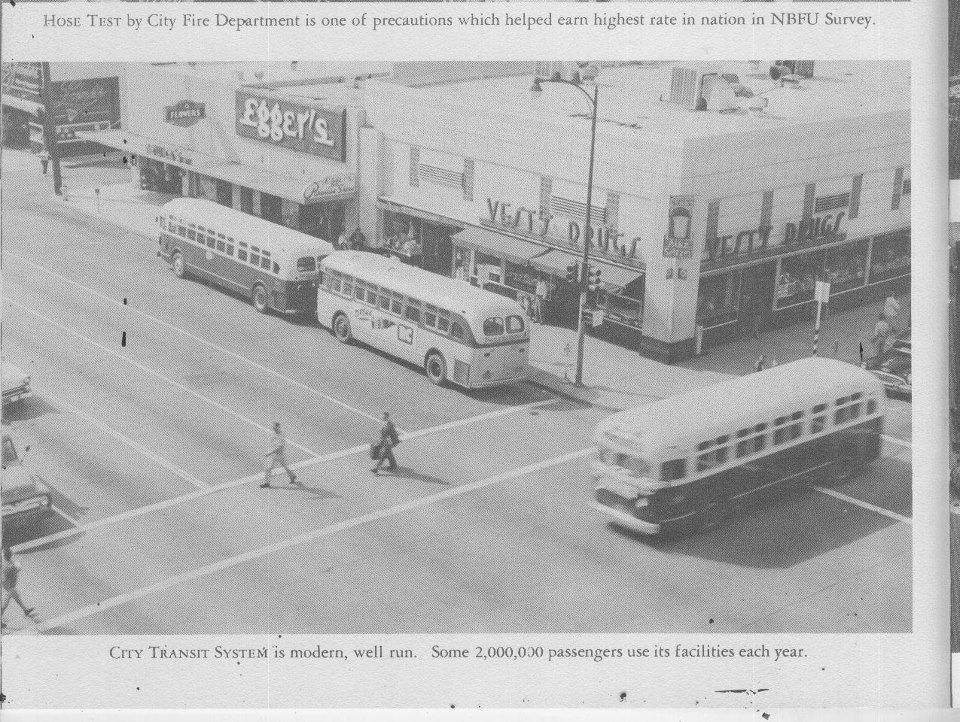 Vests Drug Store and Market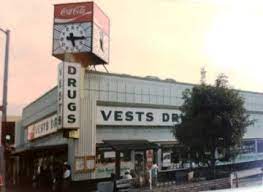 Backstory and Context
As noted on the historical marker, the Vest Drug Store and Market has been at the heart of the business community in downtown Bakersfield since its founding. Known today as Vests Market, the store opened in 1938 in a Modern building constructed the same year. Although in the past it has been considered both a drug store and a department store, one of the most popular items for sale was penny candy.
The location of the Vests Market building is the oldest continuously operating site of business in Bakersfield. Prior to the construction of the building in 1938, a commercial property known as the Fish Building previously stood at this spot. It was built in 1890, but it was destroyed by fire in 1936. After the fire, a new building was designed in the Modern style in 1938 by the architect Charles H. Biggar. He also designed several other buildings in Bakersfield, including the Bell Tower (the old Baptist Church), the Haberfelde Building, the Bakersfield Californian, and the Fox Theater.
Today, the Vests Market operates under new ownership and management. In addition to its expanding inventory, it includes a cafe with a menu that features fresh, local ingredients, a variety of craft beers, and snacks. In 2017, a social media campaign led to a wave of renewed interest in the Vests Market when people heard that the building was in the process of being restored. This entailed both interior and exterior updates, including the restoration of the glass-block Ribbon windows on the facade, as well as the rotating "Vests Market" sign on the exterior corner of the building.
Sources
Boose, Denise. Vest Drug Store and Market, The Historical Marker Database. October 28th 2017. Accessed March 25th 2021. https://www.hmdb.org/m.asp?m=109178.
Mayer, Steven . New owners want to return Vests Market to the glory days of its past, Bakersfield.com. January 6th 2018. Accessed March 25th 2021. https://www.bakersfield.com/news/new-owners-want-to-return-vests-market-to-the-glory-days-of-its-past/article_20bfb078-f275-11e7-88b1-a7fa281899ea.html.
Vests Market: About Us, Vests Market Cafe. Accessed March 25th 2021. https://vestmarketcafe.com/.
Image Sources
The Historical Marker Database

Bakersfield Observed

Bakersfield Observed

Additional Information